Some days seem to last forever, while others just fly by. There are times I have no idea what I did all day, having accomplished little to nothing at all. Then there are the days where I feel so productive even if that means doing laundry, taking a walk, cleaning my closet, calling my mom. I think we have to tell ourselves that we need to be ok with however much, or little, we do in a day as these are not usual times.
I asked some of my favorite bloggers, influencers, and instagrammers what they've been doing to help them pass the time. I wondered were they watching a lot of tv? (I'm always looking for a good movie to watch or series to binge). Were they cooking? (I'm eating!). Was exercise high on their 'to do' list? (Not as high on mine as it should be, but I'm working on it!)
Here's what they had to say: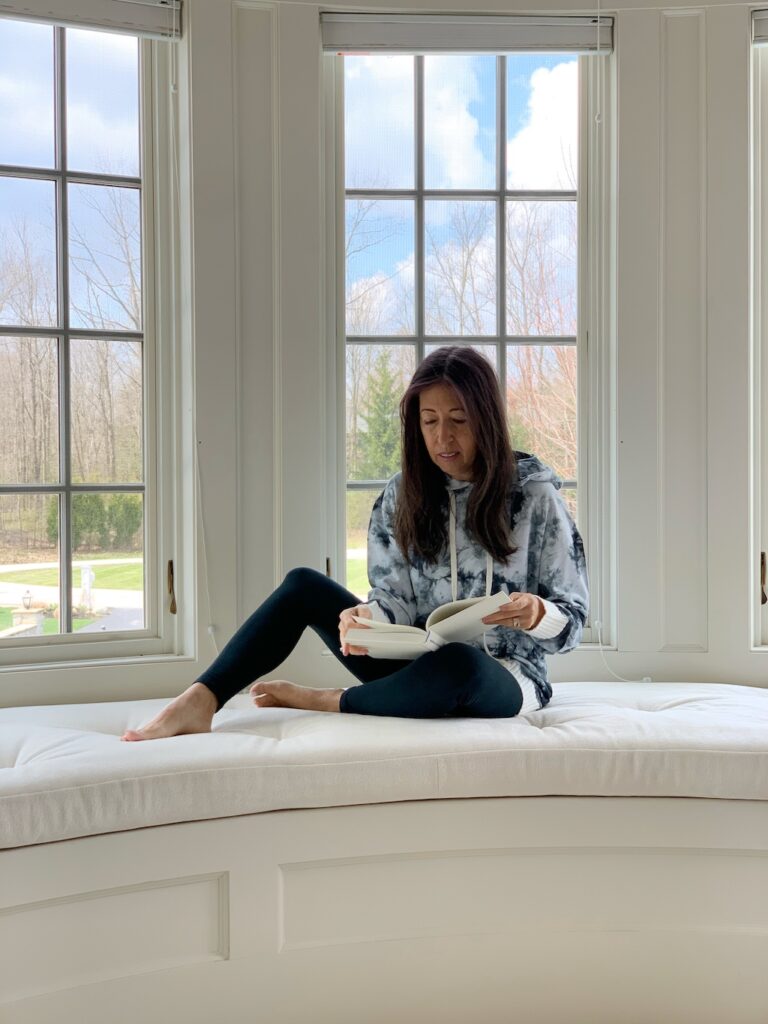 I've been spending my time reading,
Denise of everydayover50.com: "Aside from making sure all my loved ones are staying well during this time, I've actually turned to meditation to keep me grounded, focused and in the moment so as not to let anxiety creep in! And one of the most wonderful gifts has been getting in touch with friends that I haven't had time to connect with. Every week I contact at least one friend to catch up!"
Rose of @fabulousinmy50s: "It's more like what I haven't been doing…😁 I'm not in my home so I haven't been able to spring clean or clean out my closets and cupboards. It's been my husband and me in a 700 square foot apartment… 😂 I've done several IG challenges with some beautiful sisters that have kept me busy for the past couple of weeks. There has been much video editing… I've binge watched Witcher and Hunters. I've played cards with my husband and started a journal. I should have been writing on my blog, but I haven't. I have a couple of collaborations to work on this week and I've started reading again."
Dimitie of @fashionfor50s: "Ok! 😂 I'm doing a ton of food shopping and cooking with a husband and 17 year old son in the house! Piles of laundry too 🙄! Plus working on my fashion blog and social media accounts. But for rest and relaxation, walking or riding my bike around the neighborhood, watching Netflix and learning dance moves on Tik Tok! 😂💕"
Nina of sharingajourney.com: "As a blogger, my work hasn't change, I still create content and post on social media. Our home is always quiet. (My daughter is home from college and works from our home) Instead of our usual ice dance workouts we now walk in the neighborhood both in the morning and in the evening. We try to keep things positive and limit news we watch. I am grateful for our health and have learned to focus on the present and not take things for granted. Sending prayers of good health and courage."
Becky of @easylifehappywife: "We're moving in a couple of weeks, so no better time to be stuck in the house – forever packing! Other than that, I've been enjoying time with my husband and two daughters (and our furry daughter!), working on my website, testing new recipes with things I find at the back of the pantry, and trying my hand at watercolor lettering!"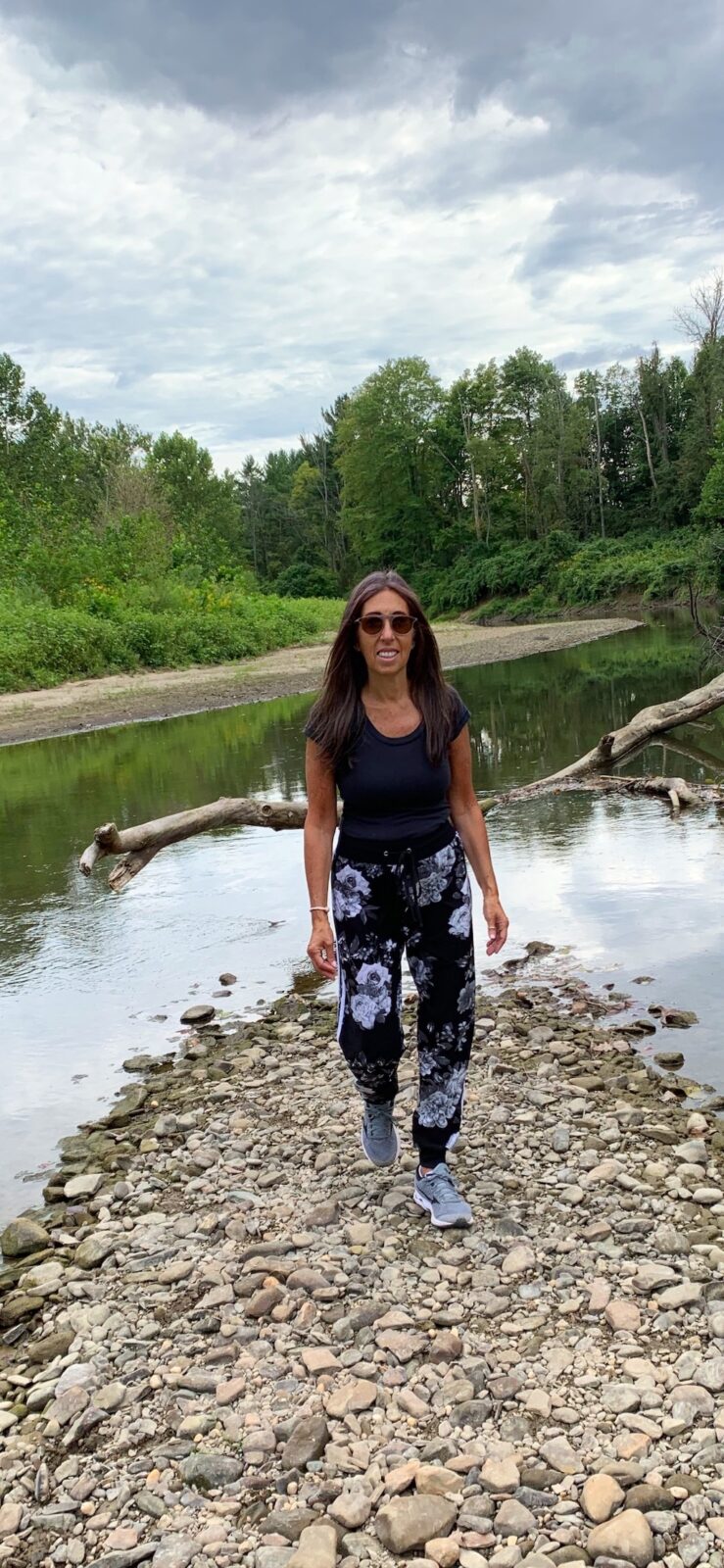 taking walks,
Amanda of @inspiredby_amanda: "I've been soaking up the time with my kids, being totally present with them and created lists of fun things to do together. Everyday we play games, do a family workout and cuddle up and watch movies. I know they will remember this time in a positive way, and the memories we have as a family through this time. I've been slowing down, cooking more and enjoying picking up my art again."
JoAnn of @vintage_joann: "At first I spray painted every piece of thrift store furniture I owned. Then I got depressed and I stopped getting dressed. Eventually I pulled myself out of that, and am taking a little walk every day. I'm also cooking more. (I hate it) I have temporarily stopped painting as I just can't seem to feel creative (I'm an artist). Today I dyed my hair purple and put it in rollers. I have no idea what I'm going to look like tomorrow in daylight. Lol. So it's been up and down, but I never stay down long, and maybe tomorrow I'll at least draw something! Trying to be honest!"
Em of @whatemwore: "At the moment I am enjoying running and setting myself goals (I actually ran a half marathon this weekend 🤣)! And also reading which I never have time to do normally – I am reading 'Shoe Dog' at the moment (the story of how Nike was founded) and I can't put it down!"
Melanie of @mels2ndact: "While sheltering at home I'm reading more, getting out for more walks, more time in the pool and table talk after dinner seems to be longer, and the laundry seems to be endless 😂"`
Eugenia of theageofgrace.com: "While sheltering in place during the Coronavirus quarantine, I tried to keep up regular activities like weekly blog posts and getting my seven hours of sleep every night. What's different, trying new soup recipes and engaging more on social media. No guilty pleasures except binging on the 100 episodes of Curb Your Enthusiasm. My satisfying indulgence, moving some overgrown potted evergreens to their own home in the ground."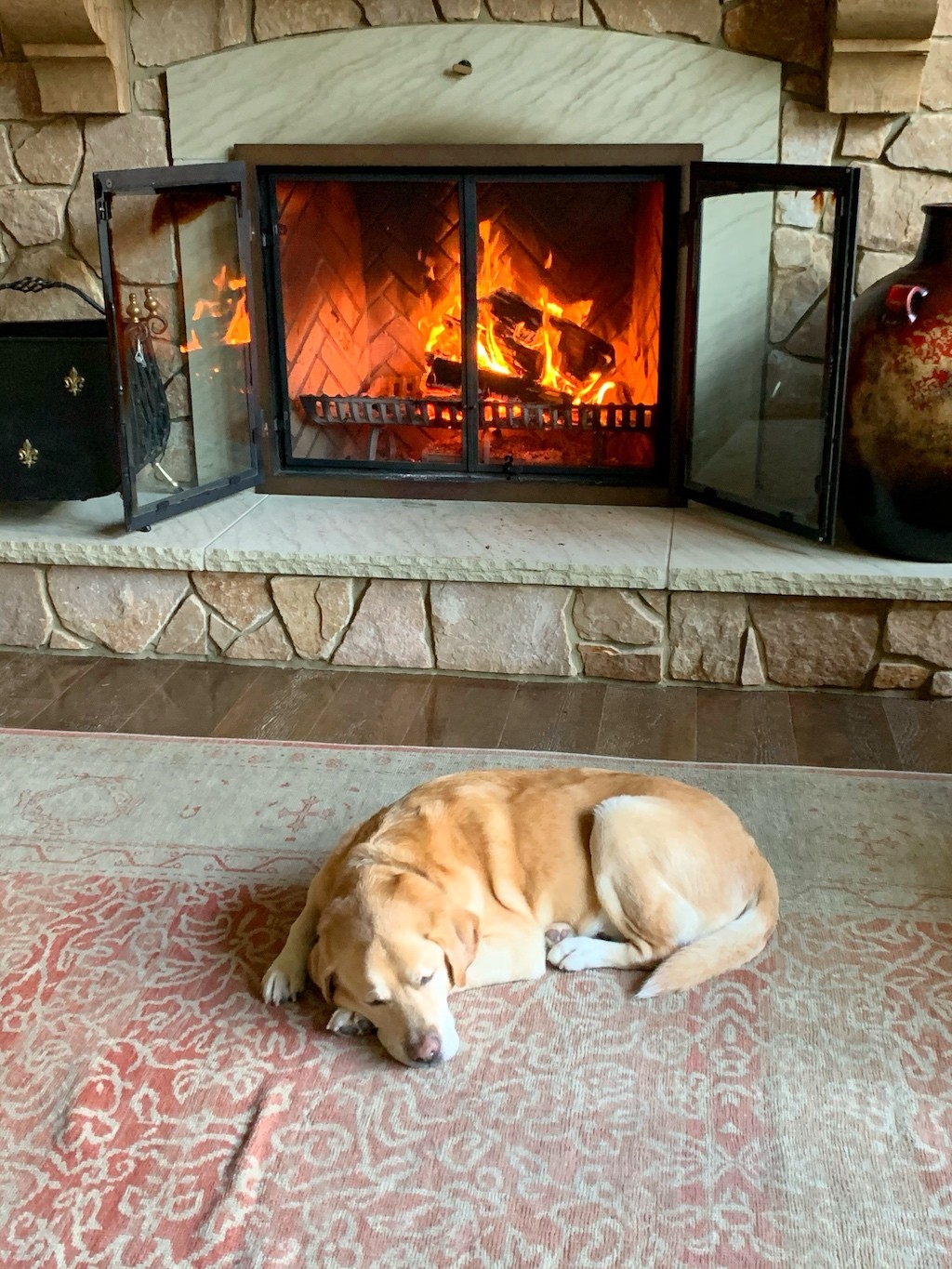 and relaxing by the fire with my pups.
Mary of @mary_t_congdon: "I'm 64 years old, and my favorite thing to do is workout every morning for about an hour with weights and do a couple of days of cardio. I love learning about health and wellness and educate myself with books and podcasts. I keep in touch with my kids and grandkids, being married almost 45 years, my husband and I love spending time together!"
Amy of @counselor_amy: "I'm so blessed to be able to continue to service my clients during the pandemic quarantine! So many are in need of mental health counseling and coaching and thanks to the wonder of technology, I'm conducting more sessions than ever. I'm so grateful for the opportunity to help in my small way!"
Rachel of rachelhearnart.com: "I've always been thankful for being a creative crafty human. But as of lately I've really been thinking about the significance of problem solving and using your hands to create. Through the process of embroidery I have found much enjoyment and comfort. It's quite a meditative art form but also at the same time it leaves me feeling incredibly productive to be able to have an idea and make it tangible. Because of this I have made some beginning embroidery kits available for sale on my website. I'm hoping to share this amazing art form and hopefully bring some peace to others through offering love video lessons during these trying times."
Teresa of @doll_teresa: "Every morning by 5 AM I'm leaving before the sunrise and walking (usually 6 miles). I hear the birds singing, it brings calm to my heart once again. 🎼 💫 I FaceTime my mom every day, having long conversations. 🥰 💫 I'm organizing & cleaning & really enjoying my HOME like never before. Definitely enjoying no makeup, easy carefree clothes, taking a break from status to be 'someone'! Realizing that I don't NEED anything but health, family & friends these days ❤️❤️❤️"
Reading these comments has reinforced that we are all coping in whatever ways works best for us. Yes, there may be tough days, but overall if we wake up healthy, we're doing well! It seems like we're all trying to make the best of it. I hope you're doing well and maybe even finding a new hobby, enjoying a new book, connecting with an old friend, or whatever it is that helps you enjoy your day. Stay safe xo