It's a new year and one resolution that I've heard over and over is 'I'm going to streamline my closet.' Sometimes this can be tougher than it seems. Obviously you loved what's in your closet or you wouldn't have bought it in the first place right?! Well, that's how I always rationalize it!! 🤣
A while back I talked about the KonMarie / Marie Kondo method-does it bring you joy? Sometimes this helps as I may attach a memory or a feeling to clothes and accessories and it's this joy I feel that lets me know it's not time to let that item go.
I asked some of my favorite bloggers, influencers, and Instagrammers if they save or purge and what is the oldest item they have in their closet that they will never part with. But before I get to their incredible responses, I want to share three items I have that hold a lot of meaning to me and will stay in my wardrobe, worn or not, forever.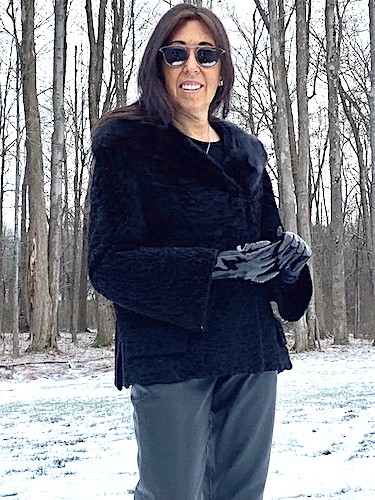 The first is a dinner jacket that was my mom's back in the day! I will wear this when I get dressed up, but I also love wearing it with jeans to run an errand.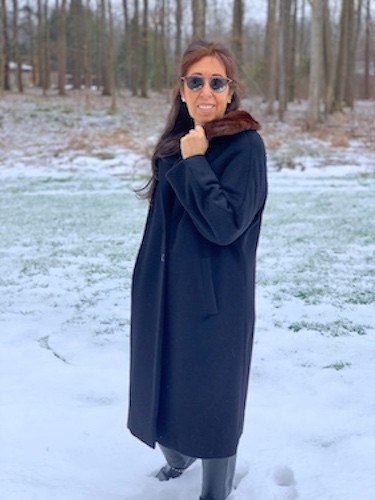 This coat was made by my grandfather, who was a tailor, for my grandmother. Whenever I wear it I feel special as it's a piece made with such love.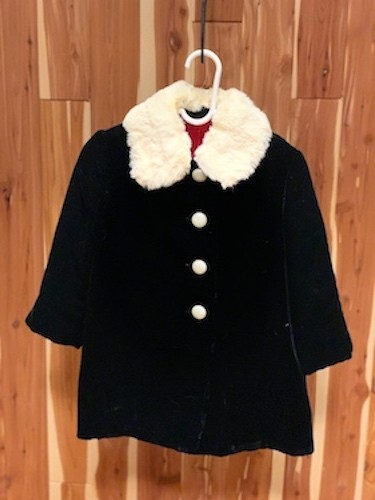 This coat is obviously one I can't wear now, but I did when I was little, about three years old. It was also made by my grandfather. It's black velvet with a fur collar and red silk lining. Unfortunately it's starting to show some aging on the collar. My daughters wore it when they were little and who knows, maybe one day their daughters will wear it as well!
Here's what some of my favorite bloggers, influencers, and Instagrammers had to say;
Eve of Glamour And Gains & @evedawes: I used to be a hoarder and now I'm a mix of both. I tend to hold onto classics and favorites that are still in great condition and purge anything that doesn't make me feel confident and my best wearing it or that's worn out. I have a great cobbler I take my bags and shoes to whenever they need a new lease of life rather than throwing them away. Those pesky Louboutins need a lot of maintenance to keep the soles looking fresh.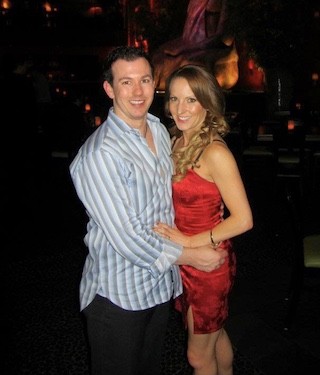 I have 2 pieces in my closet I've had since I was a teenager. One is a red dress I got to wear for my 18th birthday. It has so many memories attached to it of fun nights out in London while at college as well as being something I put on every big birthday to make sure it still fits! It's my motivation to stay the same weight.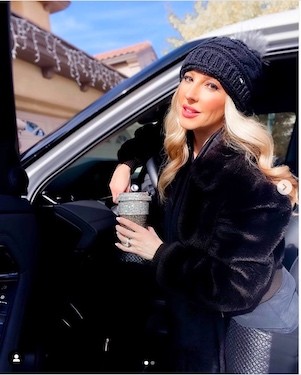 The other is a brown fuzzy bomber jacket my sister gave me in my teens. It comes in and out of fashion and I hold onto it as it reminds me of her. It's been getting lots of use again this year since the teddy jacket is back in.
Ann of @tinitravelsblog: I'm a saver for the most part! Though in recent years I've been purging more to donate to the women's empowerment program that I volunteer with @uncommonthreadsboutique I have jeans that I've had for 10+ years lol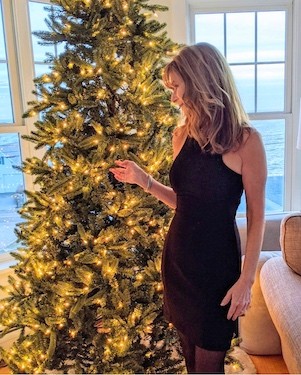 [When I was thinking of something I've kept] this dress came to mine. It's at least 10 years old and I had sort of forgotten about it. Last year I had a black tie optional event with about 4 days notice! I was so stressed trying to find something appropriate that fit without alterations, etc. and without spending a lot of $$. Went through my closer and viola…a simple LBD is always appropriate 🖤
Marie of @marie_means_business: I have always liked a neat and well organised wardrobe, where, I feel, every item has a place and a 'friend' (something it goes well with) and can definitely be worn on a certain (or many) occasions.
I have never been a person who follows that rule where you are advised 'if you've not worn an item for a year, you probably won't wear it so you should get rid of it'. In fact, I'm an avid opposer to this rule. It is just too simplistic and part of throwaway culture and consumerism. I'm all up for figuring out why a certain item is not worn and what can be done about it, if anything. I don't purge easily, but I structure and grow my wardrobe quite meticulously. It is like a puzzle, everything has to fit together and compliment each other. 😁 So purger I am not.
I save because every item is part of a greater whole, it can make an otherwise standard outfit extraordinary, it can make an outfit – me. Of course there are also items that have great memories attached to them, whether of where and how you acquired them (especially gifted things) or where/with whom/whilst doing what you worn them. Those are totally special and the most difficult to part with, if not categorically impossible.
However, I am definitely not a hoarder either 😄 Whether it is an item of clothing or accessories, each item has its lifespan in relation to you. So every half a year I critically appraise my wardrobe. Sometimes just to reorganise and reshuffle as during this process you can suddenly find new 'friends' to old items that give them life. I think when I decide to get rid of something it is usually down to three reasons: 1. the very straight forward – it has been worn and washed so much it looks bad; 2. I am not in my twenties anymore and although age is just a number, seriously, I look better in other clothes; 3. The feeling – if I do not feel good in something anymore and it doesn't enhance my appearance/mood in any way, shape or form then it is not for me anymore.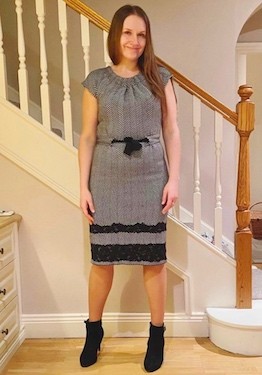 This is a Dior dress. I bought it at least 10 years ago in a massive 80% off sale and my mum has done some design adjustments to it. I know, how on earth could we do it to Dior of all things 🤭 oh, but we had to. Unfortunately it suffered irreversible damage to the skirt. My mum added black lace to cover it all. Just goes to show how simple it is to breathe new life into things.
Joan of joan_wozniak_style: I have investment pieces in my wardrobe that I have had for many years and the quality is so good I will keep them forever. I love good quality coats, jackets, shoes and sometimes dresses.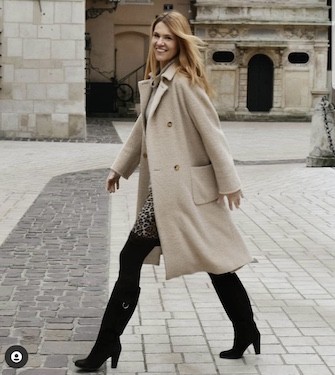 The timeless coat from Max Mara.
Sometimes I buy trends when I like them. When I see that it is a one season trend I don't spend a lot to buy new clothes. In this case, the quality is not very good so those pieces will not stay in my wardrobe for a long time.
Stop back tomorrow to read more about saving vs. purging and what will stay in our closets forever!
.