As the new year begins we often set resolutions for ourselves. Being more organized and cleaning my closets is often one of my resolutions. Here's how I was motivated to keep this resolution.
Knowing how bored I get my daughter recommended I watch Tidying Up with Marie Kondo on Netflix. I love to binge watch shows, plus no commercials! My youngest daughter and I watched the show and fell in love-not just with the show, the decluttering tips, and Konmari Method of folding, but especially with Marie Kondo. She is absolutely the cutest and we love how she greets each house (she does this by kneeling on the floor and expressing her gratitude for the comfort and shelter it provides for her)-how beautiful is that?!
Watching the show was a reminder of my New Year's resolution and motivated us to go through our own closets and drawers. At 10 pm the night before my daughter was scheduled to leave she asked me to go up to her room to help her clean her closet. Due to the time constraints we didn't empty her closet and put all her clothes in a pile the way Marie Kondo suggests, but she did pull out clothes section by section.
The next morning my daughter left and, you guessed it, I was bored! I decided to tackle my own closet. A few weeks before I had actually gone through my clothes and chosen what to keep, donate, or sell on Poshmark. If you're not familiar with Poshmark it's a fun, easy way to sell clothes and accessories. Anyway, since I didn't need to go through all my clothes again I thought I'd refold everything in my drawers using the Konmari Method.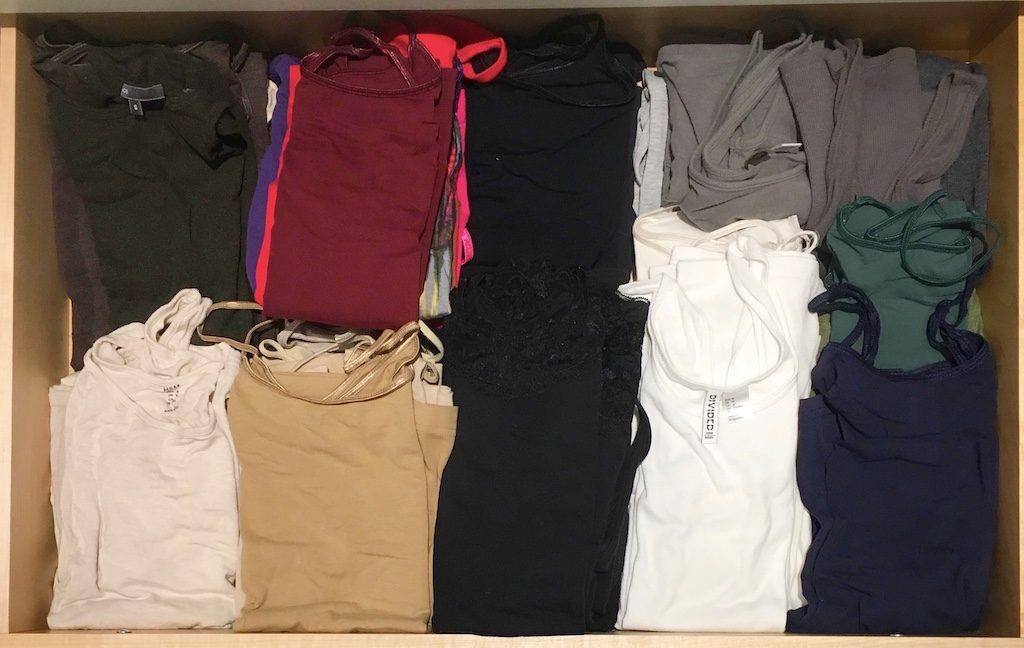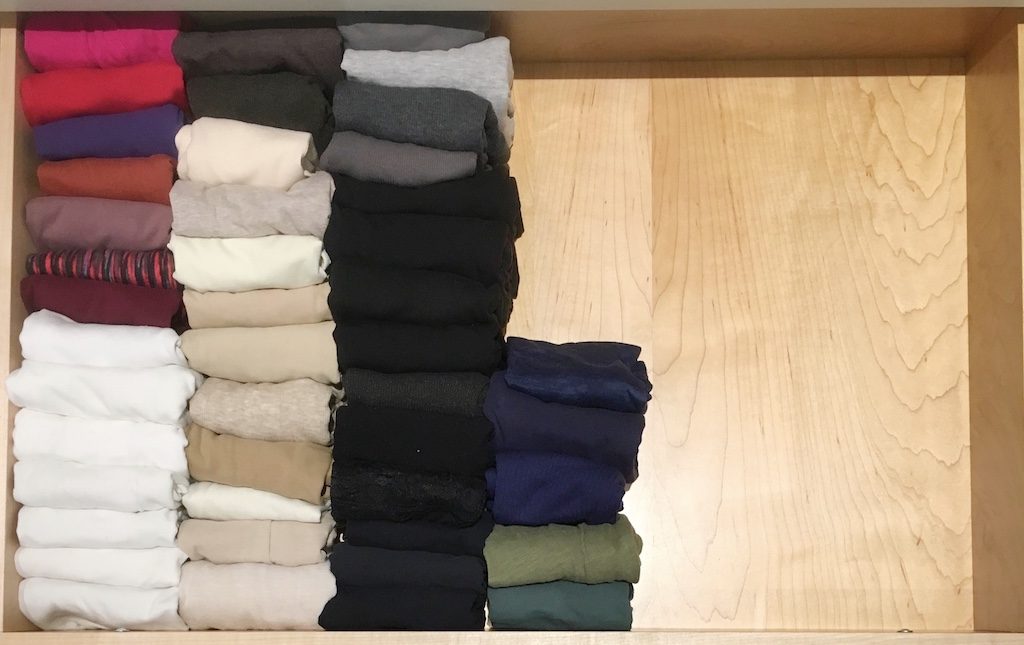 As you can see, my drawers look organized and I have more room (yay, I can continue to shop! uh-oh goes against the whole idea of trying to minimize-sigh). I went through all of my drawers and refolded everything, yup I have that much time on my hands! Some drawers towards the end required me to go back and refold because honestly I start out strong but then, you guessed it, I got bored so they weren't as neat. I do the same when I'm cooking. Take meatballs for example, they're all a consistent small to medium size at the beginning, but the end ones are SO big cause I'm bored and just want to finish!! Anyway, it's really great to open my drawers now because everything looks so nice and neat, and while it might take a few minutes longer to fold after I wash them, I can see what I have and my clothes actually have fewer wrinkles.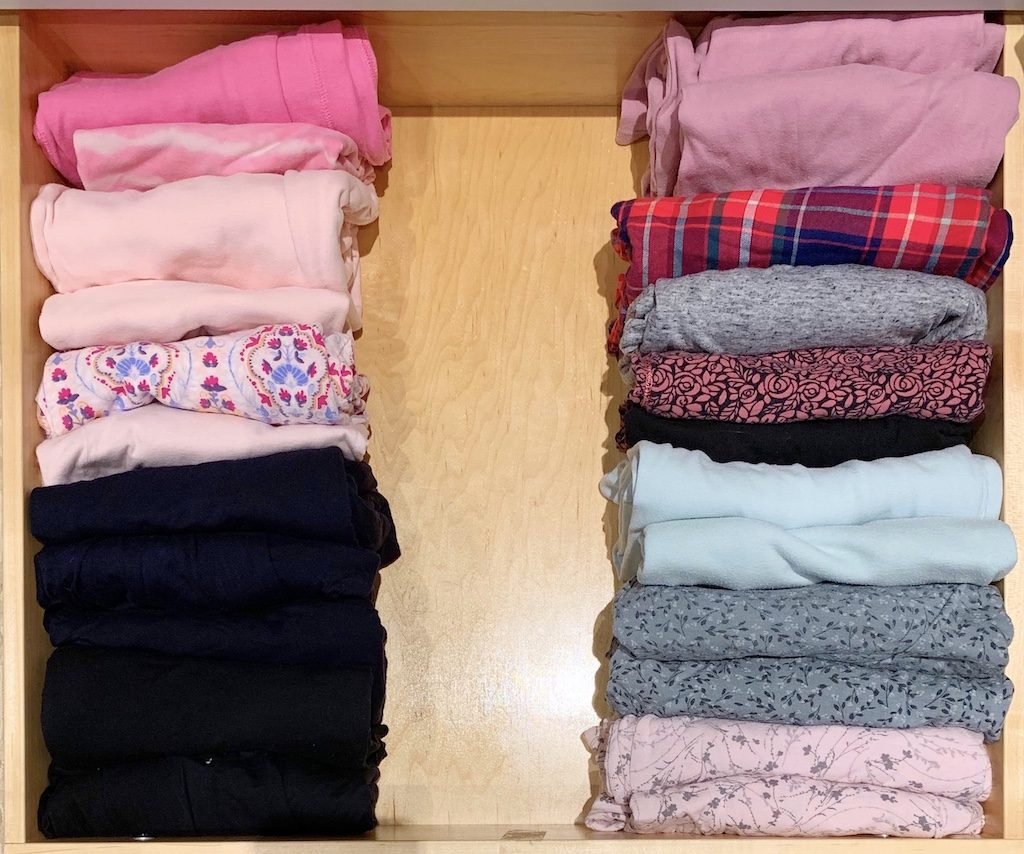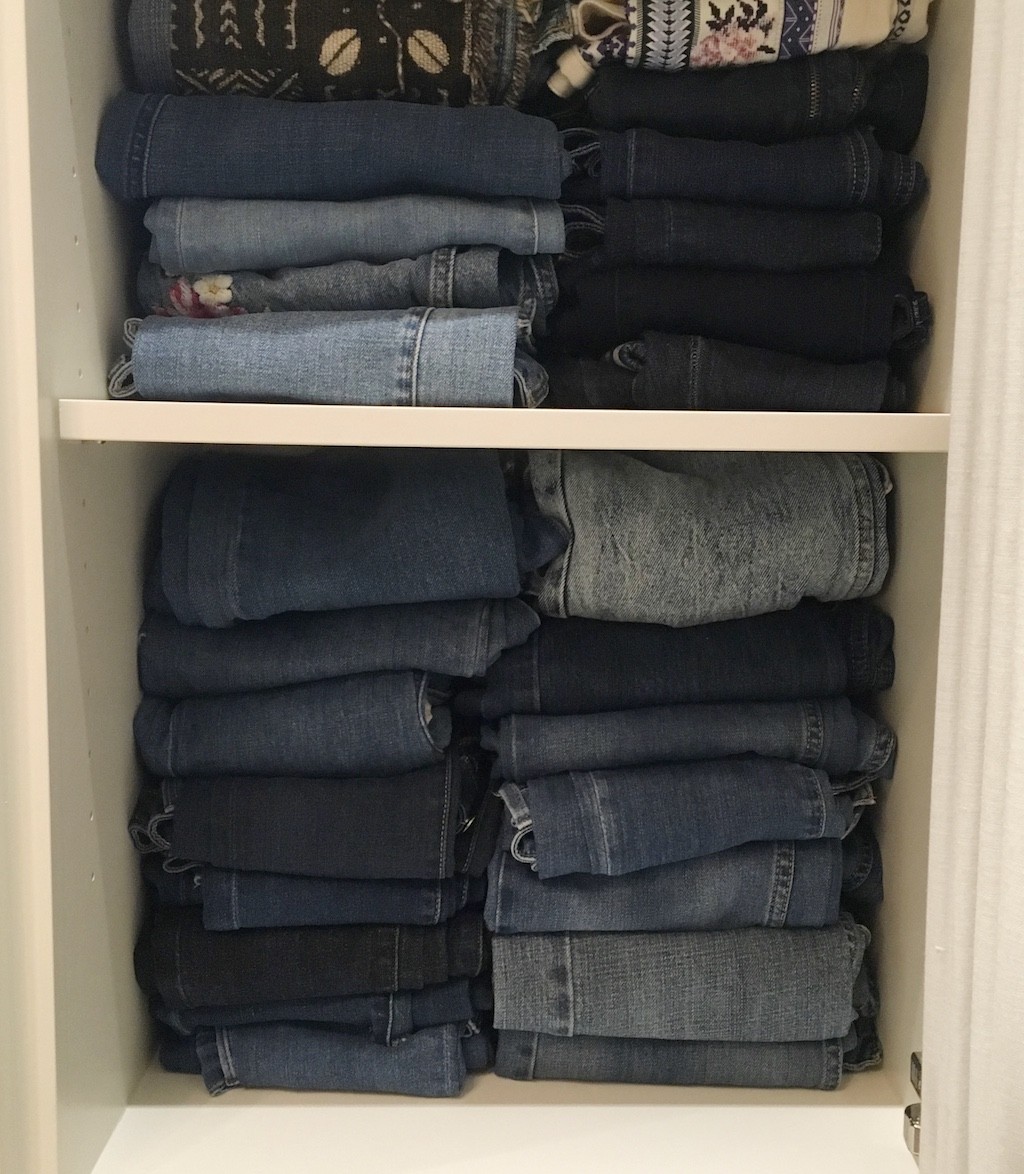 Some places you might donate your unwanted items include, but are not limited to, hospitals, schools, homeless shelters, crisis centers, disaster relief organizations, and religious organizations.
Marie Kondo suggests finding a 'home' for everything so it's easy to put it where it belongs. From small boxes for your socks, underwear, jewelry or other small accessories to hair appliances to towels and linens to anything you can think of, here are some suggestions to help you organize and settle your possessions in a happy home!
SOME ITEMS TO HELP YOU ORGANIZE:

As the weather starts to change and you're bringing out clothes for the next season is one great time to organize your closet. Another is as the year is coming to an end. Being organized is a great way to start the new year and remember, there are so many ways and things to organize you won't have time to be bored!