I'm definitely a city girl even though I currently live in the suburbs. As soon as we arrive in a city I feel like I have so much energy-this being said from the person who sits in one spot one the couch all day! I just love to walk everywhere when I visit a city and Chicago is so perfect for that!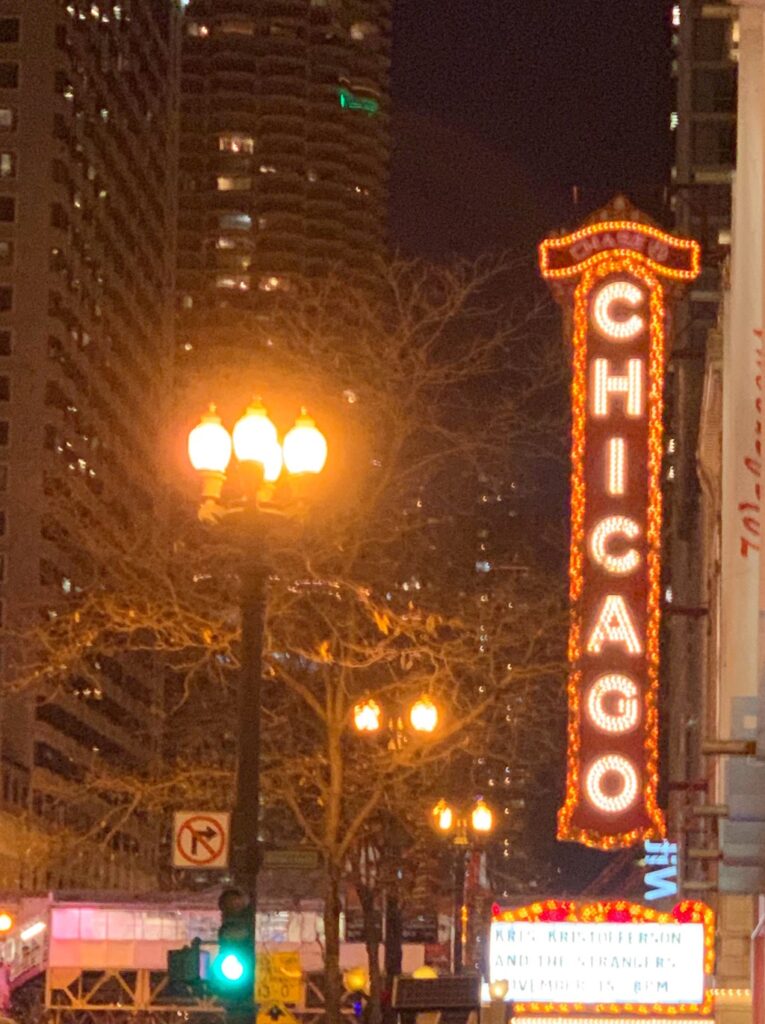 Michigan Avenue, aka The Magnificent Mile: The first day of this trip my husband was working so I decided to walk down Michigan Avenue. It was cold, but it felt good to be outside. I stopped at the river and it was so pretty. I loved walking and taking it all in since I haven't been to Chicago in a few years. Obviously there were a few places I HAD to stop in to-Dylan's Candy Bar, Neiman Marcus, and Bloomingdales. Then on to Oak Street, which has all the luxury stores, and a quick stop in to Chanel. It was so weird when I walked out of a store at 4:30 and it was dark out. I'm not used to it being dark so early, but it actually made the walk back to the hotel really special as some of the stores had holiday window displays and it was so pretty to see all the lights.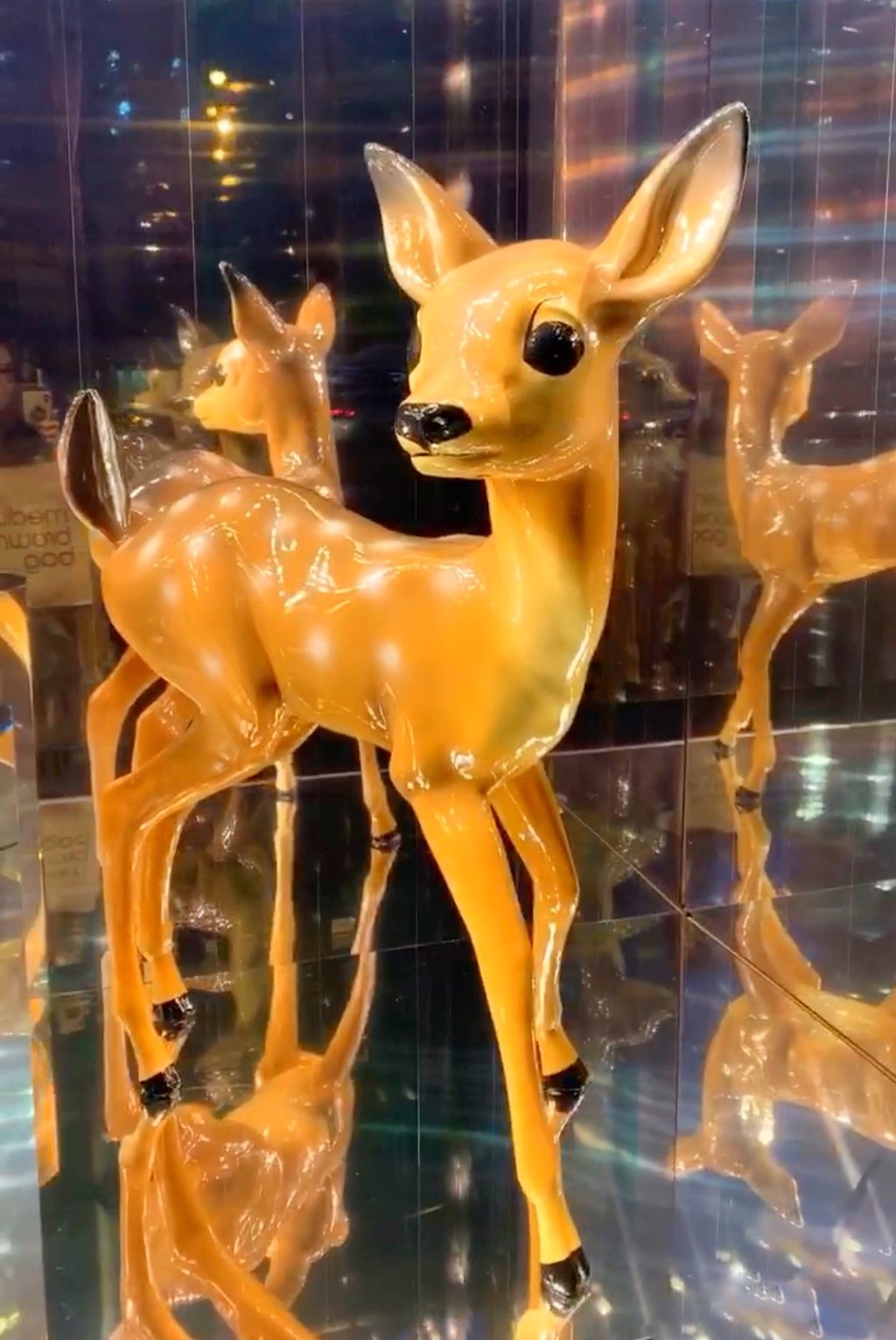 On Michigan Ave there are three malls, 900 North Michigan Shops, Water Tower Place, and The Shops at North Bridge as well as more than 450 stores. There are also hotels and restaurants along the way. It's a great walk even if you don't want to shop!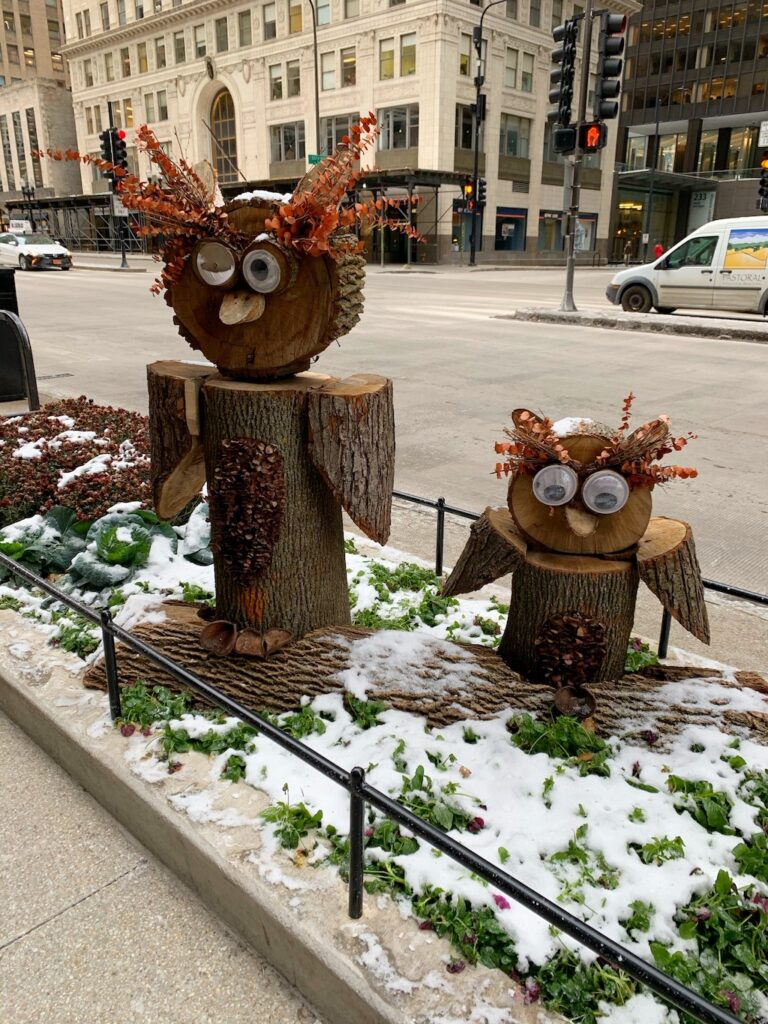 Some Other Places To Go And Things To See:
Riverwalk: In the warmer weather we have also walked the Riverwalk along the Chicago River. The walk goes from Lake Shore Drive to Lake Street and you'll pass (and stop if you choose!) restaurants, seating, and activities. What a scenic way to get some exercise.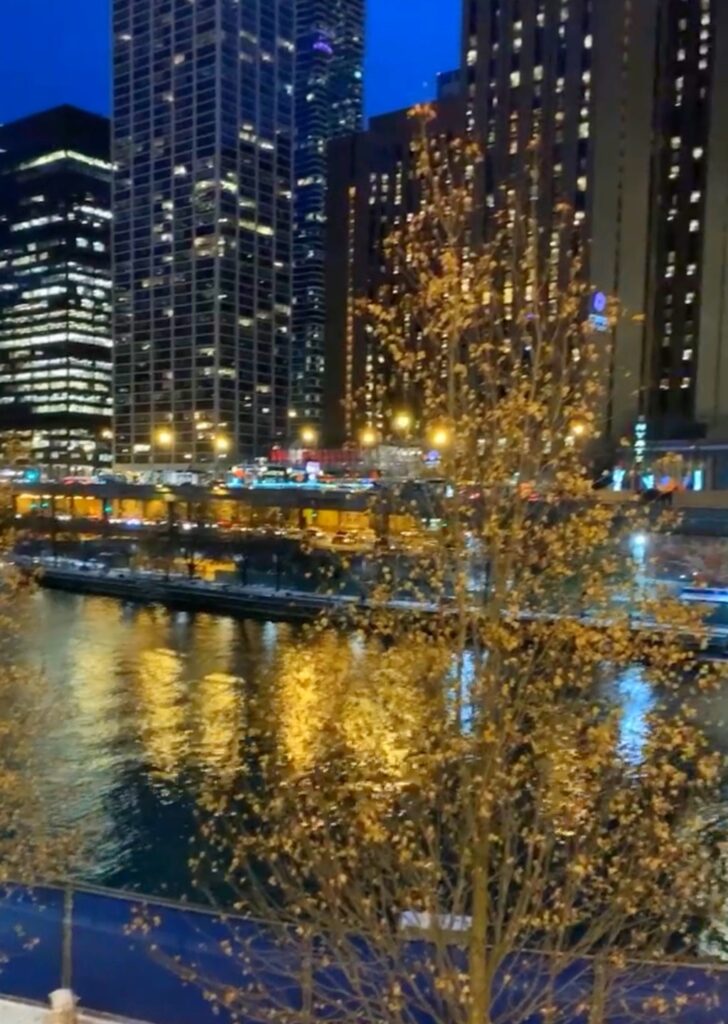 Architectural Boat Tour: On previous trips we've taken an architectural tour on a boat on the Chicago River which was very interesting-so interesting I've actually taken it twice.
Lincoln Park Zoo: I love this zoo! I've sent so many people there because it's such a great place and it's free!! Founded in 1868, it's one of the oldest zoos in North America. It covers 35 acres and has an incredible number of exhibits. It's about three miles from where my daughter used to live so we walked there all the time. This is a great stop for little and big kids in warm or cold weather!!
Millennium Park: Located in the Loop, this public park features Crown Fountain which is consists of two glass block towers which project video images. Also in the park is The Pritzker Pavilion, a bandshell at which the Grant Park Symphony Orchestra performs as well as music festivals and other arts events. Cloud Gate, more commonly known as "The Bean" due to it's shape, is a three story steel sculpture. Walk by The Bean any day and you'll see masses of people clamoring to see their reflection and vying for the best selfie!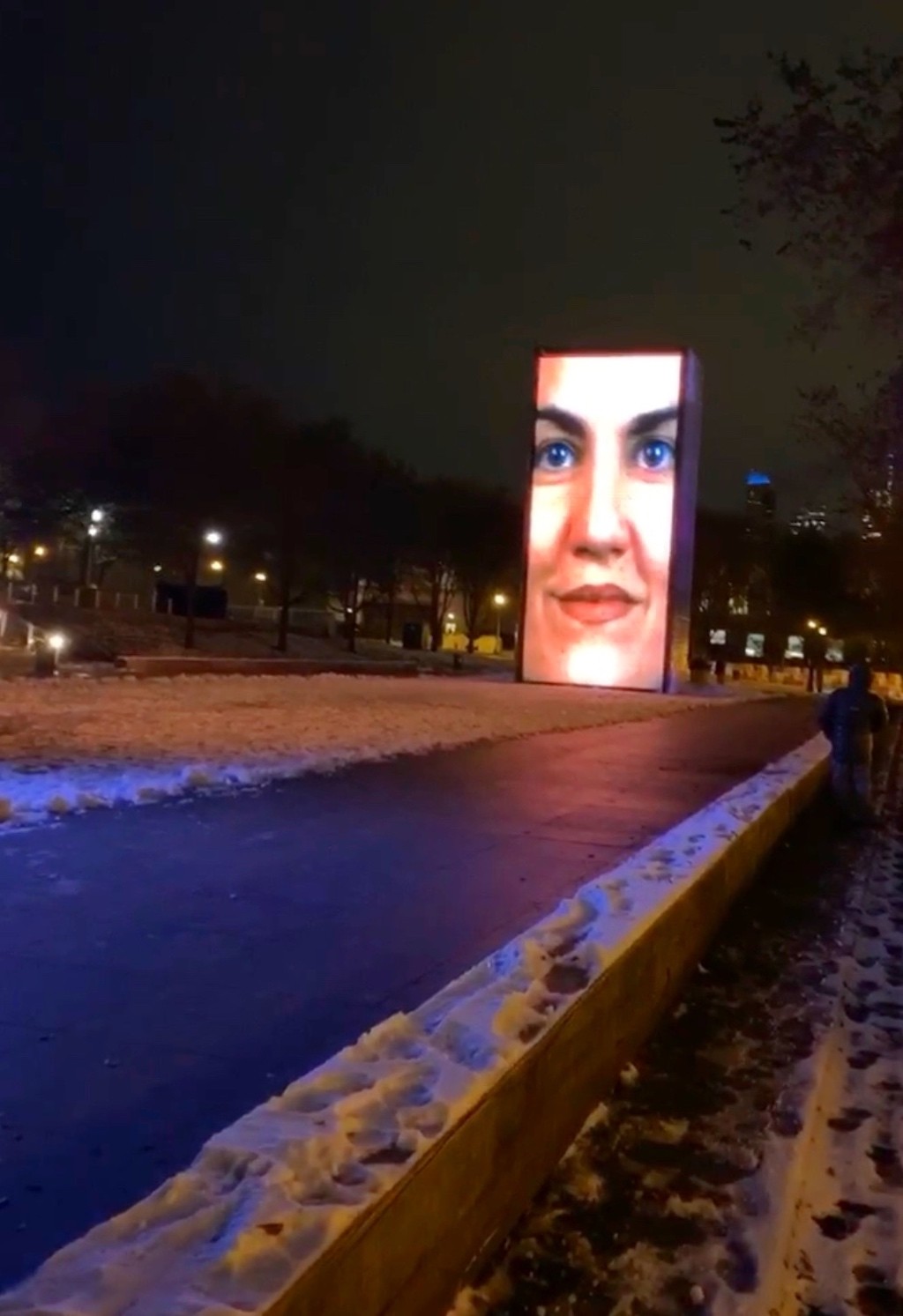 Navy Pier: Holding winter and summer events, Navy Pier is located on the shore of Lake Michigan in the Streeterville neighborhood. Here you'll find a botanical garden, The Chicago Children's Museum, The Chicago Shakespeare Theater, rides, restaurants, and shops-something for everyone.
Horse Drawn Carriage Ride: On a previous trip we took a carriage ride-so not typical of what we usually do-but it really was fun. We rode through the streets of Gold Coast and along Lake Shore Drive. The best part of the trip was when the driver asked if we wanted to take a picture with the horse, and well, you can see the results!! 😂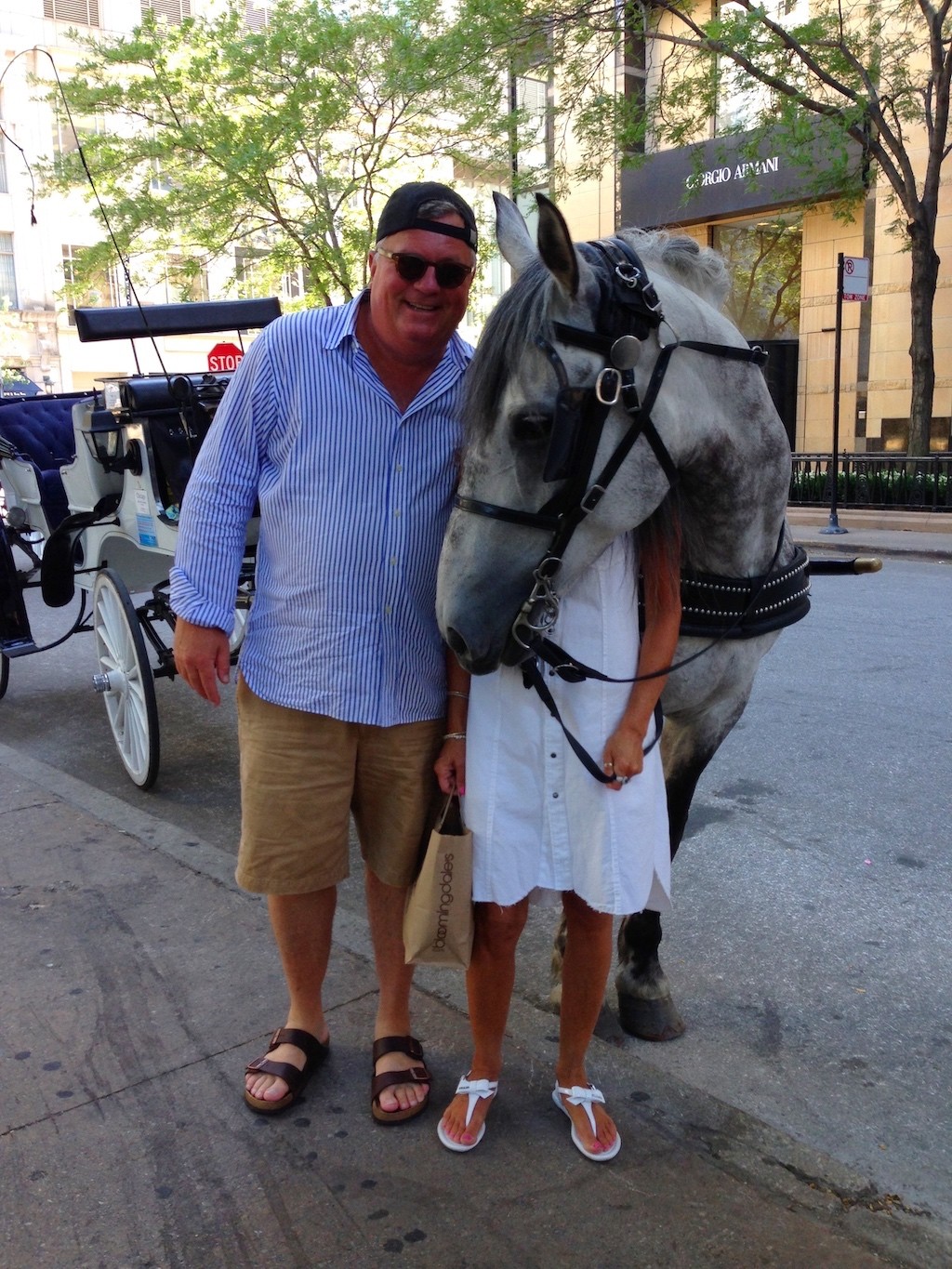 Oak Street Beach: Located on North Lake Shore Drive, this beautiful beach offers chair, bike, and volleyball rentals. Food and drinks are available at the Oak Street Beach Cafe. As someone who grew up surrounded by beaches, trust me, this is a great place to spend your summer days.
Christkindlmarket: One night when my husband was done with work we were lucky enough to be able to go to the opening of Christkindlmarket. Located downtown Chicago (with two other locations-one in Wrigleyville and the other in Milwaukee), this German market has amazing food vendors including mulled wines, bakery items such as Austrian strudel, schnitzel, incredible hot chocolate (don't forget to get your cute souvenir mug!) and so much more. There's lots of shopping as well, including candles, toys, wooden items, handprinted Polish pottery, organic soaps and lotions. We bought some really pretty ornaments including one that's hand painted and lights up made by Glaszauber Lauscha. This year the market goes from mid November through Christmas Eve.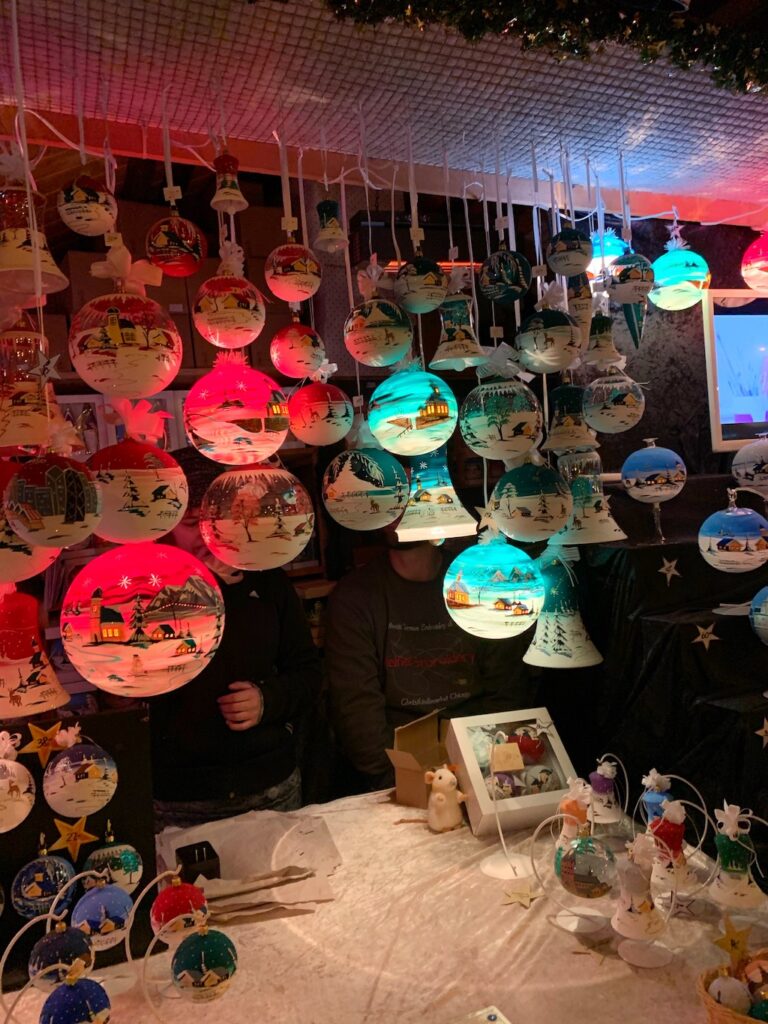 Where To Eat:
There are so many incredible restaurants in Chicago. Here are a few that stood out to me:
Gibsons Italia: Most people have heard of Gibsons, another great restaurant, and Gibsons Italia is their newest restaurant, about two years old. This was one of the best meals I've ever had. We ate here on this trip and honestly, I can't wait to go back. The food, service, and atmosphere were all incredible and these are the three ways in which I rate a restaurant. One of the specials was a white truffle pasta, and while pricey (truffles are always expensive) it was worth every penny. My husband and I shared everything because we wanted to try it all. Aside from the truffle pasta, we had the mint pesto pasta, meatballs, seven year aged acquerello risotto with scallops, filet mignon, mashed potatoes-ok we ordered a lot of food-but everything was delicious. The server was so helpful as we made our choices and he was spot on with every single dish. The atmosphere was just beautiful. We sat at a table for two overlooking the river and city lights. Starting our meal with complimentary prosecco and ending with banana gelato with an oreo crust, this meal was perfect from start to finish.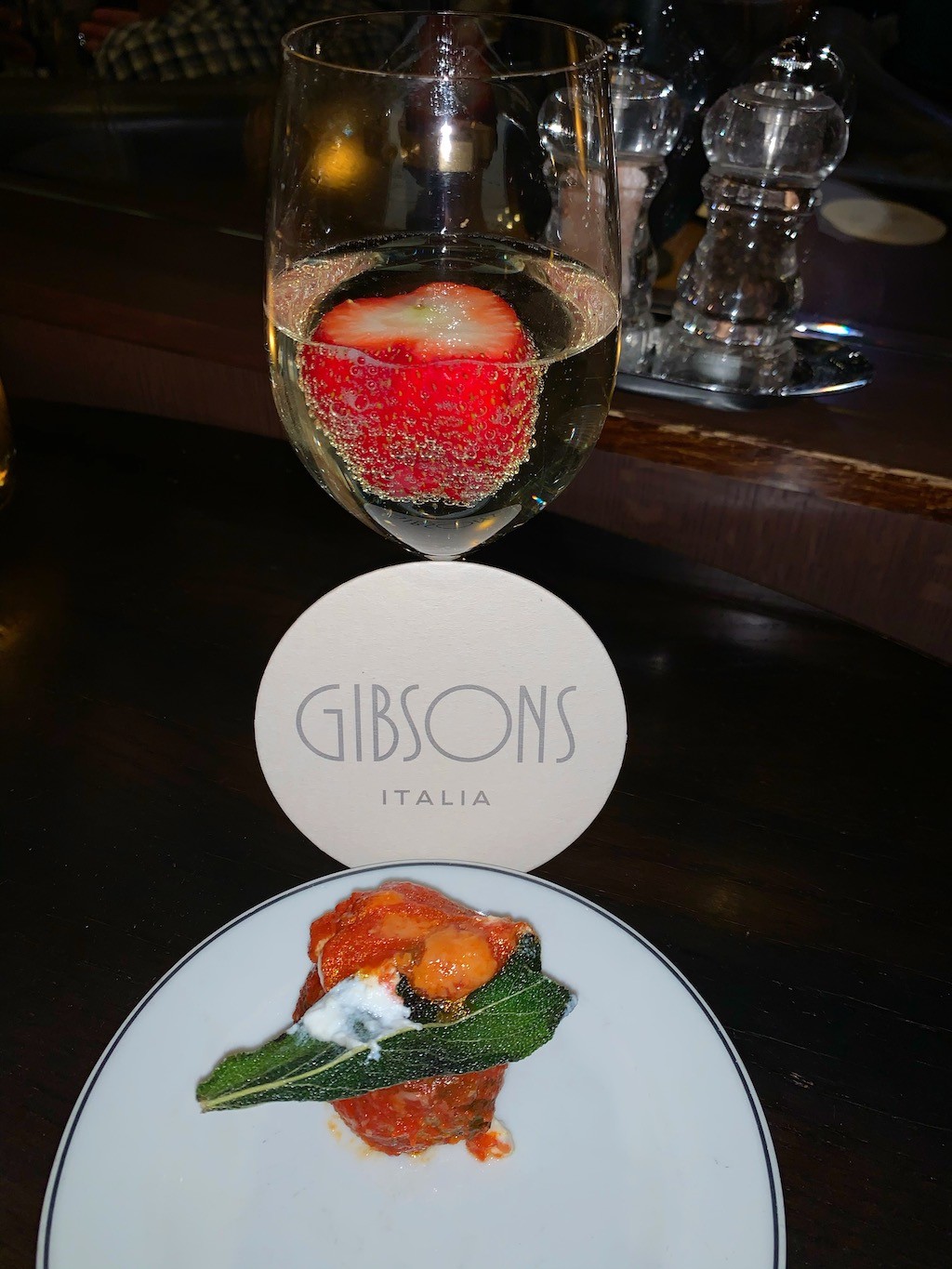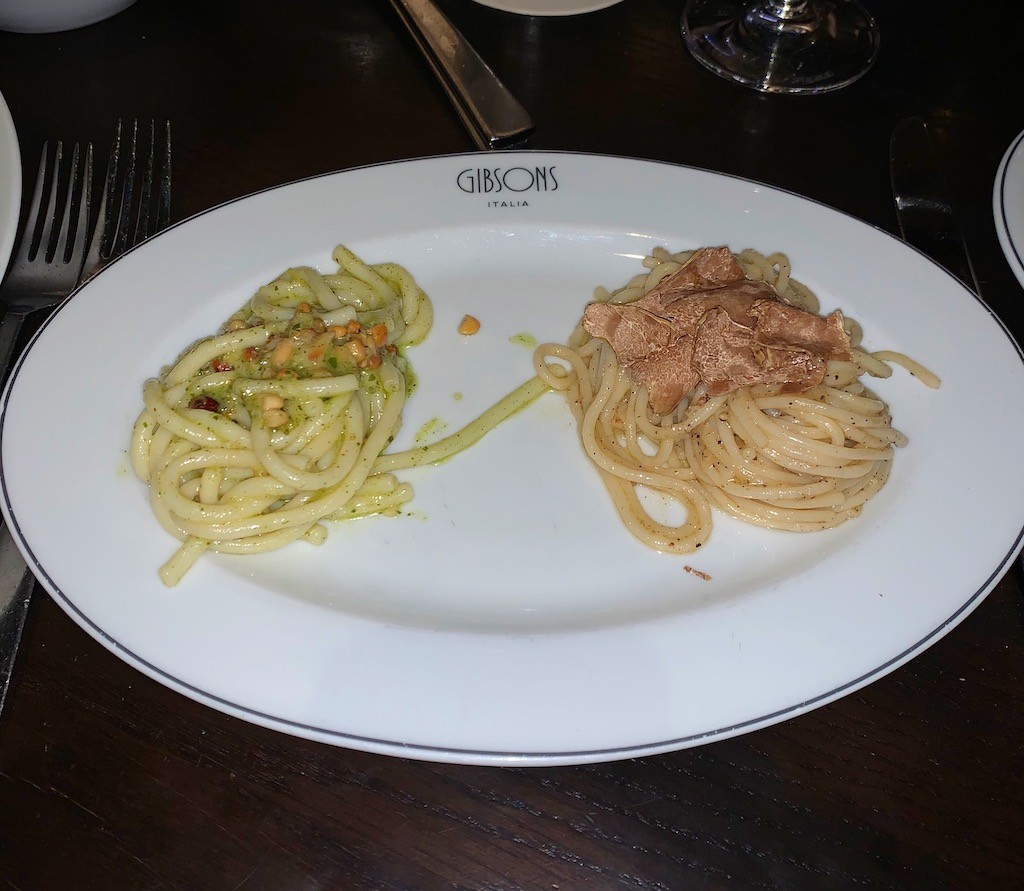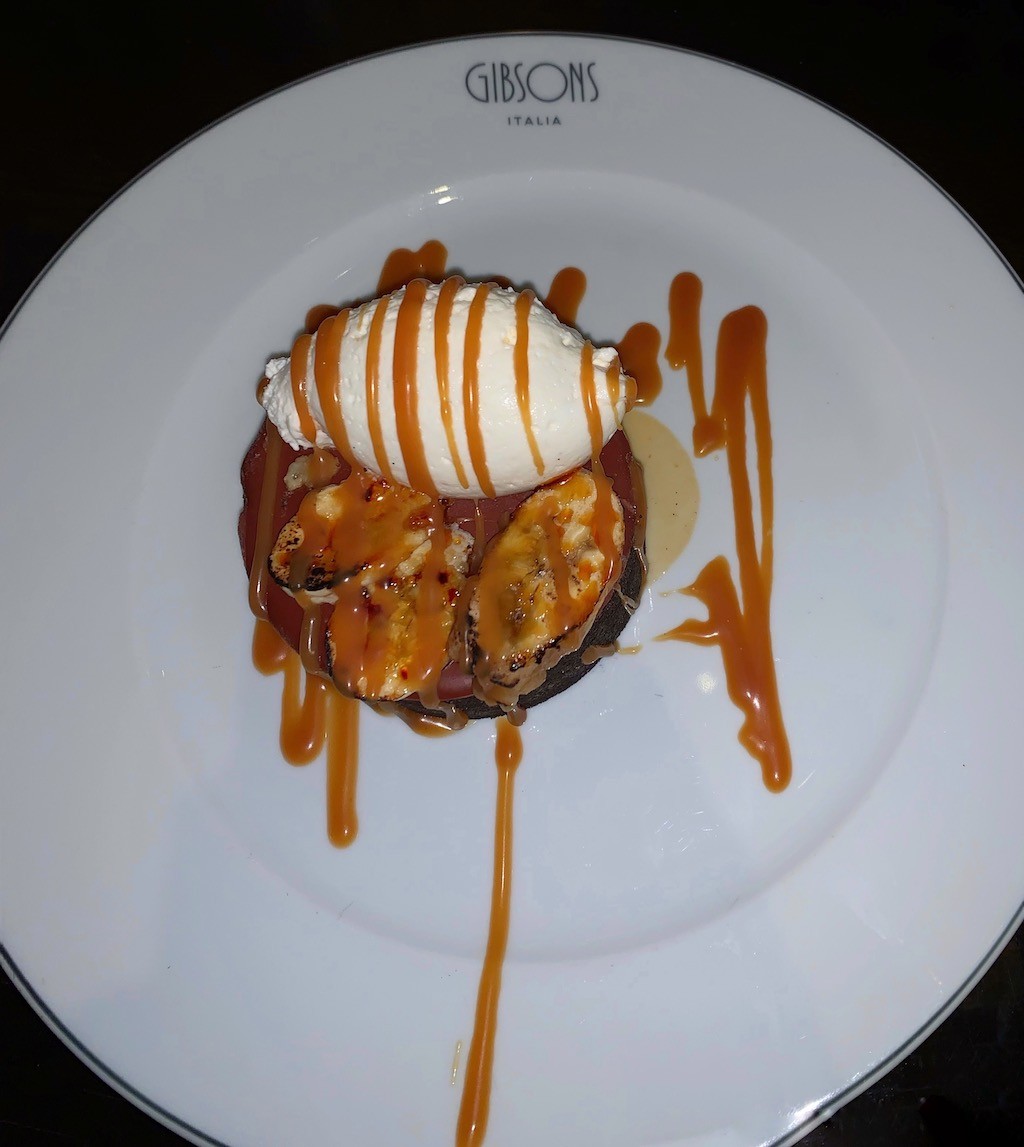 Real Good Stuff (formerly Real Good Juice): This is where I get my favorite smoothie. I love the Silky Smooth Sounds of Sonny Sanderson's Saxaphone made with almonds milk, cacao, banana, dates, maca, and almond butter this is as filling as a meal and keeps me satisfied for a long time, but I don't feel stuffed. They also have other items such as juices, bowls, toasts, soups, and more. Real Good Juice also has locations in Chicago in some Whole Foods stores-how great if you live there-you can get a smoothie every time you shop-jealous!!
Alinea: This is more than just a restaurant-it's an evening of entertainment. This three Michelin star restaurant features a tasting menu of approximately 18 courses-one better than the next. The menu changes by season, but I can tell you we started our experience with caviar in an ice boat and finished with flavored helium balloons and white chocolate painted on the table. It was quite an experience-and not just for our taste buds.
Lou Malnati's: My daughter always talked about this restaurant when she lived in Chicago (it was right around the corner from her) and so on this trip as we were walking around we decided to stop in to their Gold Coast location. We ordered two pizzas (thin crust cause of the NYer in me!) and added a few different toppings. We debated ordering a salad or an entree-we always look at what other tables are ordering and they all looked and smelled really good, but ultimately decided on pizza. Well, I ate three slices and it was delicious. It was a great break from the cold and I wish I'd eaten there sooner. I'll definitely be back.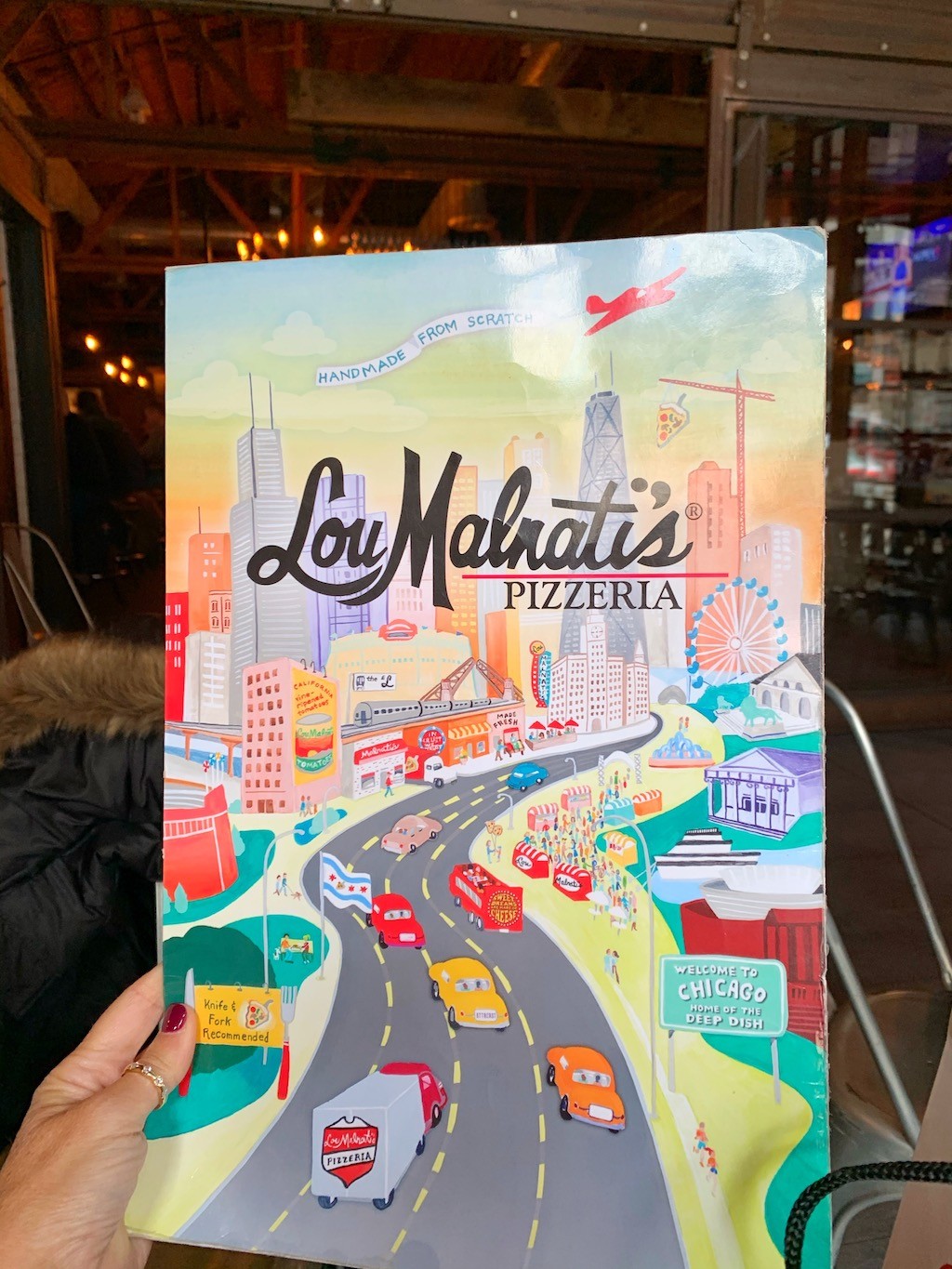 Eataly: I've eaten and shopped at Eataly in many different cities and they are always fun and delicious. Many times we'll get a baguette, cheeses, and some hams and take it out and have a picnic in one of the cute parks we always find. While at Eataly you can buy prepared foods, eat at a restaurant, go grocery shopping, or purchase kitchen gadgets and essentials.
Au Cheval: If you're looking for an amazing burger this is your place! Located in the West Loop, it's a good idea to get there early as there's usually a line. But it's worth the wait.
Sunda: I've eaten at this Asian restaurant a few times and each time I make sure to order the crispy brussel sprout salad-delicious. Aside from this you can choose from sushi, dim sum, fish, chicken, noodles, rice-trust me you won't go hungry!
Other restaurants I've eaten at and loved include: Prosecco, Summer House Santa Monica, Tavern on Rush, Carmines, Maple & Ash, RPM Italian, and of course, Dylan's Candy (technically not a restaurant but covers an important food group!).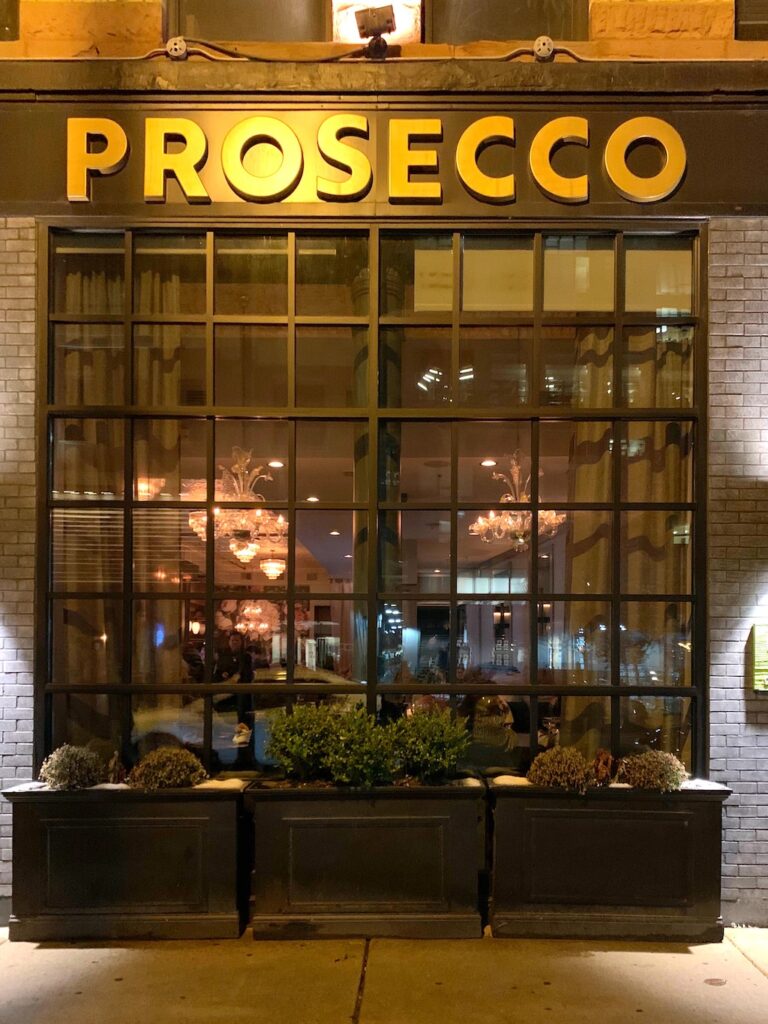 Where To Stay:
Palmer House Hotel: This is where we stayed on this trip and while it was in a different location than where we usually stay I really liked it. A Hilton hotel, Palmer House is located in The Loop and it's a great location for walking. The lobby of the hotel is just stunning-with a painted ceiling and beautiful bronze peacock doors. It's interesting to note that the Palmer House was built as a wedding present from Potter Palmer to his bride, Bertha Honore. It opened in September 1871 and burned down 13 days later in the Great Chicago Fire.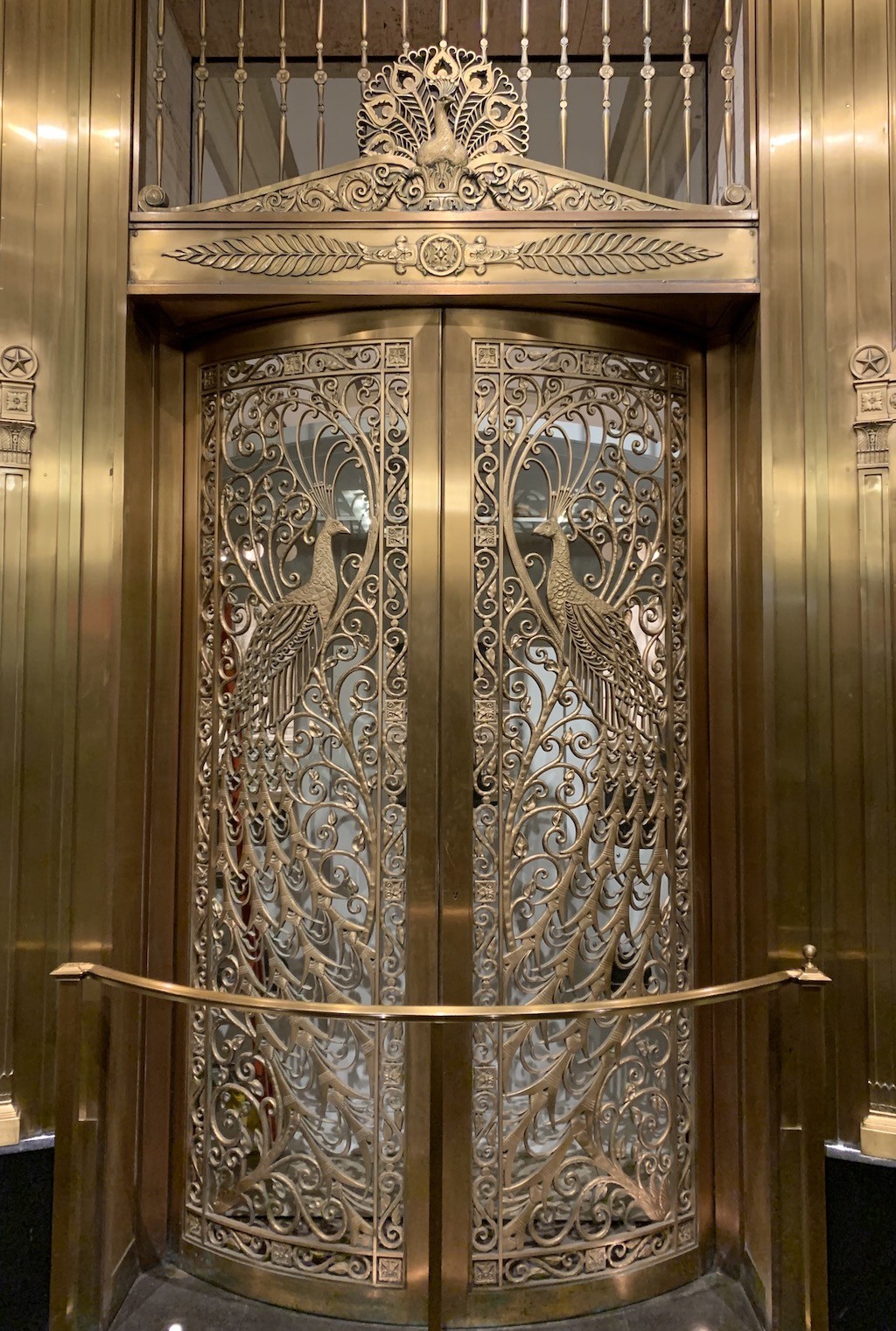 Thompson Hotel: Located in Gold Coast, this hotel has a very cool, edgy feel. Our room had two levels with a sitting area on the first level and then the bedroom on the loft. It was beautiful. The hotel also has a great restaurant, Nico Osteria.
Waldorf Astoria: This is one of my husband's favorite hotels and we've always had a great experience when we stay here. Located in Gold Coast, this hotel is very close to some great shopping.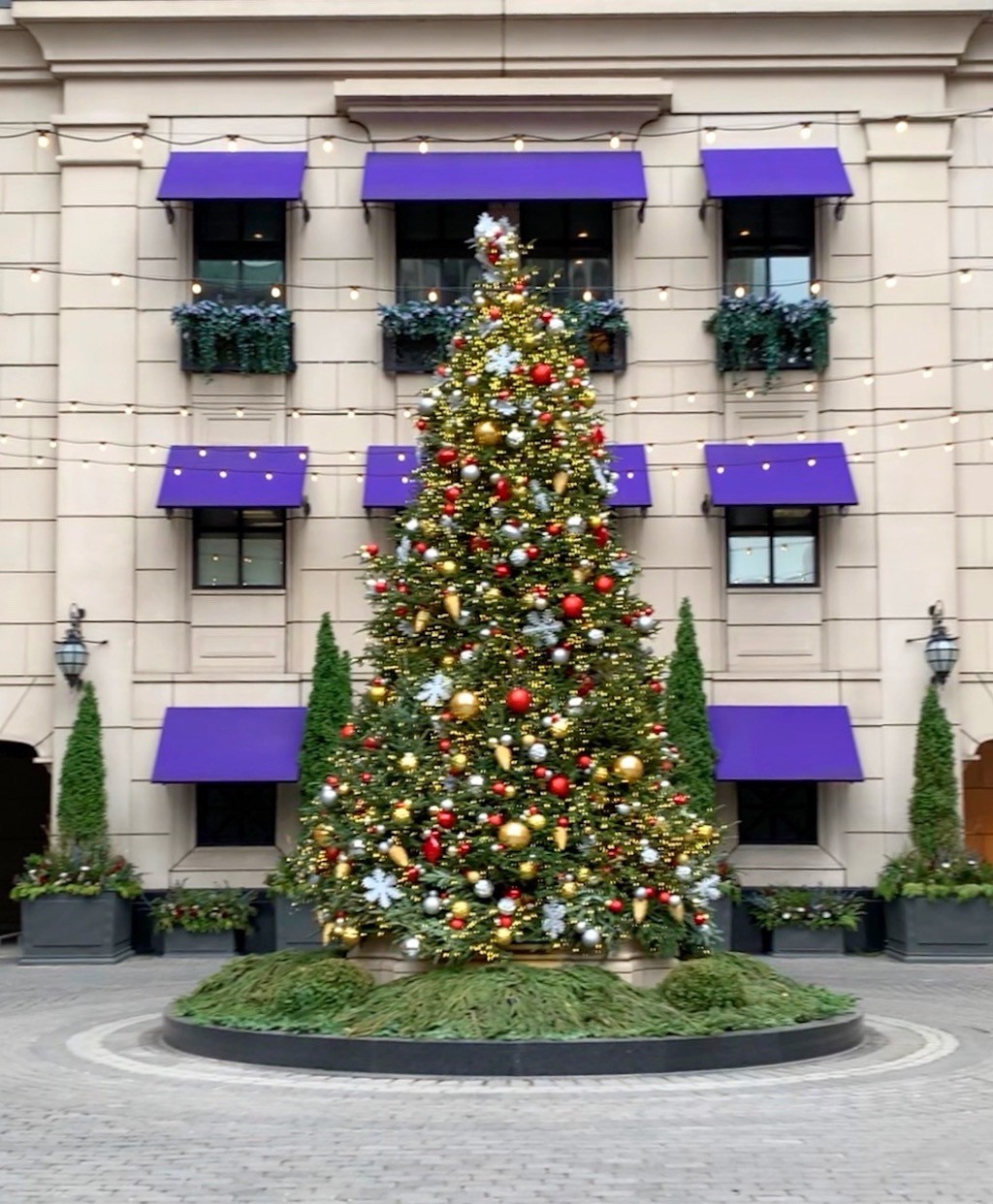 Four Seasons: This hotel offers beautiful views of Lake Michigan and the city skyline and is steps from great shopping. I stayed here with my oldest daughter and she opted to sleep on the pull out couch and said it was the most comfortable bed she's ever sleep on!!
There's So Much More To Explore:
On other trips we also ventured to visit other neighborhoods such as Wrigleyville, Wicker Park, Andersonville, and Lincoln Square where we stumbled upon the Von Steuben German Day Parade and had such a fun day. Trust me when I tell you that I just touched upon restaurants, hotels, and things to do in Chicago. It's such a great place with so much to do you won't have time to be bored!