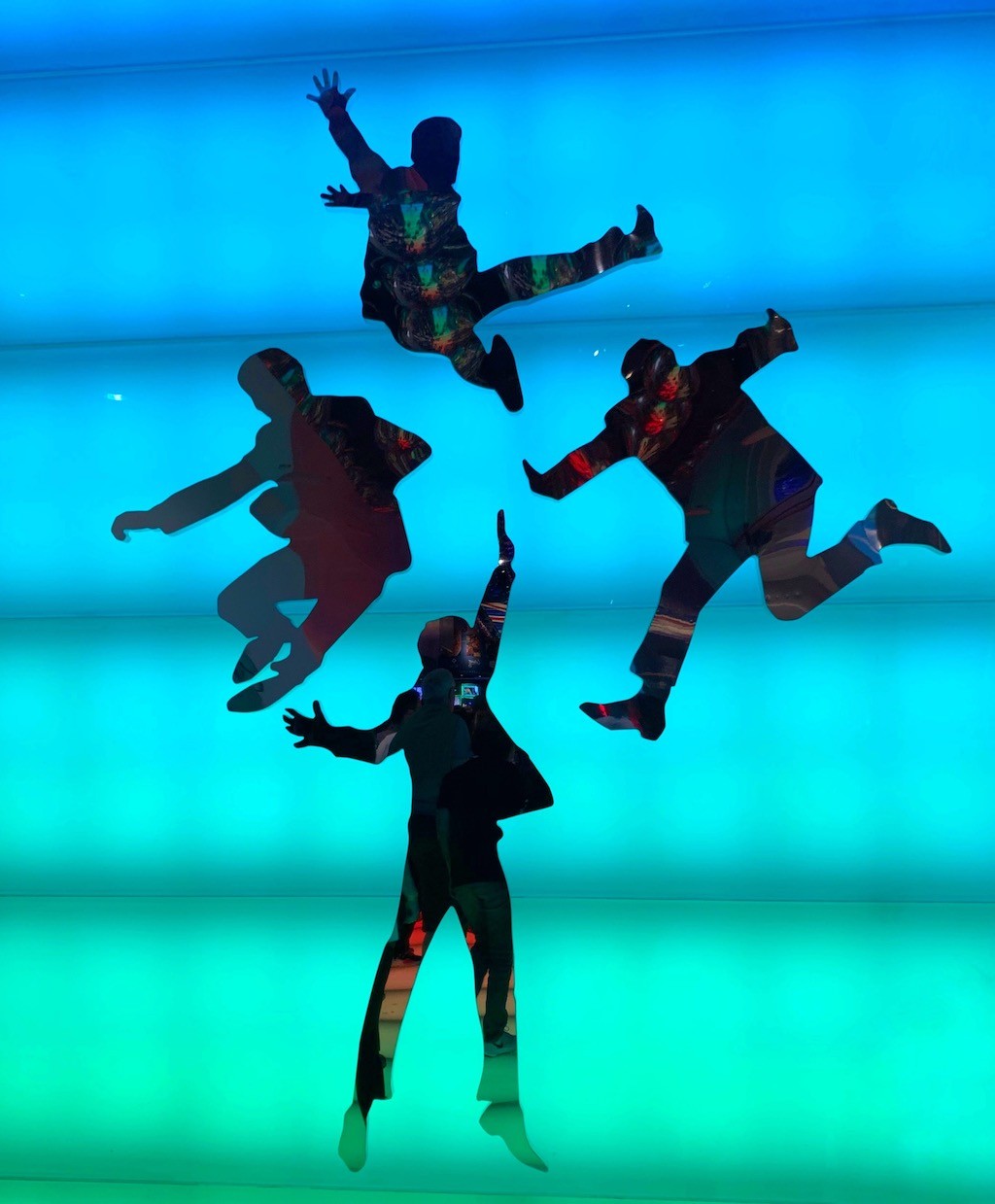 Once a year my mom (who's 86!), my sister, and I try to take a trip together. We've traveled to New Orleans, Boston, Tampa, Charleston, and this year Las Vegas. My mom's wanted to go to Vegas for a while and this was the year! We had a fabulous trip! We ate, gambled, drank champagne, saw shows, ate, relaxed by the pool, shopped, ate, drank champagne-you get the idea! And the best part-my daughter drove to spend some time with us!
Ok, I'll start with the not so great part. So we stayed at the Aria Resort & Casino, a new hotel for us. The room was nice, the pool great, the personnel at the club level helpful, but… Our first day there we left the room before 10 am, heading to grab a quick breakfast and then to the pool. I put the service light on and we left for the day. We spent a truly relaxing day at the pool-a couple of glasses of Prosecco, a light lunch, the sun, and a book-perfect! We returned to our room at 4:00 planning on showering and changing before heading out to dinner and a show. Unfortunately our room had not been serviced yet, annoying, but not terrible. Housekeeping was still on our floor so we grabbed some towels and told them they could get in to our room in an hour. We left and when we got back at midnight our room still had not been serviced! I wasn't happy, but it wasn't the end of the world. I called down to speak with someone and they said they could send someone up at that time. Uuummm, it's midnight, thank you but this old lady needs to go to sleep! The next morning I asked to speak to the hotel manager as I wasn't happy with how this situation was handled the night before. I was told he would call me on my cell phone.
Later that afternoon we bought a bottle of Prosecco for the room from one of the shops in the hotel and wanted to put it on ice. We called to request ice be sent up for the ice bucket and asked for champagne glasses as well. We were told there would be a delivery charge for the ice and a rental fee for the glasses-wait, what??!! I've never heard of this before. Plus I thought they encouraged drinking in Vegas?? My sister said never mind we'll get the ice ourselves, and went in search of the ice machine on the floor-it was empty. She finally found ice and some plastic cups-that works! I'm not fancy I can drink out of plastic cups. 😂 Well, we ended up not even opening the bottle that night and so the next morning we encountered the same problem-an empty ice machine on our floor. We called down and explained the situation and they gave us a hard time but eventually said they extend the "courtesy" of bringing ice to our room since the floor machine was empty—really? Aren't there certain accommodations hotels extend?? Anyway, we were leaving the room and so we asked if they could please fill the ice bucket that contained the bottle of Prosecco. I'm guessing you could figure out what was not done when we got back to the room! Nothing major, but just small annoyances that were not handled well. But honestly, it ok as there are so many other hotels in Vegas we can stay at next time! Oh, and just an FYI, I still have't heard from the manager.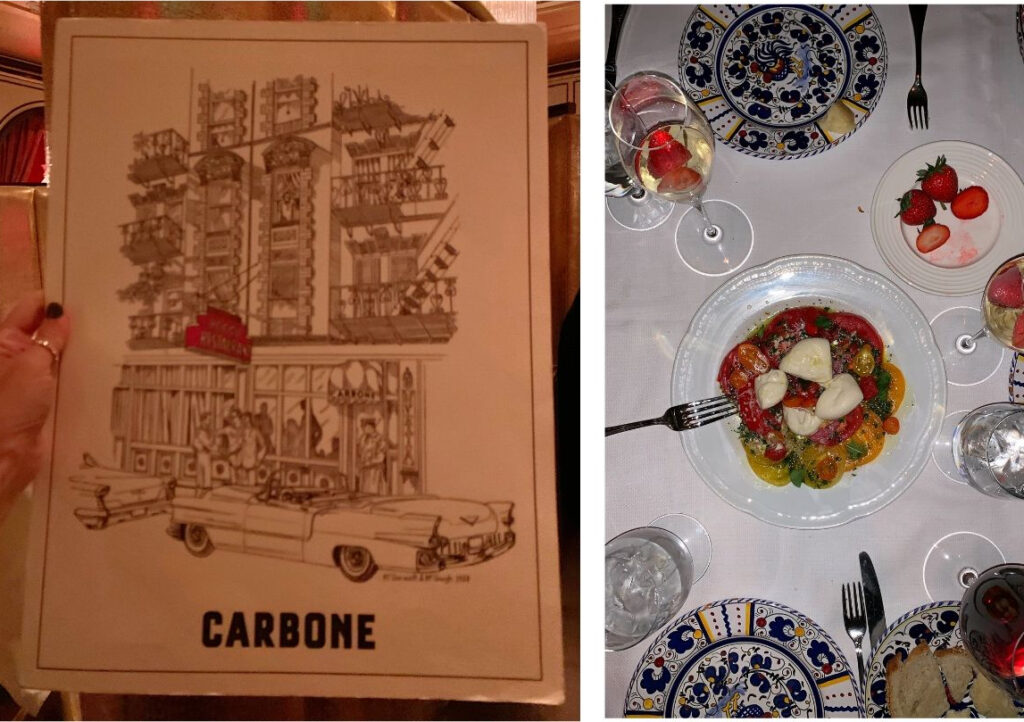 Now on to the good stuff-the food. O.M.G. There certainly is no shortage of incredible restaurants to choose from in Las Vegas. The first night it was just my mom with me. I know my mom loves seafood so I thought Joe's would be a good choice for us, and it was! The food was delicious and the service excellent. If only I had been able to find it more easily and not make my poor mom walk in circles pushing her walker. Sorry Mom. The next three dinners were all New York based restaurants, of course as NY is my favorite city! We ate at Il Mulino and the food was just as delicious as in NY. On this trip we were celebrating my sister being 10 years cancer free-yay! So when I made all the reservations on Open Table I wrote that it was a special occasion. My sister had other ideas. She wanted to celebrate my birthday. At Il Mulino they bring over a dessert with a candle and I'm telling them it's for my sister and she's telling them it's for me-so funny (and this happened the next two nights as well!)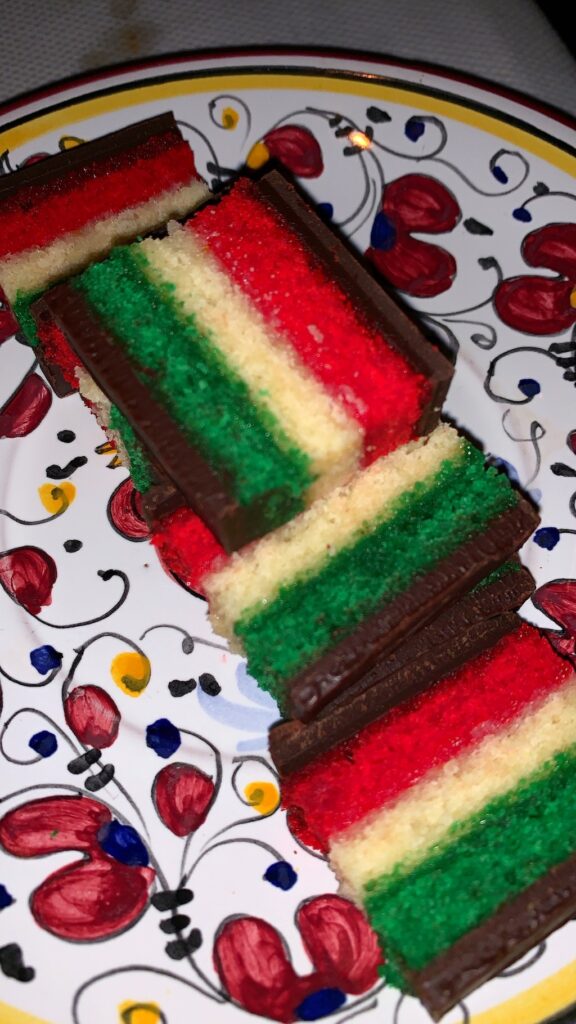 The next morning my daughter, Caitlin, arrived, surprising my mom (side note: a few years ago my youngest and I went to visit my mom in Florida and Caitlin decided to come as a surprise. Before we got to my mom's house Caitlin hopped in to a duffle suitcase (don't worry, we left the zipper open a bit so she could breathe!) When we got to my mom's she jumped out-well we're lucky my mom didn't have a heart attack!) This surprise in Vegas was more low key, but still a great surprise for my mom! One of Caitlin's favorite restaurants in NY is Carbone, and they have one in Vegas so that's where we went. A plus was it was located in our hotel so my mom didn't have to walk all over creation to get there! Dinner at Carbone was above and beyond what could have been expected. The food was phenomenal and Caitlin ordered a lot!! The service was exceptional-they kept us laughing at every turn, and the atmosphere-well, it was Carbone! Plus they bought us rainbow cookies (a cookie we hold close to my heart as my mother-in-law always made the best rainbow cookies. Check out her award winning recipe and let me know what you think when you make them!) My cheeks hurt from laughing so much!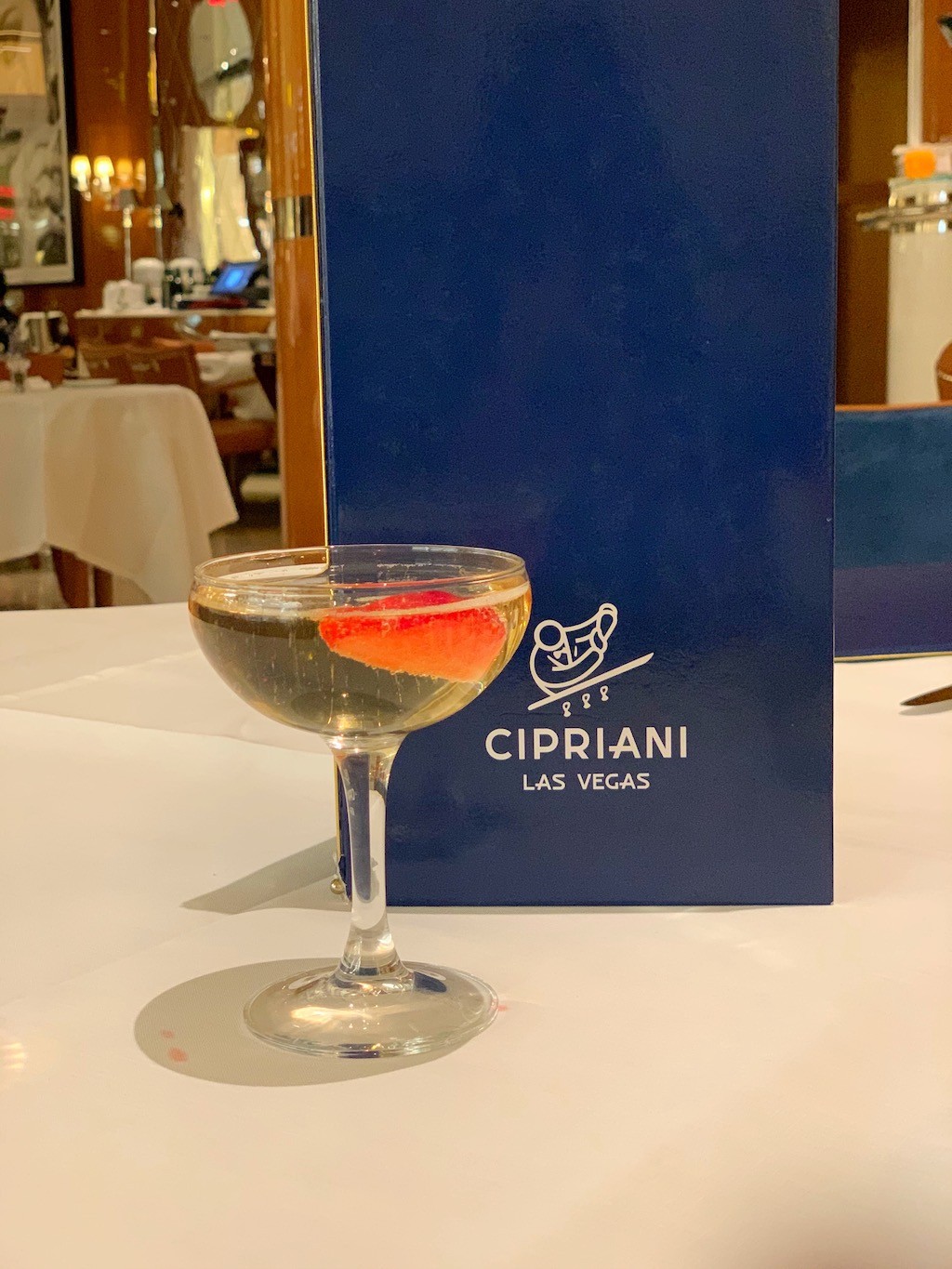 Saturday night, our last night, we didn't have a reservation anywhere as we were going to see a show and figured we'd find something after it let out for a late dinner. My sister loves Cipriani Downtown, again a NYC based restaurant, so I made a reservation there, just in case! My sister was very happy! The food and service were excellent. The atmosphere was very different from that in NYC, but both are excellent, just in different ways. Cipriani Downtown is on the smaller side and the tables are tightly placed-to me it adds to the atmosphere there. In Vegas, Cipriani was a more open space and made for a very relaxed atmosphere. Our server brought out both a happy birthday dessert for me and a congratulations dessert for my sister-love it! Needless to say we did not go hungry at all while in Vegas!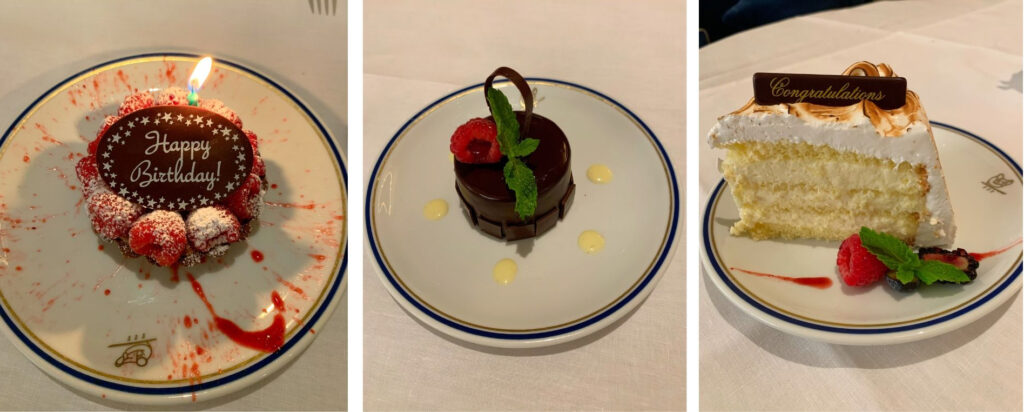 Nor were we bored! We saw two shows while we were there. Love, Cirque du Soleil was the first show we saw. I'm not the biggest Beatles fan, but growing up when I did I do know all their music and it does bring back happy memories when I hear their songs. The show was beyond anything I could have imagined! There were so many talented dancers and acrobats, the scenery was beautiful-the colors and the stunts-it was so amazing how they performed to the music!! It was a really fun night. Another show we saw was Menopause the Musical. The audience was pretty much women my age, 50+, with a smattering of men (probably dragged there by their wives!!). Throughout the show the audience was hysterical. I guess it hit close to home for a lot of us! I'm not a laugh out loud person, but my mom and sister are and I was concerned they were going to pee themselves they were laughing so hard! The cast consisted of four very talented women and it really was a fun night.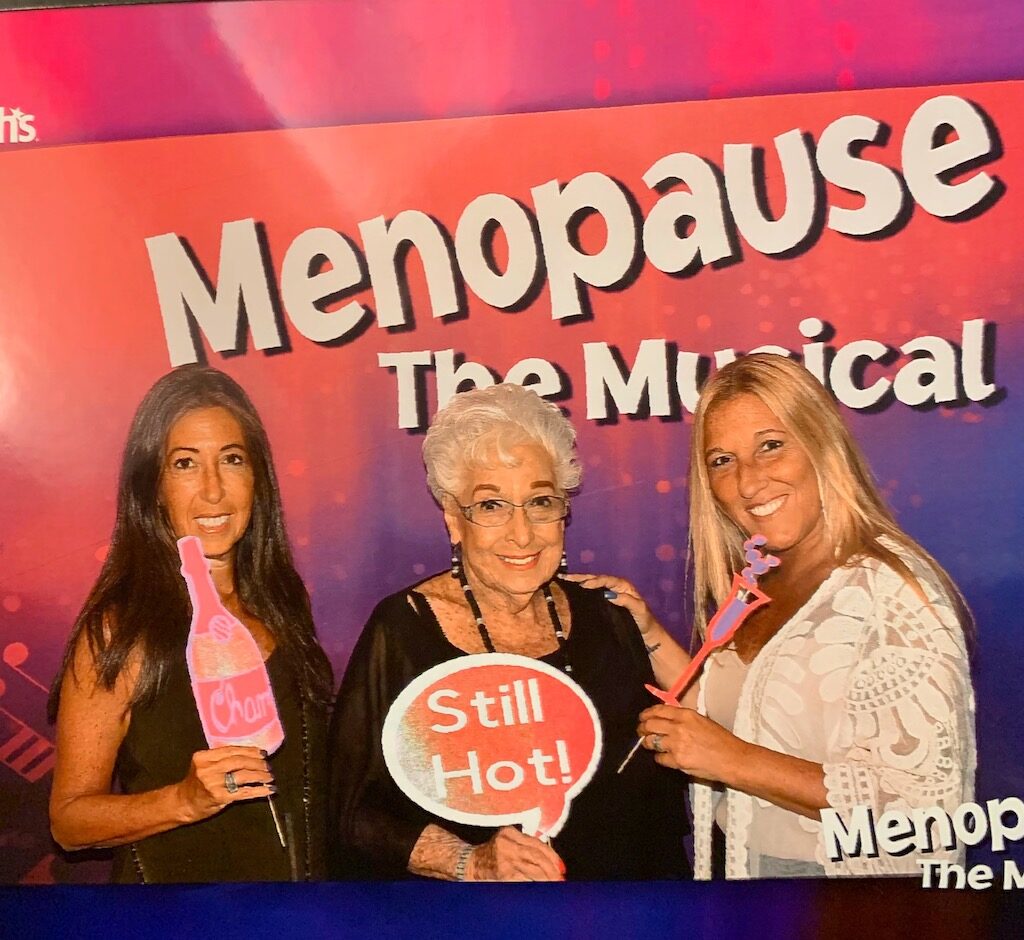 Of course we gambled a little, I mean we were in Vegas! Of the three of us, my mom is the only one who likes to gamble! My husband asked me to play roulette for him so I did and let's just say I'm a very sore loser! I get so anxious when I'm gambling and tbh, I'd rather go shopping and have something to show for my money, but I sucked it up and did this for my husband. I had my daughter sit with me (my mom and sister were off playing the slot machines). It was fun talking to the croupier. I actually know that he's the youngest of four with three older sisters who always ask him to move things, one lives in Seattle and one in LA, not sure about the other, he has a four month old daughter, and teaches 10th and 11th grade earth science. You find out a lot as they're taking your money! Yup I lost! My husband was fine that I lost as long as I had fun. NO, I'm a sore loser remember??!! 🤣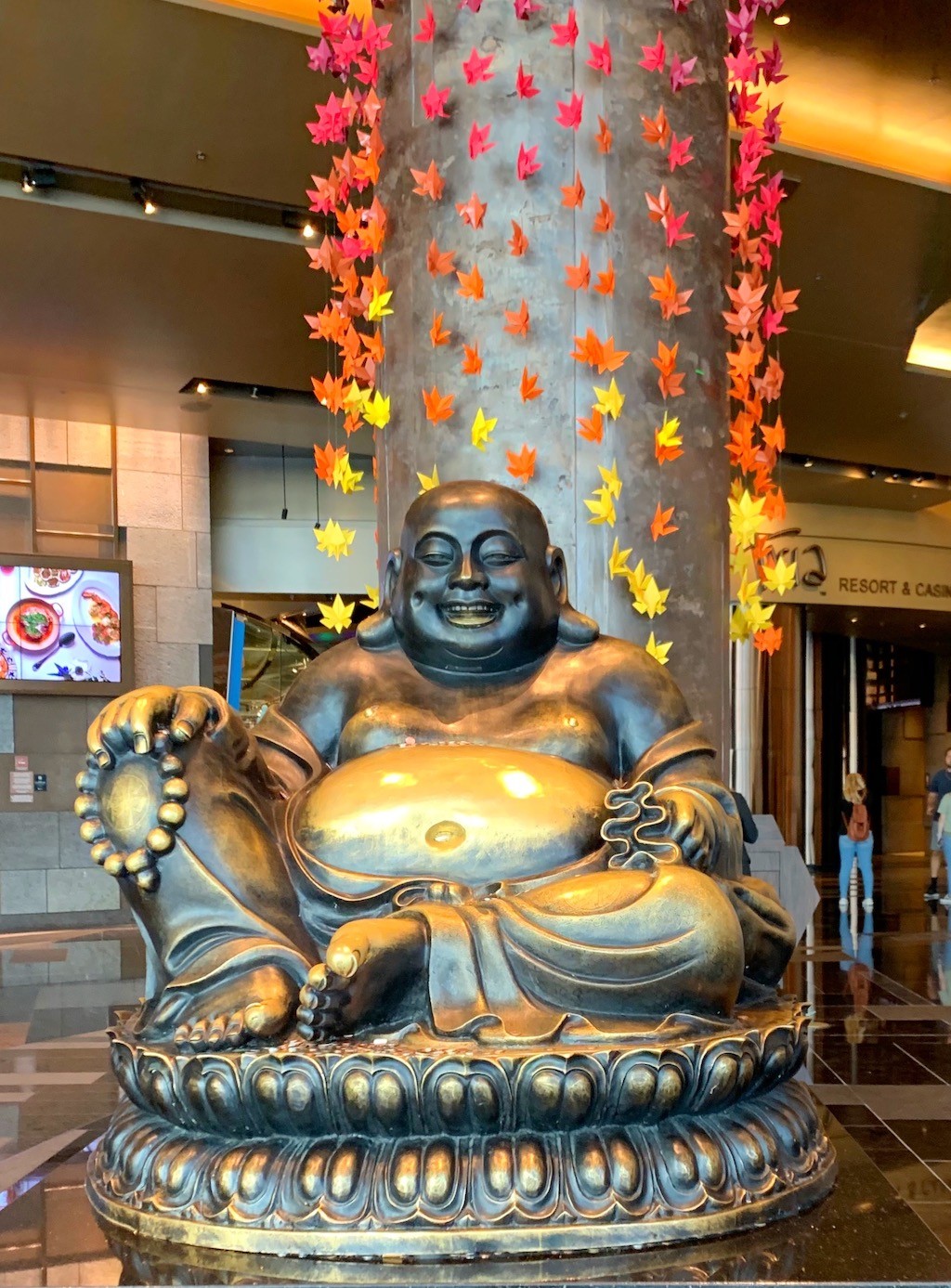 Las Vegas was a fun destination plus we had incredible weather. We've already started thinking about our next trip. Maybe Savannah. Let me know if you have any suggestions of what to do there or any other places you think we should visit. I'm going to nap in my spot on the couch now-the time difference really throws me off (plus I feel the need to be lazy for a bit!)