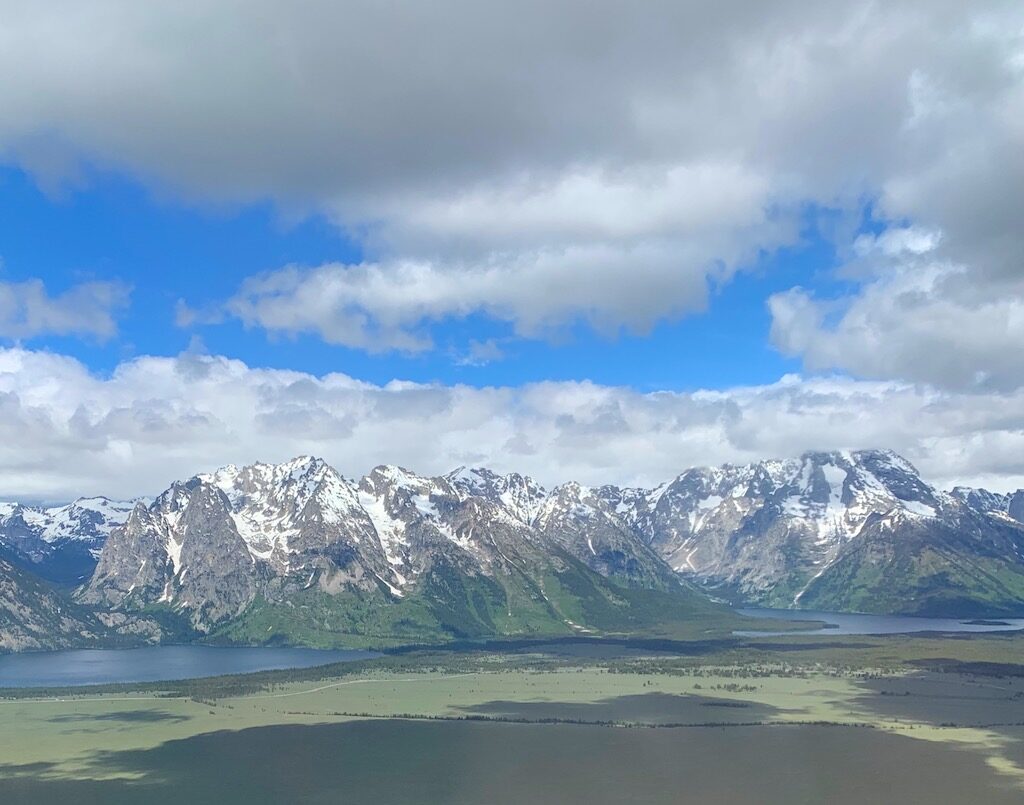 My son had gotten the travel bug so when he asked me if I wanted to take a trip of course I was on board. My husband, son, and I decided to go to Jackson Hole, Wyoming. We skiied a lot with our kids, but this was our first trip to a ski resort when there was no snow and we were so excited. Hiking is a relatively new activity for my husband and me. Typically on vacations we will walk the cities we are visiting stopping to shop or eat, but taking a vacation with hiking being the main focus is not something we have done in the past. And I so wish we had, especially when we took those family trips.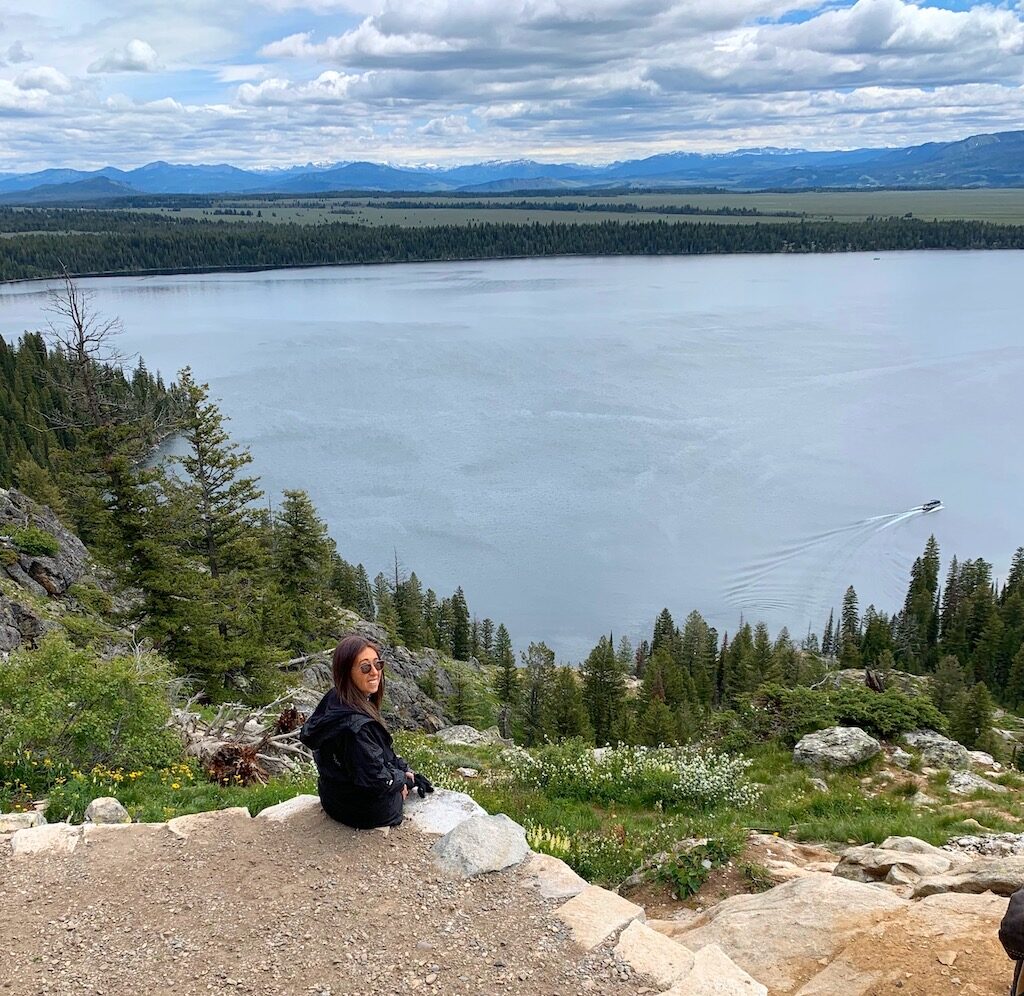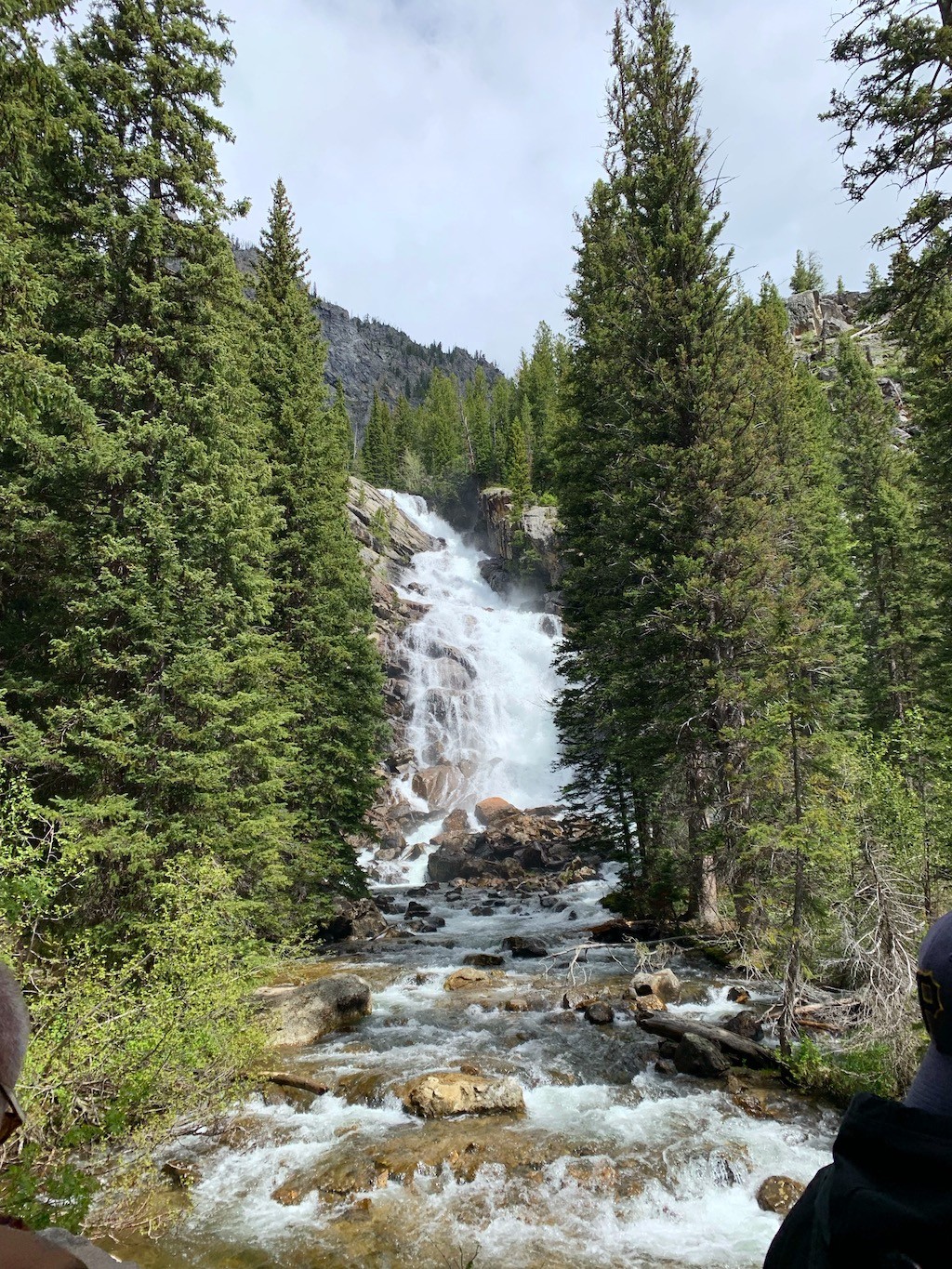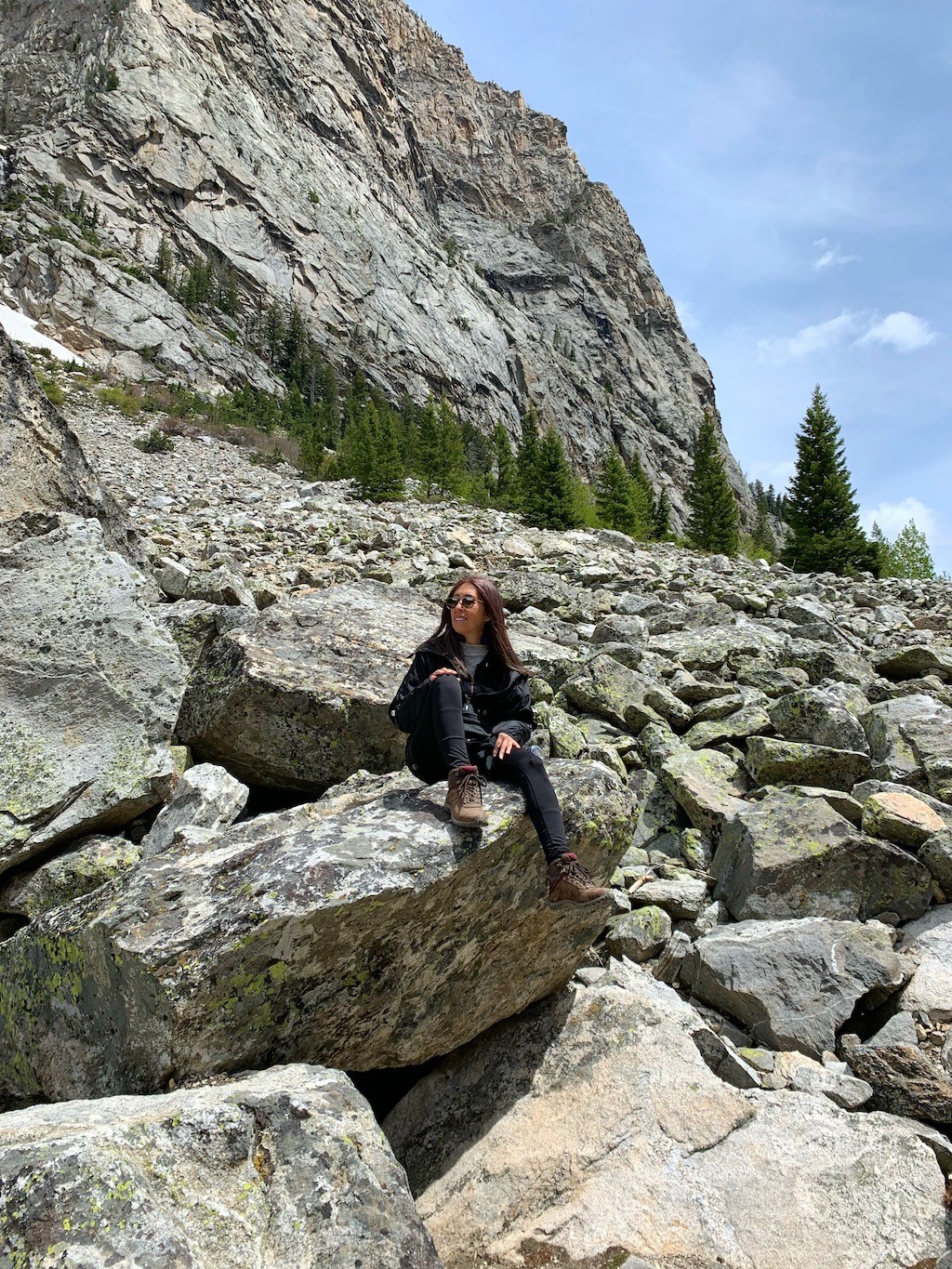 While in Jackson Hole we hiked some great trails. The first day we hiked Jenny Lake in Grand Teton National Park. The view of the lake was spectacular, worth dealing with the crowds (which tells me it's a great place because everyone also wanted to see the views.) We decided to continue on up the trail and it got less and less crowded. At one point we came upon a meadow where a moose and her calf were feeding-very cool! We had taken the boat across the lake to the starting point but decided to walk back. I thought it would be an easy walk around the lake-WRONG. It was uphill and just when I thought we'd begin a descent it went up again. Finally we made it back to our starting point. As exhausted as I was it was a great feeling to have completed this hike.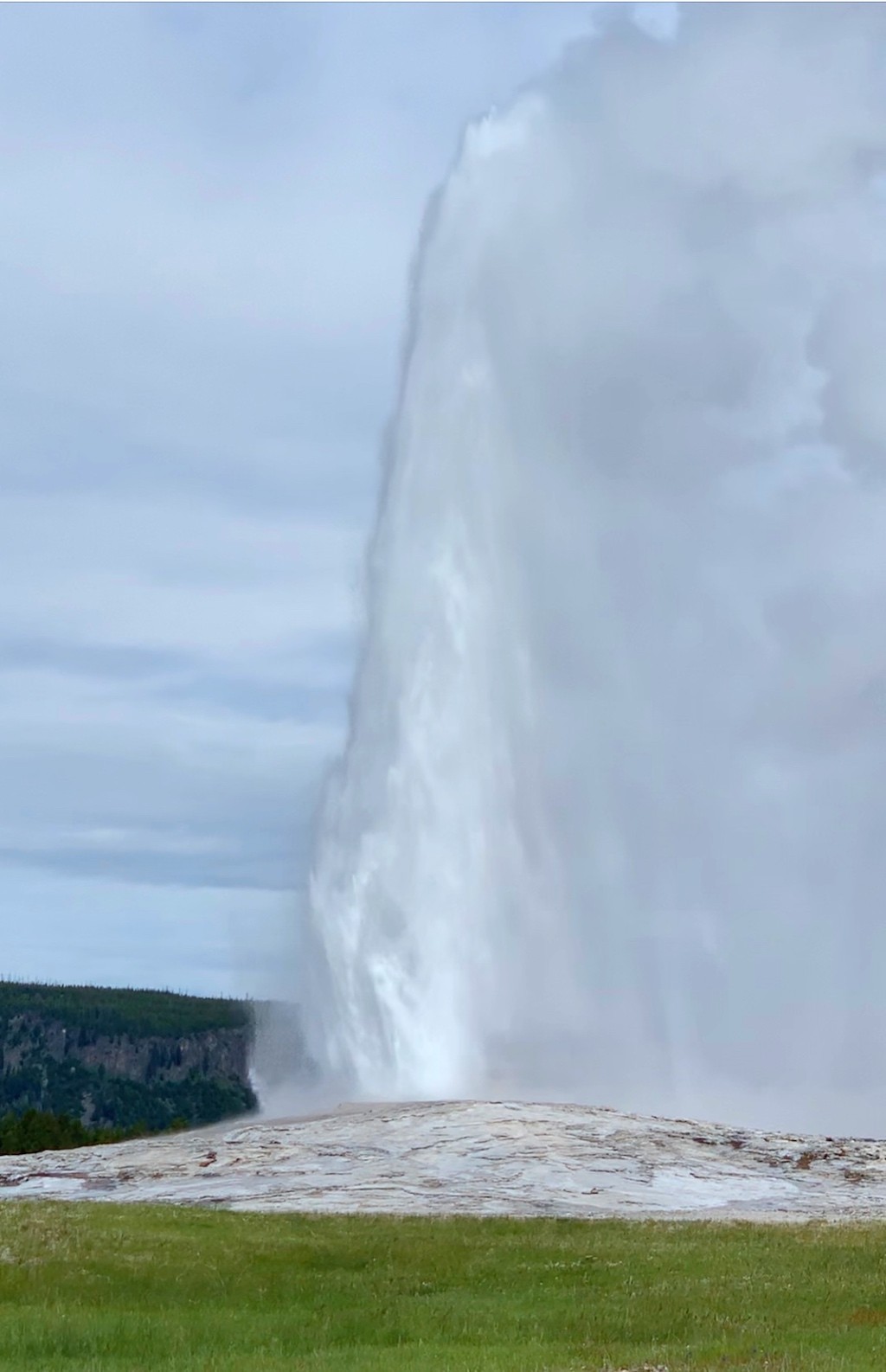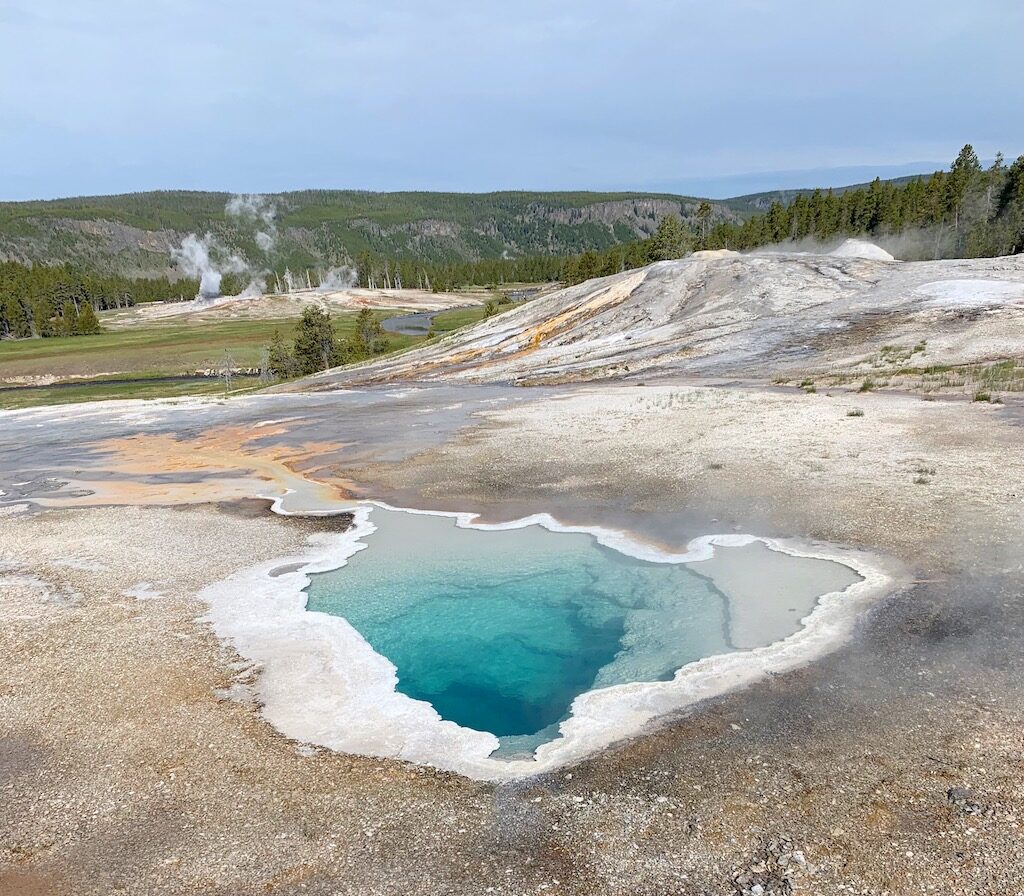 The next day we drove to Yellowstone National Park. My husband and I had been there on our cross country trip a few months prior, but my son hadn't and we wanted him to see it. Of course we stopped at Old Faithful. We also saw hot springs, mudpots including Fountain Paint Pot, and a geyser that hadn't erupted (is that the right word?) in months go full force for hours. Along the way we did see bison, elk, moose, but no bear yet!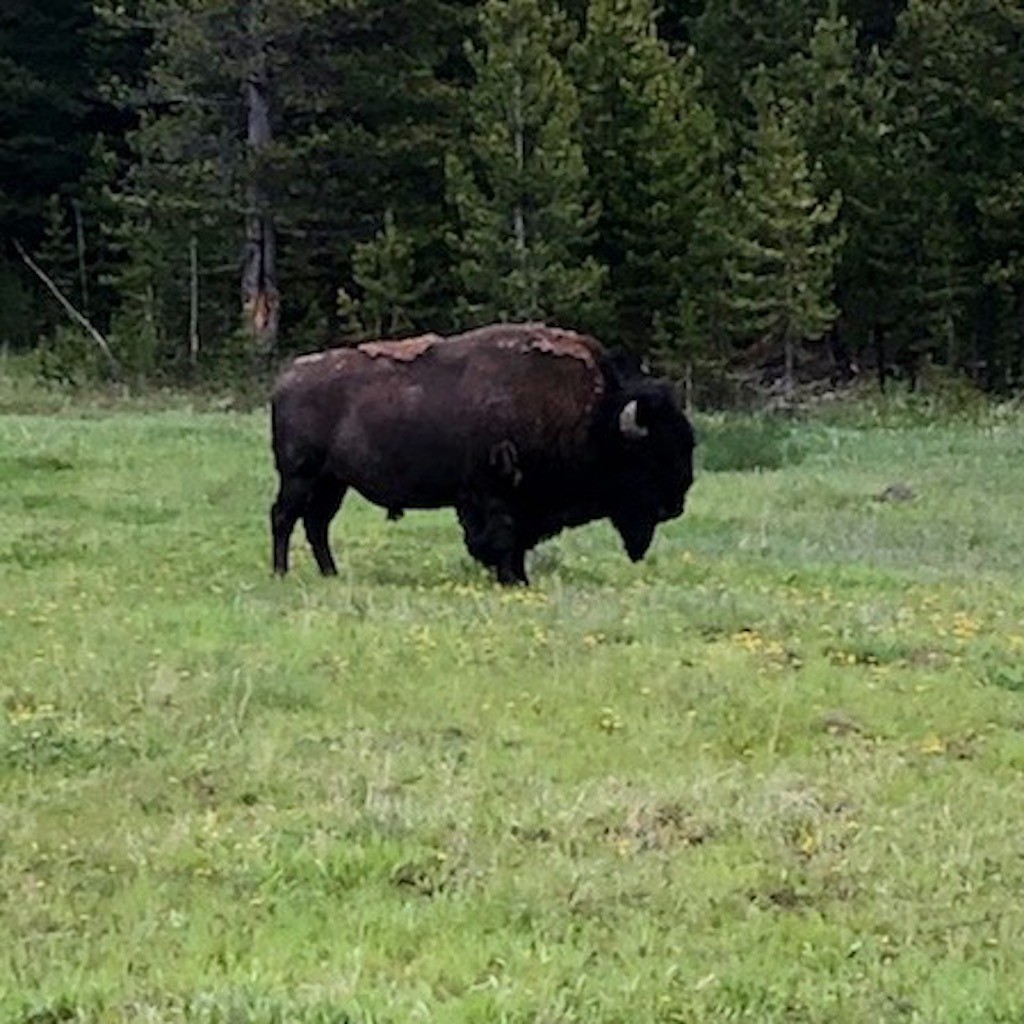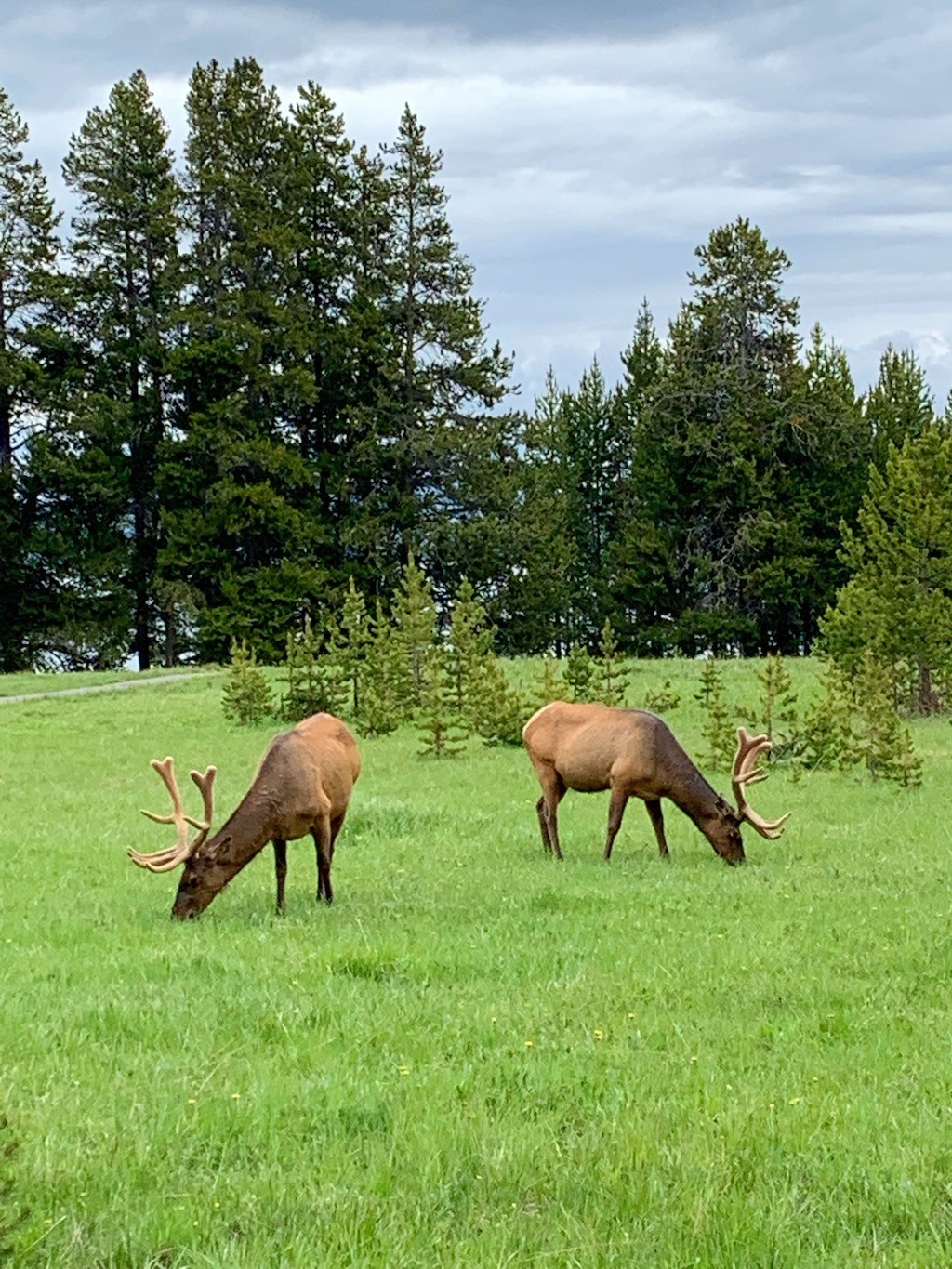 On our drive back cars were going slowly as we neared our hotel. We stopped to ask someone what was going on and they said a grizzly bear was up ahead-yes!! We got out of the car and sure enough back in the woods was a grizzly. I wasn't able to get a photo as it took off rather quickly, but it still counted (right??) and I was so excited. What a great way to end the day.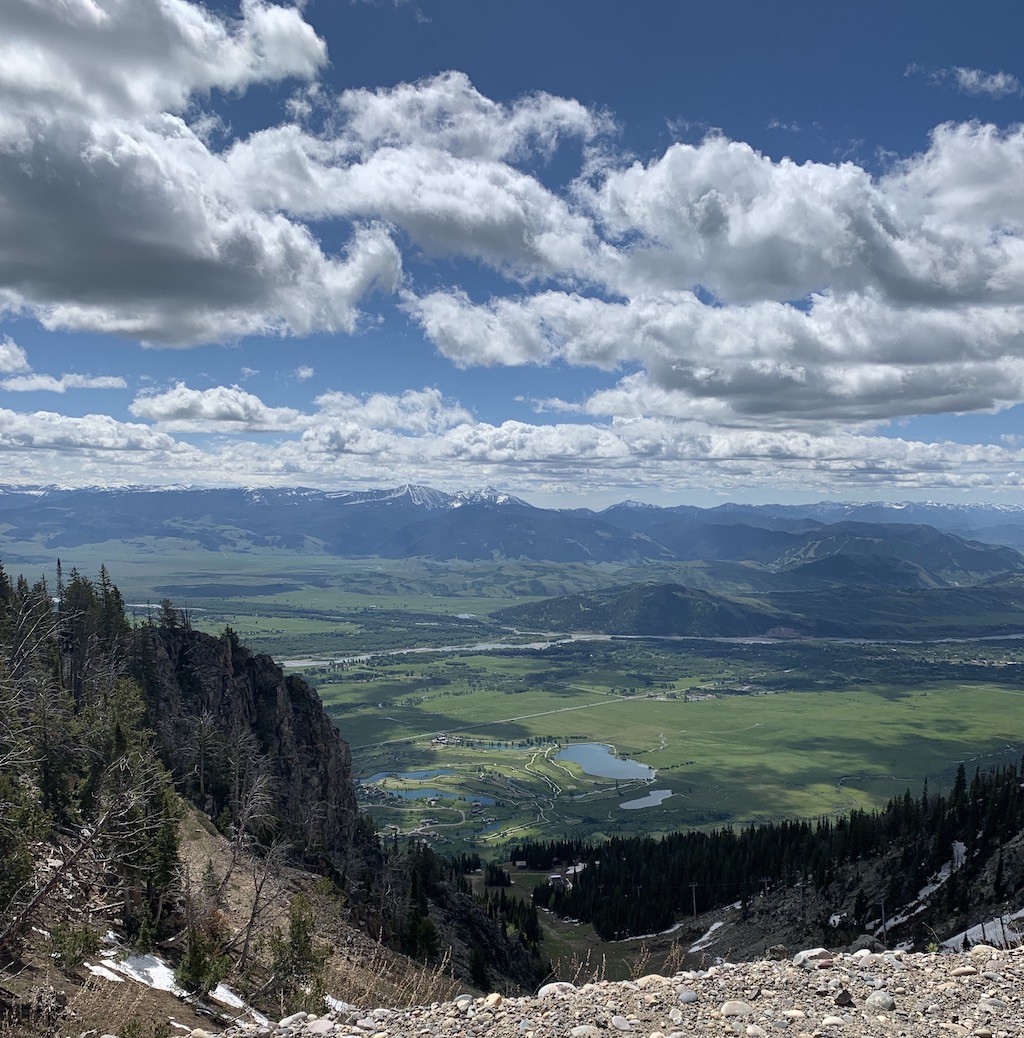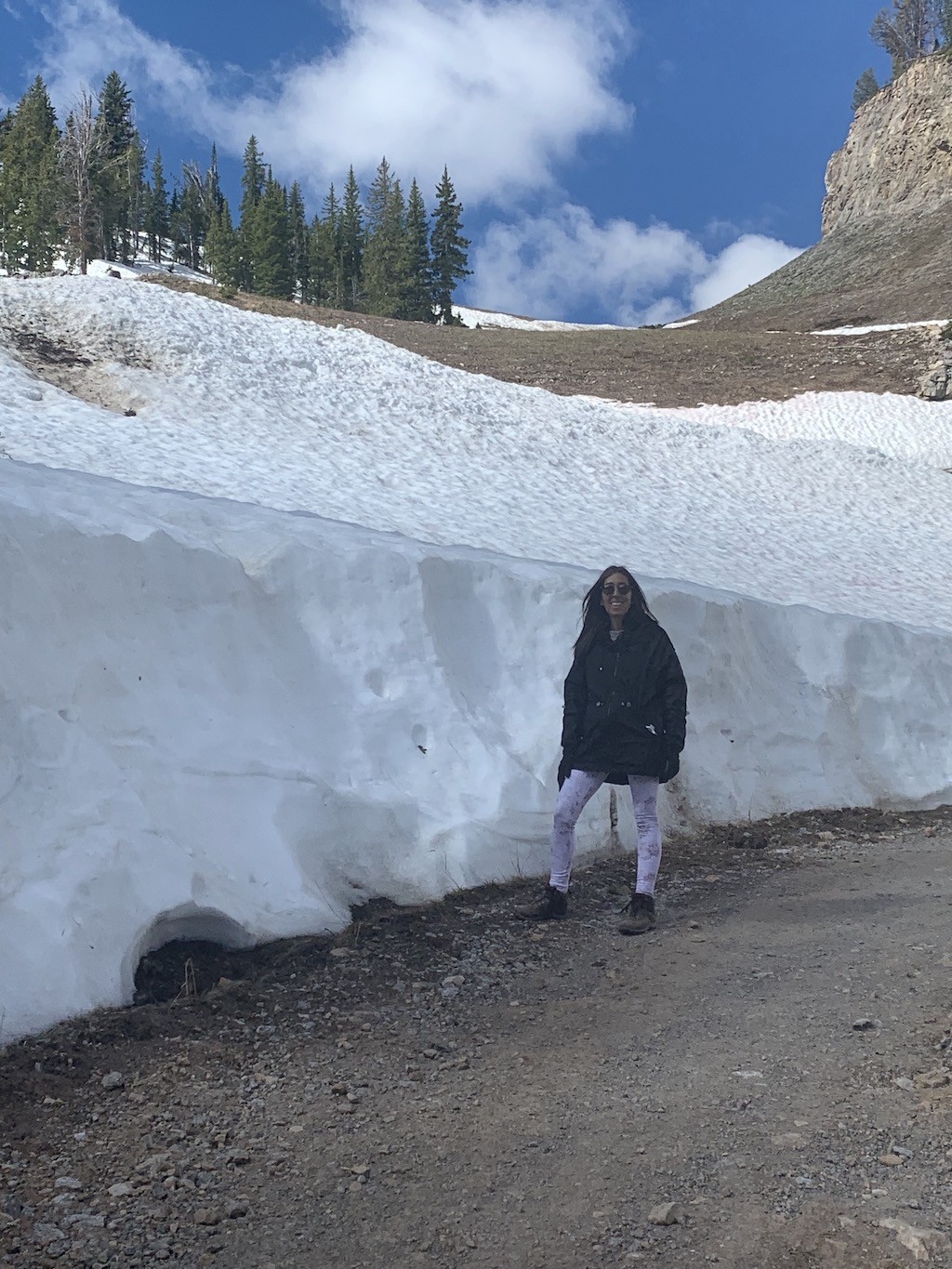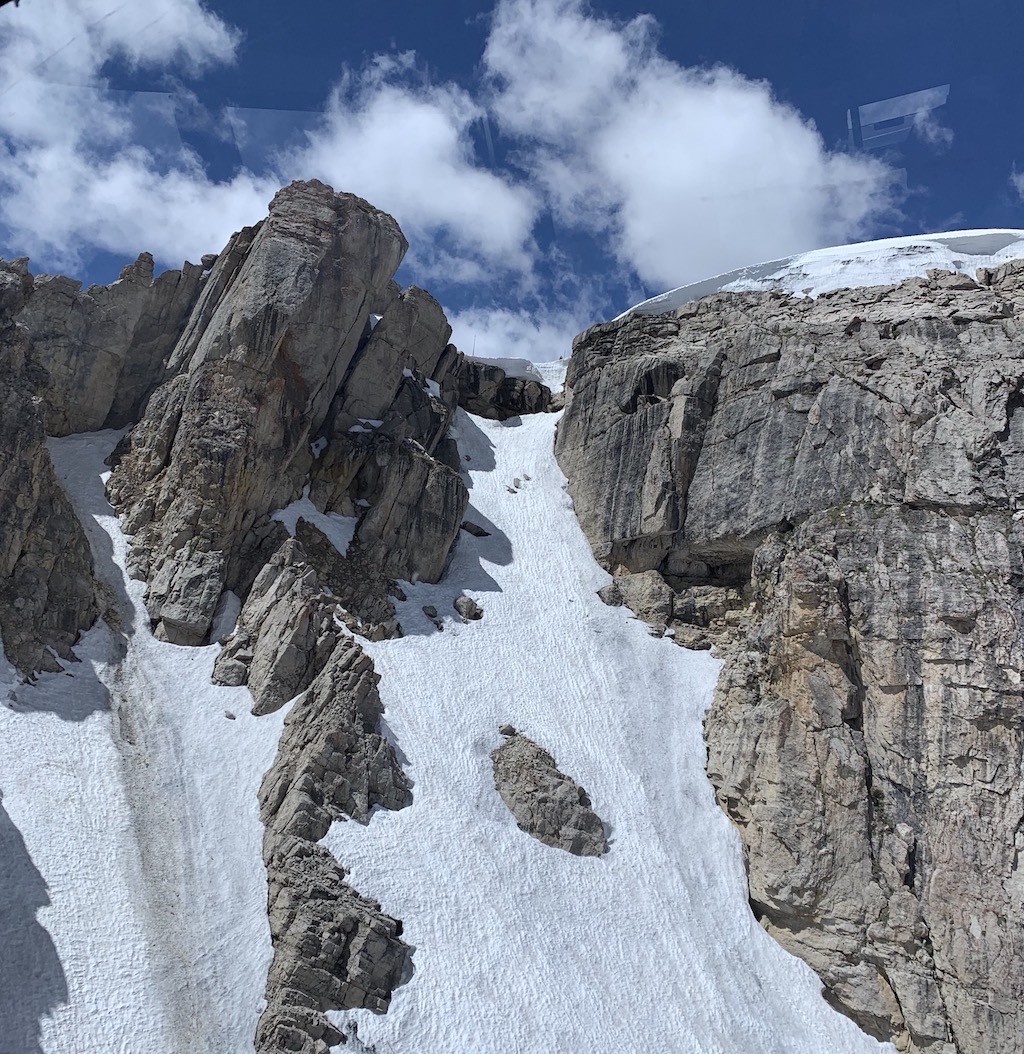 Since we were staying at a ski resort we decided we needed to hike the top of the mountain. On our third morning we took the gondola about 2/3 of the way up the mountain and hiked the rest of the way to the top. Well, this was quite a challenge. I felt bad because my son and husband had to stop frequently for me, but they were encouraging and patient. The usual path was closed due to snow so we had to take the long way-yikes. We did come upon a good amount of snow, but most of it was on the side and only once did we actually have to cross through it (with my husband in shorts 😂). As we were walking up we saw a lot of people hiking down, but we were told it's easier on your joints to hike up. I guess they looked at me and my husband and figured that'd be best for us oldies!… Anyway, we made it to the top and I was so proud of us! The view from the top of the mountain was beautiful, as were the views along the way. I think I now know why people run marathons-it's such a great feeling to finish and getting to the top was the finish line for me-for that day at least!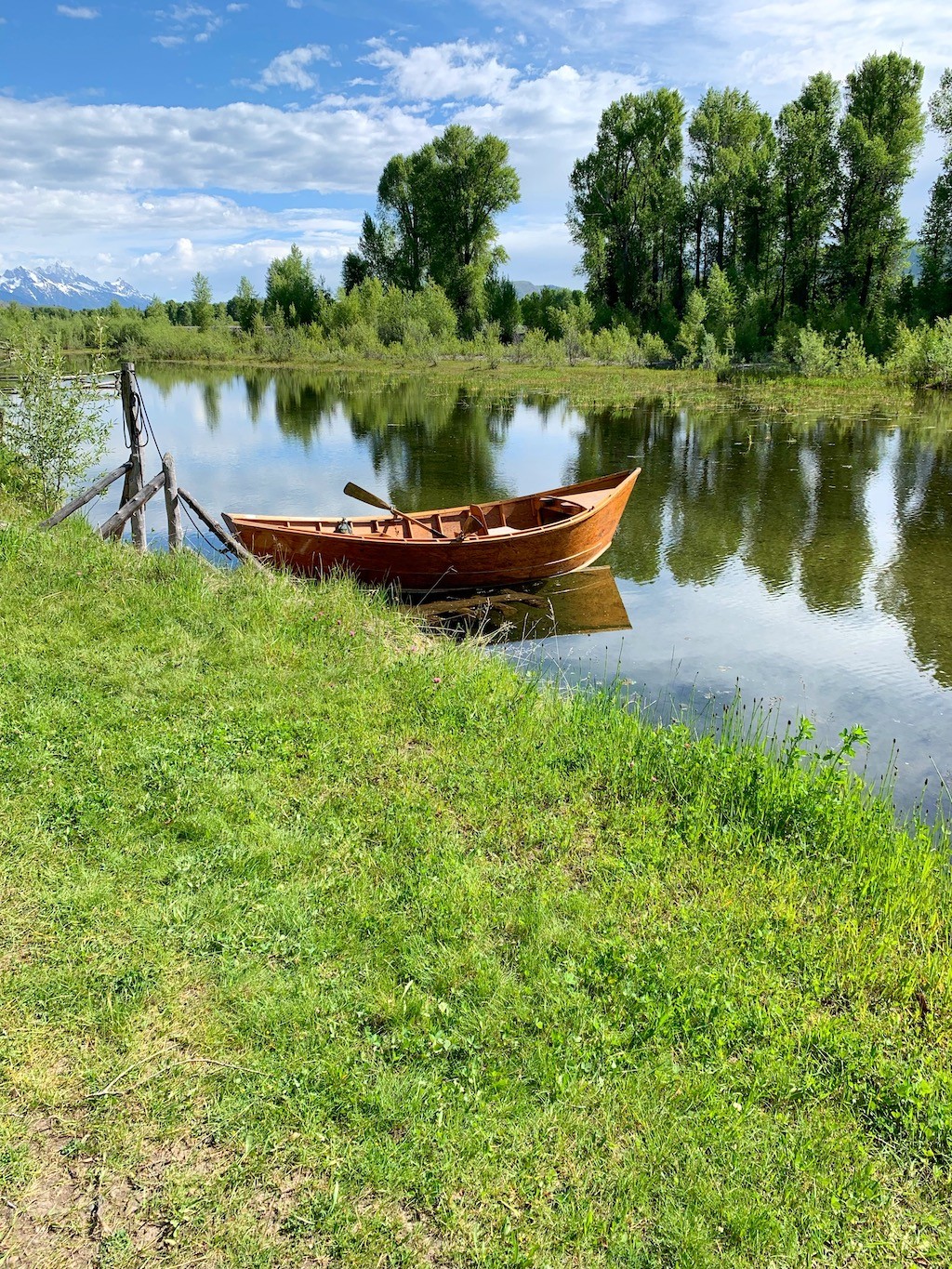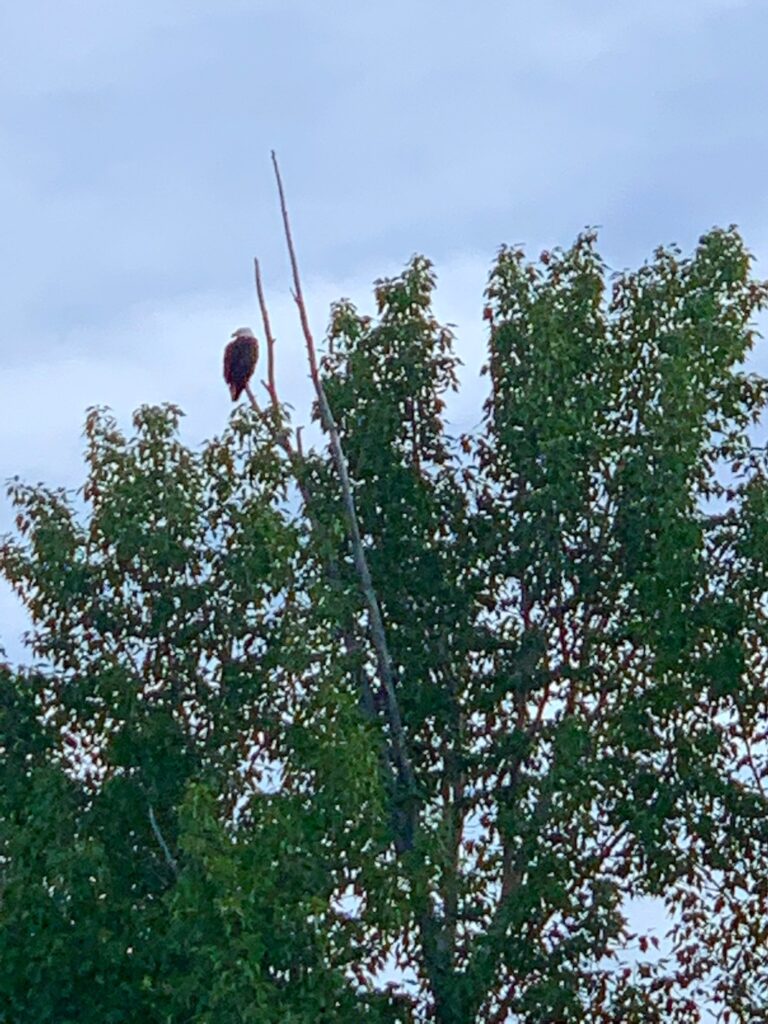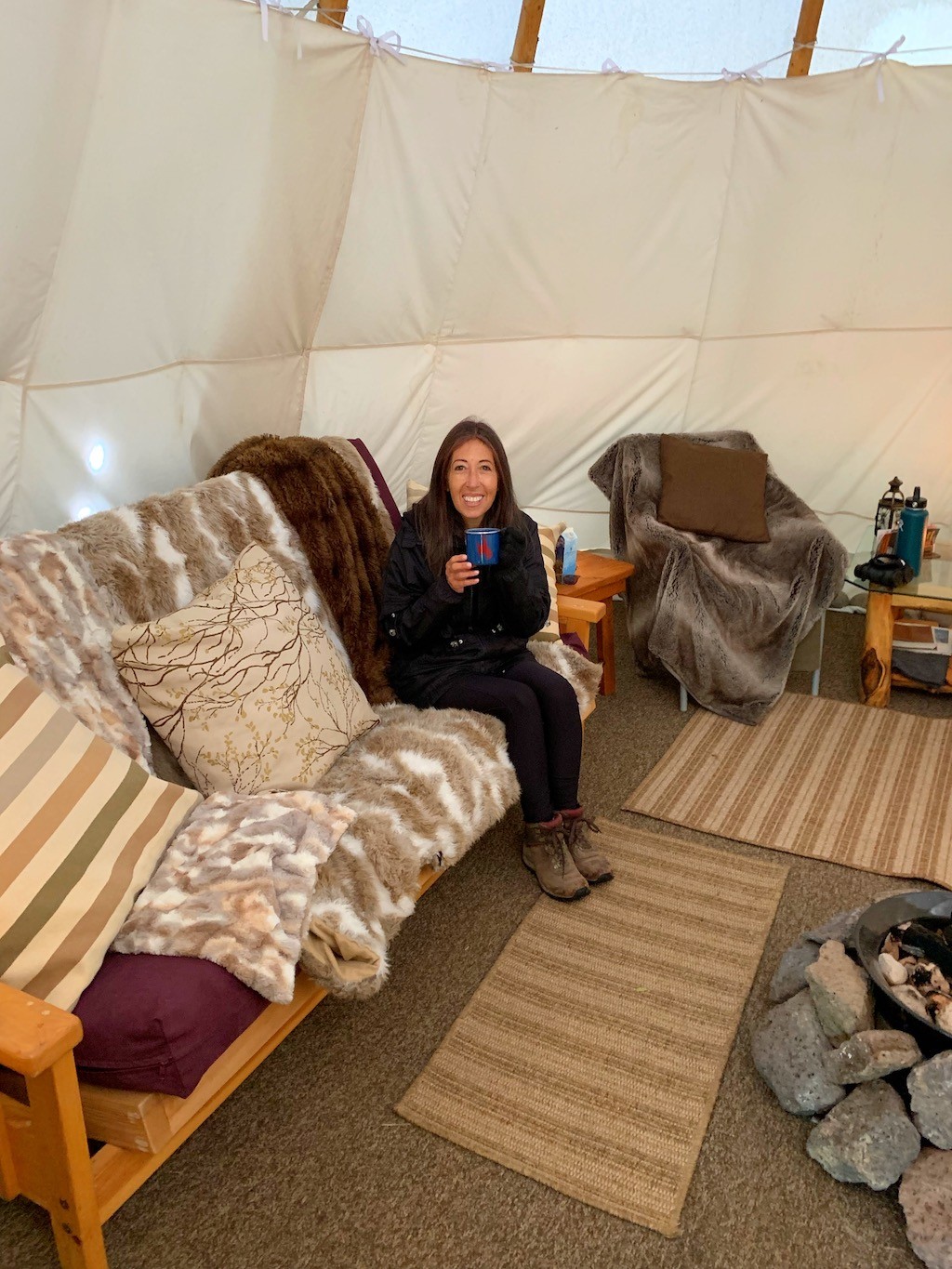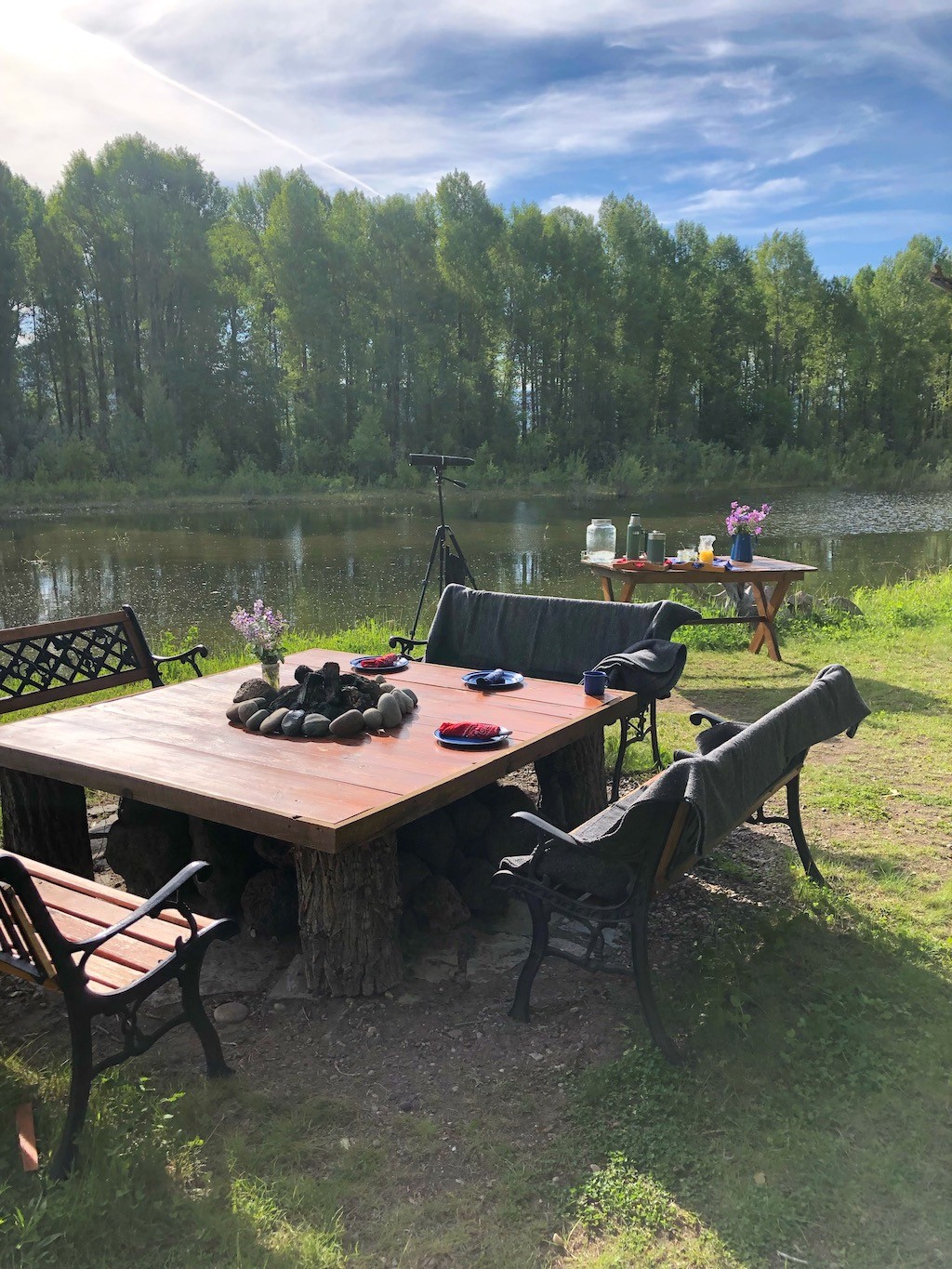 We originally were hoping to go fly fishing while in Jackson Hole, but the conditions were not right so we were looking for something else to do. Something a little less taxing as my legs needed a break after yesterday's hike up the mountain. We were staying at the Four Seasons, which was a beautiful resort, and they recommended a row boat ride down Snake River followed by breakfast at the company's 'camp'. It was the most spectacular trip. We were picked up about 7 am and driven to the river. There we went in a beautiful row boat. It was cold and rainy, but they had blankets, ponchos, and coffee, tea, or hot chocolate (with mini marshmallows!) to keep us warm! Our guide was so knowledgeable and entertaining. We were not bored for a second! While on the river we saw 10 bald eagles, including one baby in its nest and my son spotted a juvenile bald eagle! When we got to camp I was blown away. We were escorted into a teepee which was furnished with couches and comfy chairs, faux fur blankets, a fire pit, and more hot chocolate! We relaxed and warmed up and then headed out to breakfast by their pond. Breakfast was delicious and a beautiful display. We had bagels, lox, and cream cheese, muffins, fresh fruit, and more hot chocolate (I was thrilled!) While my husband and I were finishing up breakfast, my son took a row boat out on the pond. The views were incredible and I felt such a sense of calm exploring camp and just enjoying nature.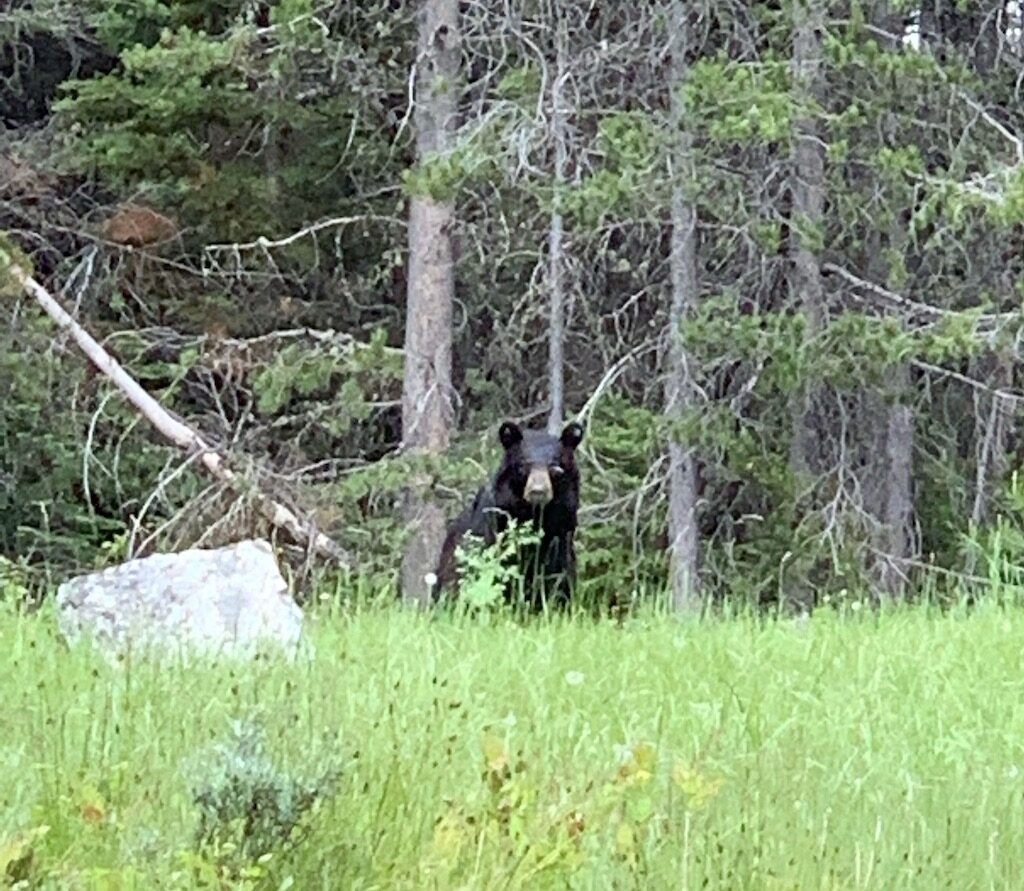 The next day, our last full day, we decided to hike again in Grand Teton National Park. The day before my husband and son had explored Rockefeller Preserve Loop a little and thought I might like it. It was around a lake so they figured it was less up and down (I was struggling on the ups!) The hike was pretty, but honestly it was a little uneventful (I didn't want to say boring…). We were almost to the end and someone passed us and said there was a momma black bear up ahead with two cubs. My heart started to race, I was so excited. My son had the bear spray (which you're required to carry). We walked up and sure enough there was the mom. This one counted for sure! I may have seen a glimpse of the cubs, but it didn't matter. I was looking at a black bear just ahead of me. All of a sudden my son told me to look to my right and there were two grizzly bears. OMG, I was so incredible excited. Surprisingly, I wasn't scared at all. It was just surreal. My husband and son were equally excited and our day ended on the most perfect note!
We ate at some great restaurants and enjoyed walking around town. But the highlight of our trip was absolutely the hikes, enjoying nature, and of course seeing the bears! It was such a different type of trip for us, one we probably would not have taken had my son not asked. He opened up a whole new world for us and I'm so grateful. Can't wait to see where we hike next!
SHOP MY IDEA OF HIKING ESSENTIALS: