Aromatherapy Diffuser: I received this as a gift from my son and it has really helped improve my sleep. Depending upon my needs I can change the essential oils I use. If I'm tired or stressed, lavender is my scent of choice. When I feel a cold coming on I find eucalyptus is helpful. Peppermint is great to help with digestion and boost energy. Lemon is also good for digestion issues as well as helping with mood and headaches. To reduce anxiety and improve mood, rose oil is great. These are just a few of the essential oils available. Think about what you need, there's definitely an oil that can help!

Mrs. Everything by Jennifer Weiner: I had the privilege of hearing Jennifer Weiner speak a few years ago and she was so entertaining. Having read a number of her books, this one does not disappoint. The story of two sisters growing up in the 50s and the struggles they endure to simply find happiness. I really enjoyed reading this; I wasn't bored for a second! I'm looking forward to reading more of her books.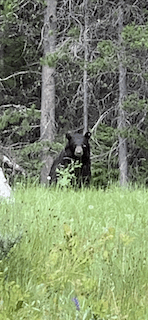 Jackson Hole, Wyoming: My husband, son, and I took a trip to Jackson Hole. Usually our family will take ski trips out west so spending this much time at a ski resort when we weren't skiing was new to me. All I can say is I wish I'd done more of this when my kids were younger. We hiked in Grand Teton National Park and Jackson Hole Ski Mountain, spent a day at Yellowstone National Park, took a boat ride on the beautiful Snake River, saw amazing wildlife including elk, moose, long horn deer, bald eagles, and my bucket list wish—bears! We saw one black bear and three grizzlies-so very exciting!! We also ate at some great restaurants and enjoyed the scenery and especially our time together.

Glossier Boy Brow & Anastasia Beverly Hills Brow Wiz Mechanical Brow Pencil: When I was growing up the trend was really thin eyebrows, so I pretty much tweezed mine pencil thin, one of my many regrets! That plus the grays and I struggle to get decent looking eyebrows. But then my daughter introduced me to Glossier Boy Brow & Anastasia Beverly Hills Brow Wiz Mechanical Brow Pencil and I'm a happy empty nester, with great (well, better) eyebrows! They're easy to use and look really natural. I'm hooked.

Bond No. 9: I love wearing perfume, especially floral scents. One of my girl friends was wearing Bond No. 9 Saks For Her, which is a gardenia scent, and my husband loved how she smelled. So for my next gift my husband bought me this perfume and a candle of the same scent-love!! I burnted through that candle so quickly-it was delicious!! Then my daughter was wearing a beautiful scent by the same company, Central Park South, which is made of grapefruit flower, blackcurrant buds, jasmine, lily of the valley and wood notes. I kept smelling her and so she bought me a bottle as a gift. Incredible!! I remember someone I know saying she combined a few of their scents to wear her own unique blend at one time-pretty adventurous!

Himalayan Pink Organic Popcorn by Lesser Evil Buddha Bowl Foods: My daughter decided she wanted to leave some snacks at my house so when she's over there's something she can eat. I don't have snacks in the house any more because I don't want to eat them and I have no will power! I love popcorn, but unfortunately popcorn is on my do not eat list (corn products are inflammatory). However, there are times when I do "cheat" and when I do, I love Buddha Bowl Himalayan Pink popcorn. Given that it's air popped and made with non-GMO organic corn, himalayan salt, and coconut oil I feel much less guilty about enjoying this delicious treat. It's perfect when I'm in my spot on the couch binge watching whatever latest tv show I'm hooked on!
What helped you beat the boredom this past month? Here's to an exciting September!! 🥂
SHOP THIS POST: