December is a really busy month-between getting ready for the holidays and all it can be exhausting. Lucky for me, I've had a pretty relaxing December. The best part of the month, obviously, was having all four of my children home for the holidays! This was a doubly great time because we got to celebrate Chanukah and Christmas. Usually Chanukah falls at a different time than Christmas and we don't get to celebrate on the actual date, so this year was really special to me. The hectic part was trying to figure out what gifts to get for everyone. My husband likes to have a good amount of gifts for the kids to open Christmas morning and I wanted to have the traditional gift a night for Chanukah. When I asked my kids what they wanted there were a few things: my son is finishing grad school and so he wanted a briefcase, two daughters just moved and so they both needed some things for their apartments, and one daughter wanted a ladle—yes that's right a ladle! 😂
Here are some other things that kept me from being bored this month: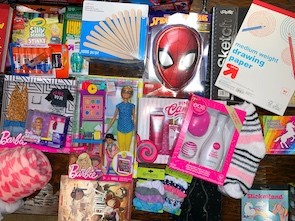 Bellefaire Holiday Gift Drive: This year a friend of mine told me about an organization that looks for volunteers to buy gifts for children who otherwise might not receive anything for the holidays. I was so excited to be a part of this for a couple of reasons. First, because I wanted to help and second, I don't get to buy toys so this sounded like fun. Armed with our lists, the kids each make up a wish list and we chose eight children each, we headed out to the stores. At first it was somewhat overwhelming. One little six year old wanted Barbies-was I getting the right one, would another be better-the teacher? the doctor? the babysitter? Finally, I knew I had to decide and I hope what I selected will make her happy. We actually had so much fun and when we explained what we were doing the manager at our local Target gave us each a $50 gift card and when I went to Walmart they gave me a $50 gift card as well! We were able to get almost everything they wanted on their lists and even add a little extra plus, of course, some candy! It made me feel so happy to help that I told my kids that one of their gifts was for them to find an organization and buy a holiday gift for someone. Volunteering is so good for the soul!
Dyson Vacuum: Sitting in my usual spot on the couch with my pups next to me is my usual routine. As I pet them the dog hair goes everywhere. The Dyson Ball™ Multifloor 2 Upright Vacuum is the perfect tool to catch the tumbleweeds…I mean dog hair. This vacuum is lightweight and works well on carpet, tile, or wood floors. At least that's what my husband tells me since this is his new toy! 😁I'm happy to let him do the cleaning, after all I don't want to take away his joy.
The Winemaker's Wife by Kristin Harmel: Set between the champagne vineyards in Northern France during World War II and present day New York, this novel shares the story of those fighting for their lives and their country and how it impacted generations to come. I was riveted by the story, the characters, and Harmel's writing. So much so that I woke one night and read from 2 am until 5:30 am-I just wanted to know what would happen next.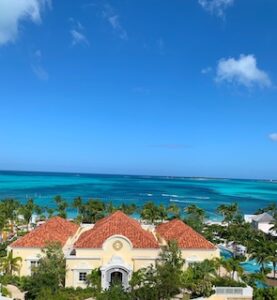 Bahamas: I spent a few days in Florida visiting my mom, which means shopping and eating. Perfect way to spend time with her!! After that I met my husband in The Bahamas at the Rosewood Baha Mar. I was greeted at the hotel by my husband with a rose. Then he and the butler walked me up to our suite where there was a bouquet of roses, chocolate covered strawberries, champagne, and rose petals on the bed. It was a beautiful greeting and the start to a wonderful trip—more details to come!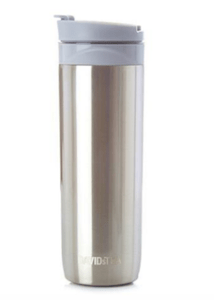 Davids Tea Silver Tea Press: I had a different version of this tumbler (mine was only for iced tea). I loved how simple it was to make iced tea in a flavor of my choosing and now you can make hot tea just as easily!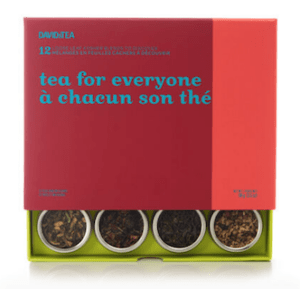 Tea for Everyone 12 Tea Sampler: Here are some teas to use with your tea press.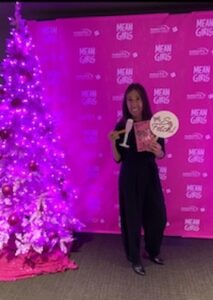 Mean Girls: A few years ago in NYC we had seen the play Mean Girls on Broadway. Here in Cleveland we have a Broadway series at Playhouse Square and Mean Girls was one of the shows. I love seeing musicals so why not see it again! It was fun and left us smiling, which to me is what seeing shows is all about. I'm not great when a show leaves me feeling sad. But Mean Girls does the opposite. If you have the opportunity go see it and if you go on Wednesday, wear pink!
Coach Planner: Getting ready for the new year, for me, means a new planner. Yes, I'm old school and still have a paper and pencil calendar. I've tried to keep my calendar on my phone but I just can't get used to it so i am thrilled that I still have the Coach planner my oldest bought me years ago. Every Novemberish I order the upcoming calendar refill and I'm happy as can be. I love to see the week at one time and there's lots of space to include my busy, busy schedule (haha lots of blank space on many days!!)
SHOP THIS POST:
Whether your days are busy or not, wishing you and your families a very happy, healthy, not boring New Year!