After a busy December sometimes it feels anti-climatic once the holidays are over. As so many people do, I set new goals and have many hopes and dreams for the new year. I'm working on them, but meanwhile, here's what kept me entertained in January!
The Good Doctor: This tv series is a medical drama about a young doctor who is diagnosed as having autism and savant syndrome. I love medical dramas-Gray's Anatomy, Chicago Med, New Amsterdam, The Resident-you get the idea. As a former teacher of students with special needs, The Good Doctor makes me happy as it portrays a young man with differences being shown as a capable individual who can and does contribute to society in a positive manner. OK, off my soapbox now.
Qwixx Dice Game: At my house when the kids come to visit we love to play games. So although I only got to play this game for a couple days in January (til they all went back after the new year), it was so much fun. We're kind of a competitive family 😂 and played game after game, and honestly, I could have played longer but my kids wanted to go to bed!! Qwixx is a great game for kids from all ages (they say 8 and up).
Ugg Slippers: My husband got me these sheepskin slippers for the holidays and they are super comfy. I don't like walking barefoot and these are easy enough to slide on and off, yet still keep my entire foot covered and warm.
Facial Mask: This face mask can be used hot or cold (microwave or freezer) and will help with symptoms such as migraines, puffiness, and sinus pain. Simply cross the straps in the back and relax. I liked the soft fabric inside so it wasn't too cold when I took it out of the freezer. Looks funny, but feels great.
Root Touchup Stick: Ok, so I'm probably showing my age with this one, but I really like this root coverup and wanted to share. I'm allergic to hair color and after trying many different products I finally found a henna that works well. However, the henna does wash out and so in between color I need a little help. This stick is easy to use and covers well, and covering this grays is crucial!
Jumpsuit: I love how easy it is to get dressed when I choose to wear a jumpsuit. I'm always looking for a good jumpsuit and I like how this one fits and how comfortable it is. Many jumpsuits can be dressed up or worn casual and this Alex Mill jumpsuit looks cute with sneakers, combat boots, flats, or heels. I think you'll be seeing this outfit on repeat!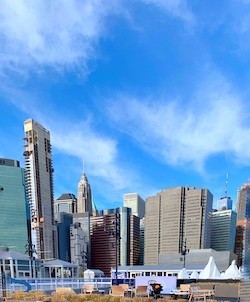 New York: You all know how much I love New York City. Well, I won the Four Seasons Hotel's Martini's & Mistletoe Social Media Sweepstakes! This included a night's stay at the Four Seasons Hotel Downtown NYC, which we extended for a few extra days. I'll tell you more about what else was included and what we did on our trip later on, but, as always, it was a great get away.
SHOP THIS POST: