I love to read in bed before going to sleep, but in the nice weather, especially a sunny crisp autumn day, there's nothing like sitting outside with my pups and a good book. Here are two of the books at the top of my recommend list.

Love Anthony by Lisa Genova: I recently found this author and really am enjoying her books. Beth and Olivia have both experienced some life altering events. Although they don't know each other their paths cross and they somehow are able to help one another as they are struggling to cope and move on with their lives. This story brought me to tears many times, but I's so glad I read it.

Verity by Colleen Hoover: Colleen Hoover is a young adult/new adult author. I've read most of her books and really enjoyed them. Verity, her latest book, joins the ranks of another great book by Hoover. A struggling writer, Lowen, is hired by the husband of a successful author, Verity, who is unable to complete a book series. Lowen uncovers an unfinished manuscript, Verity's autobiography. It is so disturbing Lowen decides not to tell Verity's husband what she has found. This romantic thriller was an excellent read, but so disturbing. I couldn't wait to see how it ended, but was troubled once I finished the book. However, I am glad I read it and look forward to reading Colleen Hoover's next book.

Kopari Coconut Lip Glossy: My daughter gave me my first tube of this lip gloss and I was hooked. It smells delicious and is not sticky, plus it really hydrates my usually chapped lips. Friends often ask me what color lip gloss I'm wearing when I wear the clear because it gives my lips a beautiful shine. It does come in other colors as well as the clear I use. Being vegan, paraben, silicone, and petroleum free, this is one item I always have in my bag!!

Moonlight Pajamas: These Nordstrom Lingerie pjs are like heaven. Made of 95% modal and 5% spandex they are so soft and comfy. I love to get in pajamas as soon as I get home and since these are so cozy I'm ordering more in other colors. They're perfect for sitting on the couch, something I'm very good at!

Garden of Life Raw Organic Protein Powder: Most days one of my meals is a smoothie. I combine water, ice cubes, frozen berries, frozen cauliflower (great tip from Public Lives, Secret Recipes) to thicken up the smoothie, spinach, flax or chia seeds, almond butter, and Garden of Life protein powder in chocolate flavor. Garden of Life Raw Organic Protein Powder is gluten free, dairy free, and no sugar, but is high in proteins, enzymes, probiotics and fat-soluble vitamins A, D, E and K. It also tastes great! I always keep an extra container on hand because I was starting to panic when I only had one and it was getting low. Also, I always make a little extra and freeze it so at night I can have a healthy snack if I get hungry.

Travel Clothes Steamer: I don't travel without a steamer basically because I overpack and my clothes get pretty wrinkles. My steamer is older and no longer available, but I've hear good things about the Magictec Portable Travel Garment Steamer. It's lightweight and small so it doesn't take up a lot of space. I empty mine after each use and let it dry out before packing it away. I actually use it at home also. It's easier and works better than the large at home steamer I also own (I really should get rid of it-it's just taking up space!)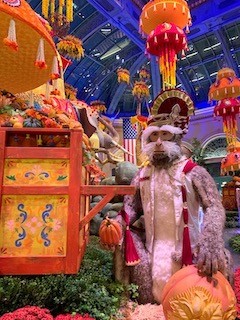 Las Vegas: It's that time of year again! Time for my mom, sister, and I to take our annual trip. This year we decided on Las Vegas. We ate at some great restaurants, shopped, gambled, saw a couple of shows, and of course drank a lot of champagne. Vegas is always a lot of fun and one place where there's not a second to be bored!
SHOP THIS POST: