We had some free time and so two weeks prior to leaving my husband asked if I wanted to go away. I'm always up for a trip so obviously I said absolutely! We were trying to figure out where to go and I suggested Greece. It was number two on my travel bucket list, Australia/New Zealand being number one. My husband wasn't really into Greece, but the more he looked into it, the more he thought it might be ok.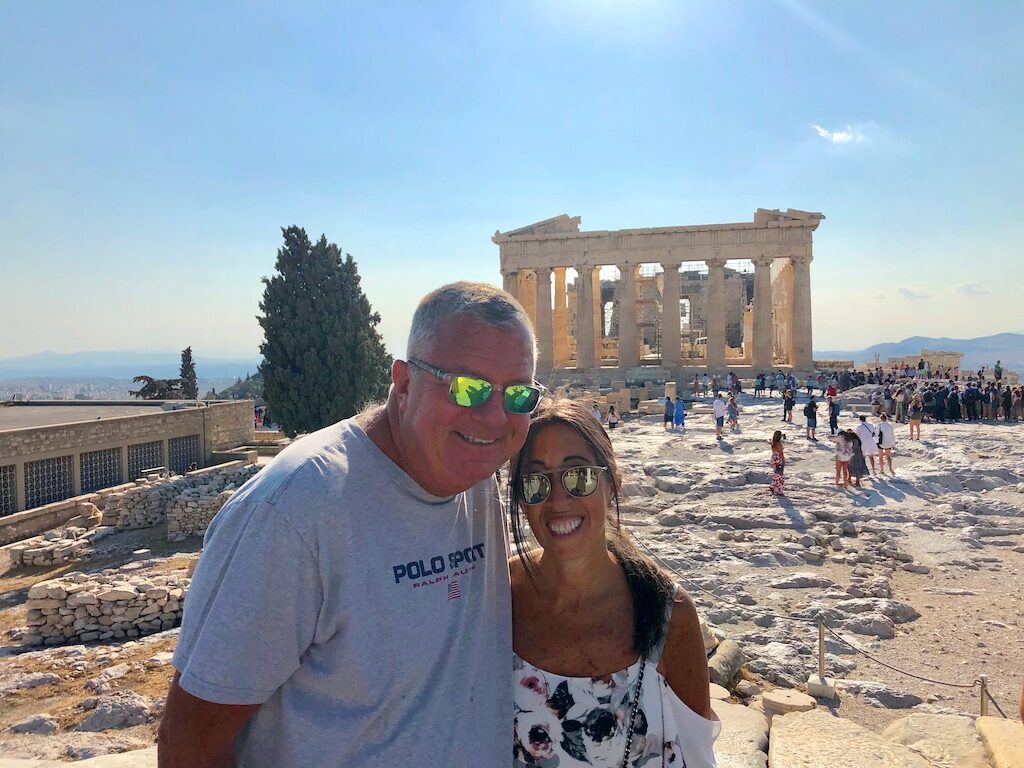 Our trip began with a few days in Athens. Originally we were told to skip Athens, but I'm so glad we went. (We were told the same thing when we were planning our trip to Vienna and it was one of our favorite cities!) Anyway, our first afternoon we had a guide show us the "important" places that we needed to see. If you follow my Instagram, I shared some interesting facts she told us and it just made all the history we were seeing come to life (example: why a marathon is 26 miles and called a marathon, what Nike means). Some of the sites we visited were the Acropolis, Parliament and the changing of the guards, the Panathenaic Stadium, and we took the funicular to St. George Chapel, the highest point in Athens located on Lykavittos Hill. It's so amazing to me to see these places I learned about as a kid come to life!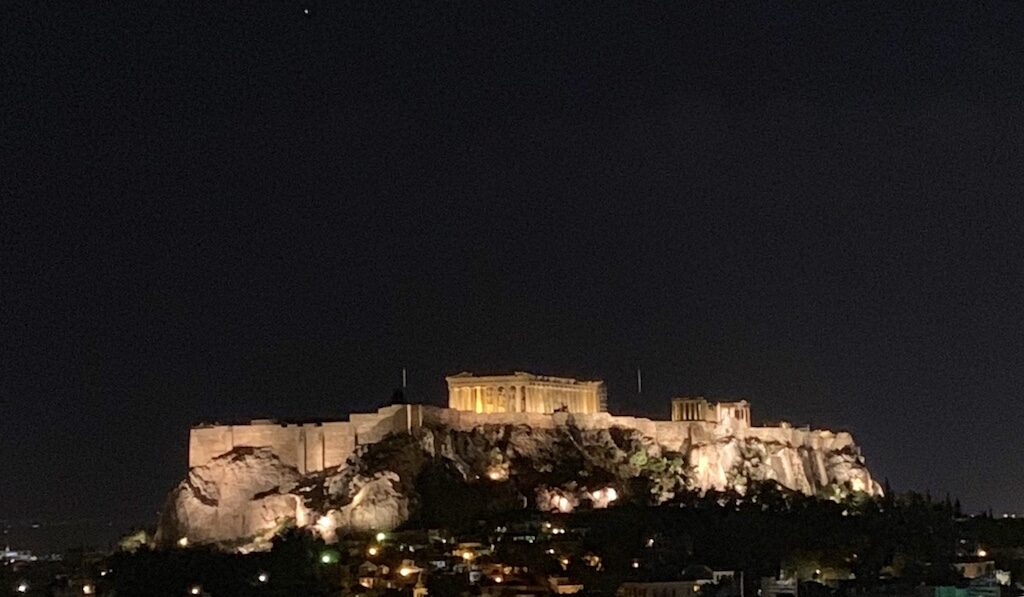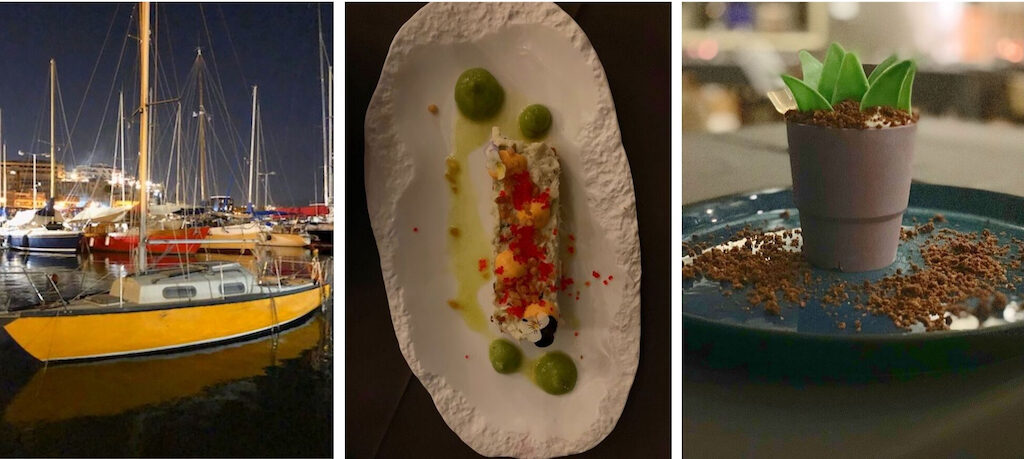 We stayed at the Hotel Grande Bretagne, which was located on Constitution Square by Parliament. It was a great location and the service was excellent. We asked for a recommendation for dinner and they sent us to Varoulko Seaside. This was probably one of the best restaurants I have ever eaten at! ever!! The food was outstanding, the waterfront view spectacular, and the service above and beyond our expectations. It set the bar high for the rest of our trip, and while we did have some other really good meals, Varoulko was still the best.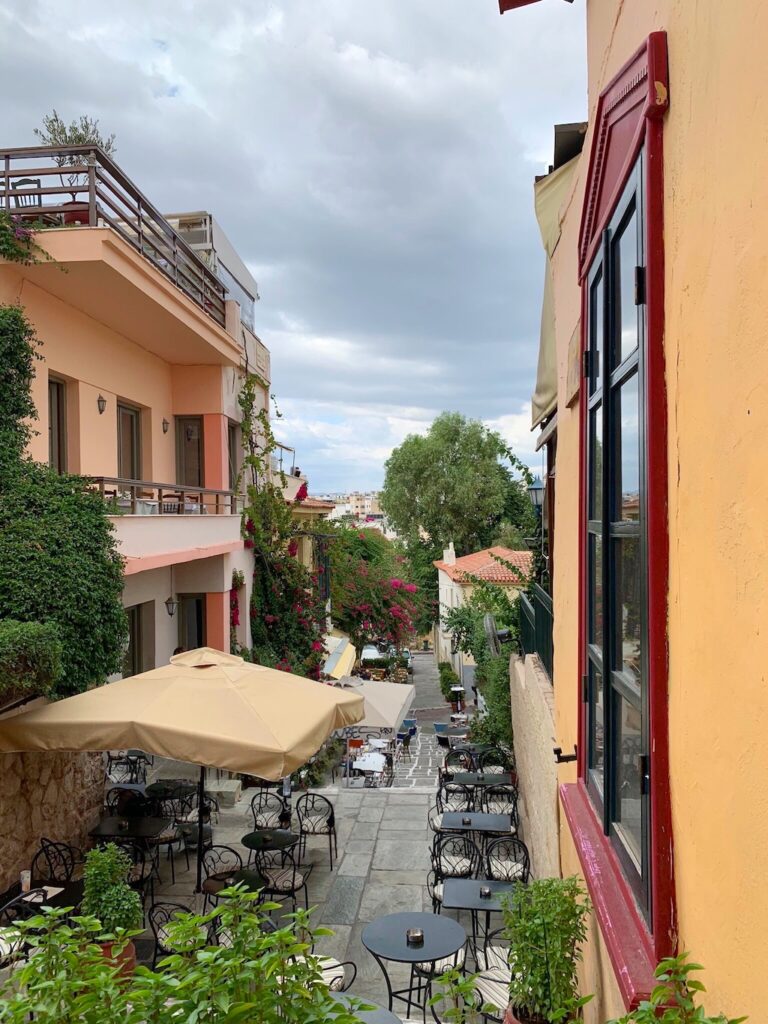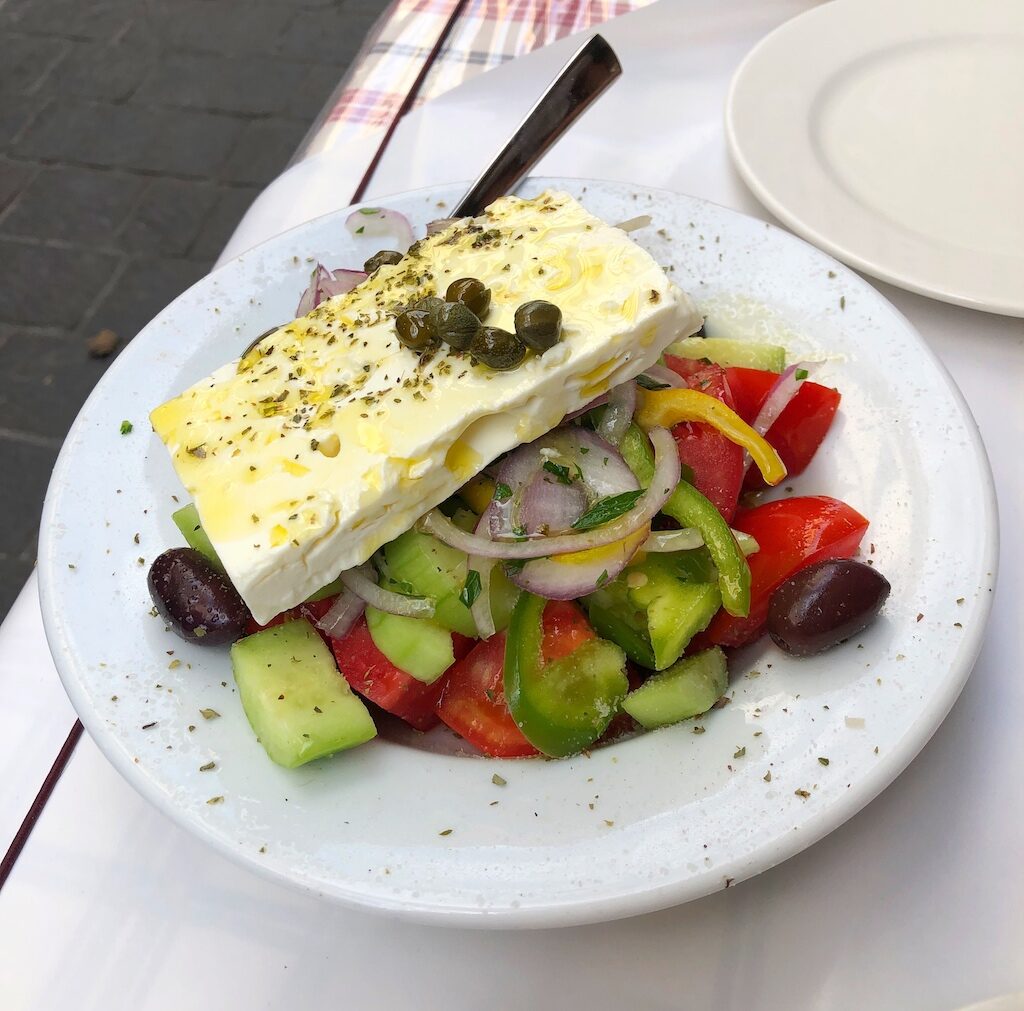 My husband and I really enjoy walking through cities-shopping, eating, and finding little streets to explore. We're not big museum people and walking around gives us a feel for the city or wherever we are. One of the areas suggested that might be fun to walk in Athens was Plaka. We were told the lower part was touristy, but we kept walking up the hill and it was just what we were looking for-lots of cute windy streets with beautiful views. After our walk we decided to find the restaurant a friend had recommended. It was located by the flea market, a very touristy area. We tend to look for places that are less touristy, but we were told O Thanasis was worth a visit. And it was! We split the most delicious Greek Salad and souvlaki. We were full, but very happy.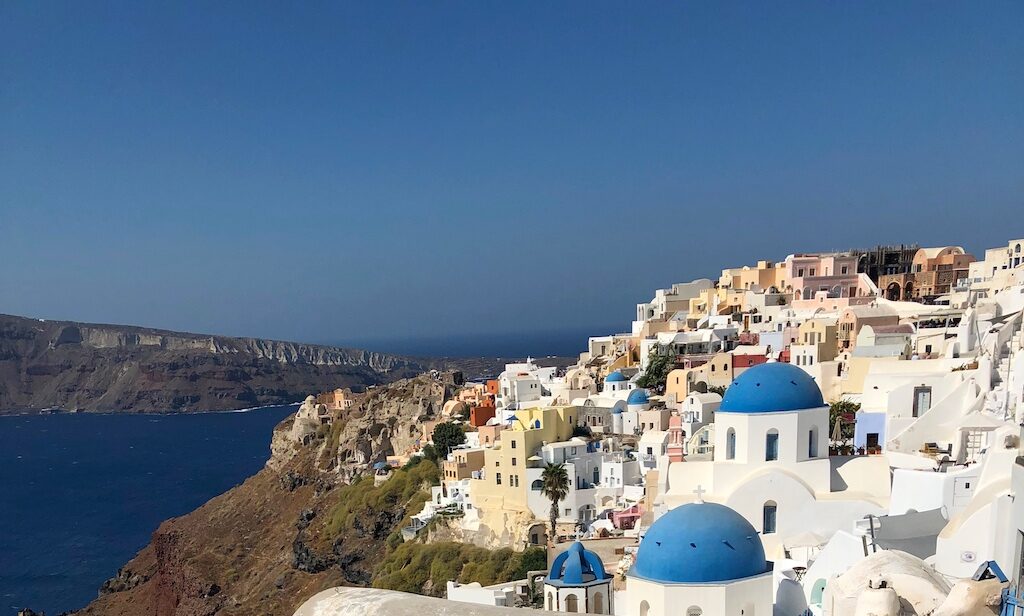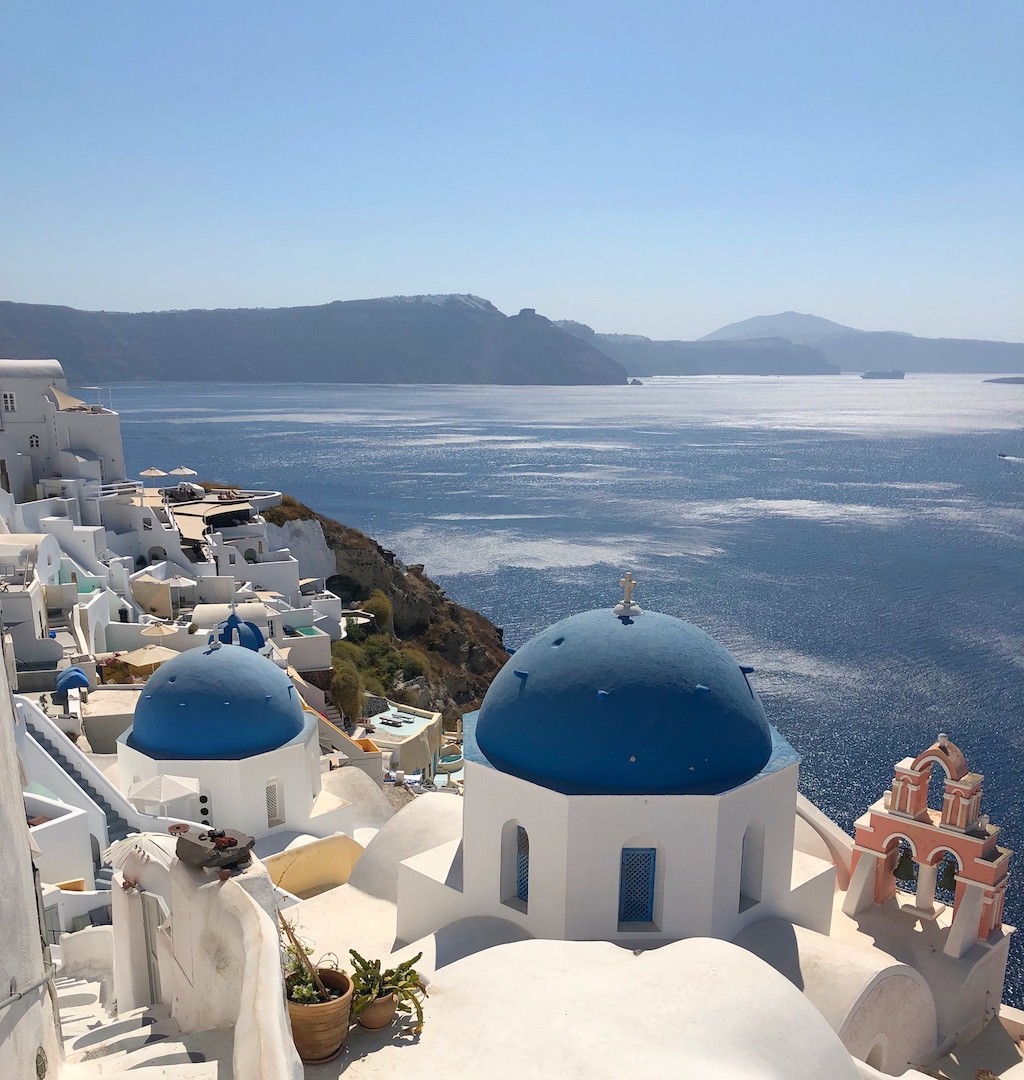 We flew the next day from Athens to Santorini, which I think is one of the most romantic places I've ever been! We stayed in Oia at the Mystique Hotel. I have to be honest, when I first heard the name of the hotel it made me think of an "adult store." 😳Sorry. We really loved our stay here in a beautiful villa with a hot tub, infinity pool, and lounge chairs overlooking the sea. It was perfect because we'd explore in the morning-whether it was a hike, shopping, or a tour-and spend the afternoon in the pool with a bottle (or two) of champagne-heaven!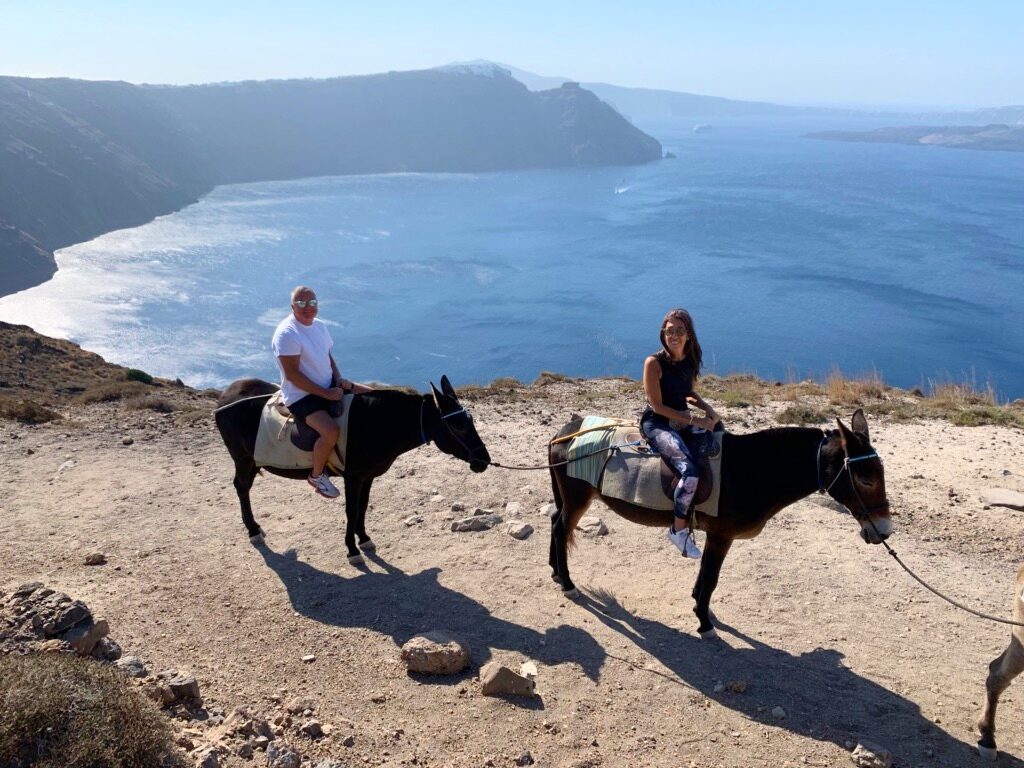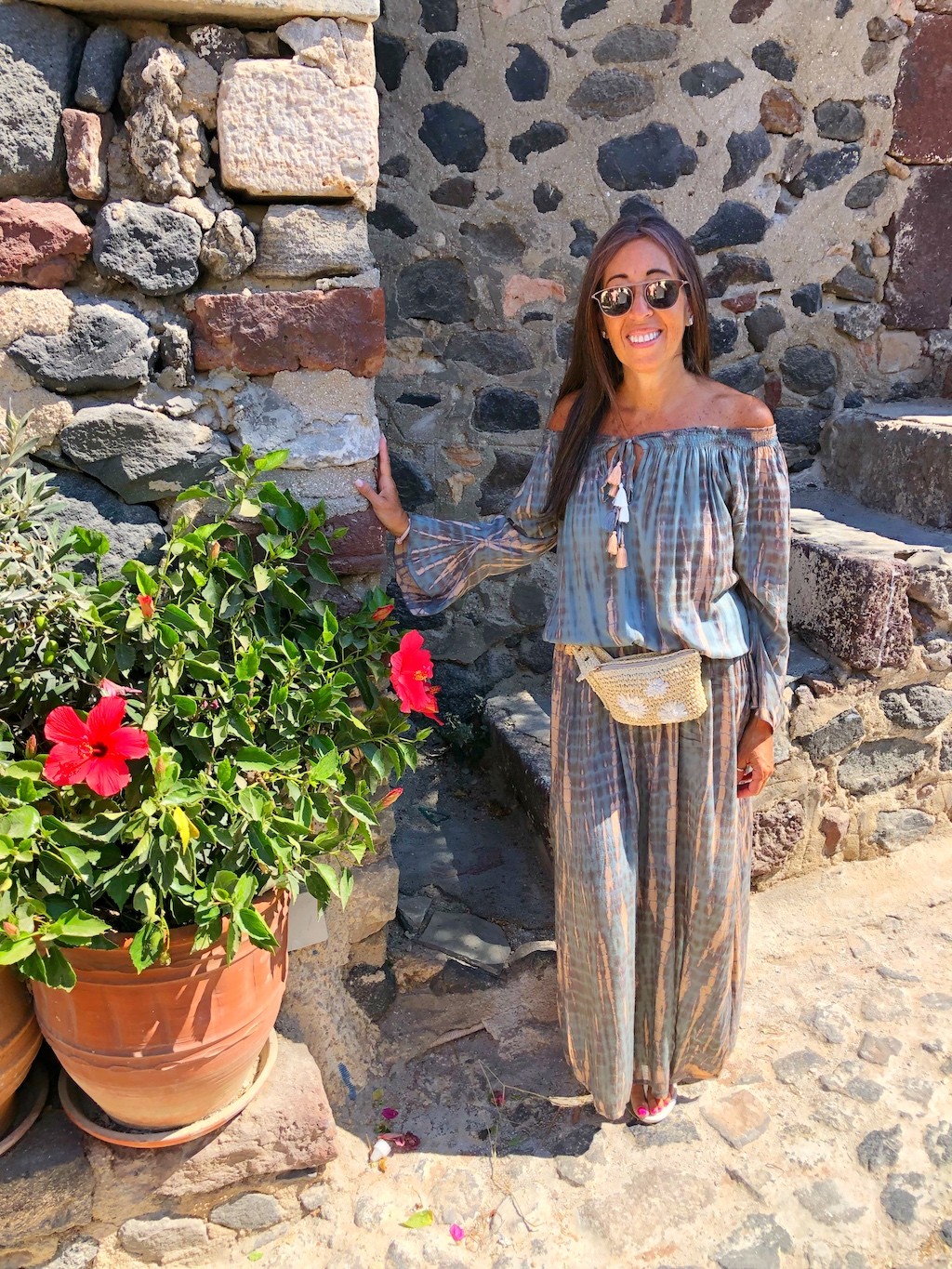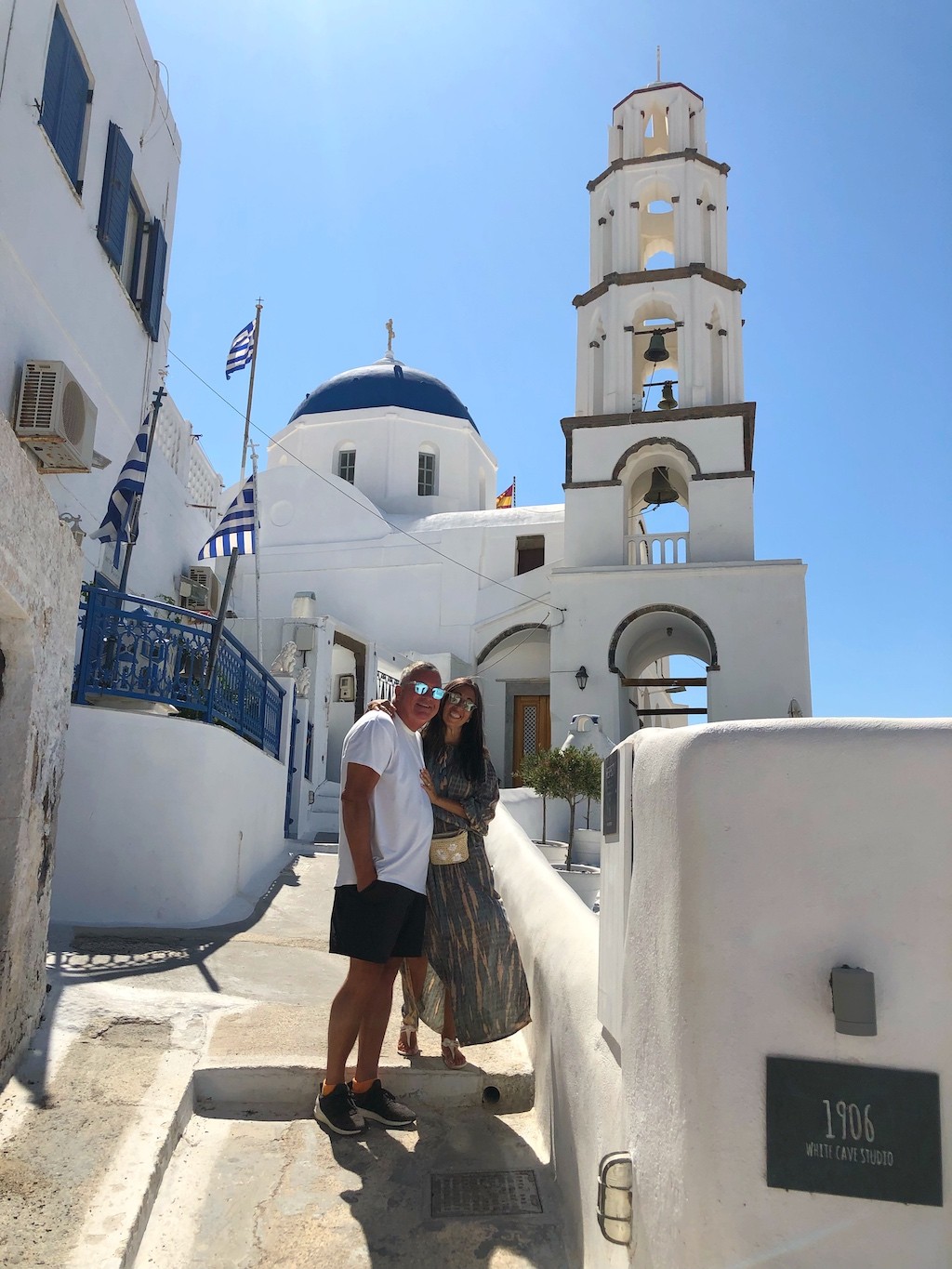 While in Santorini we hiked from Fira to Oia. This was a great hike and part of the way we rode donkeys up a hill-hilarious. We also explored the towns of Oia and Fira; lots of touristy souvenir shops, but some cute shops as well. One store I was really looking forward to seeing in Oia was Atlantis Book Store and I was so glad I stopped in! We also did some more shopping in Fira, of course, but it was very crowded because there were so many cruise ships in port. Another fun adventure in Santorini was a land tour around the island. Here we visited the Excavations, Black Beach, Red Beach, and the town of Pyrgos. This was an incredible tour-the ruins were very cool, the beaches beyond beautiful ,and Pyrgos offered amazing views, history, and architecture.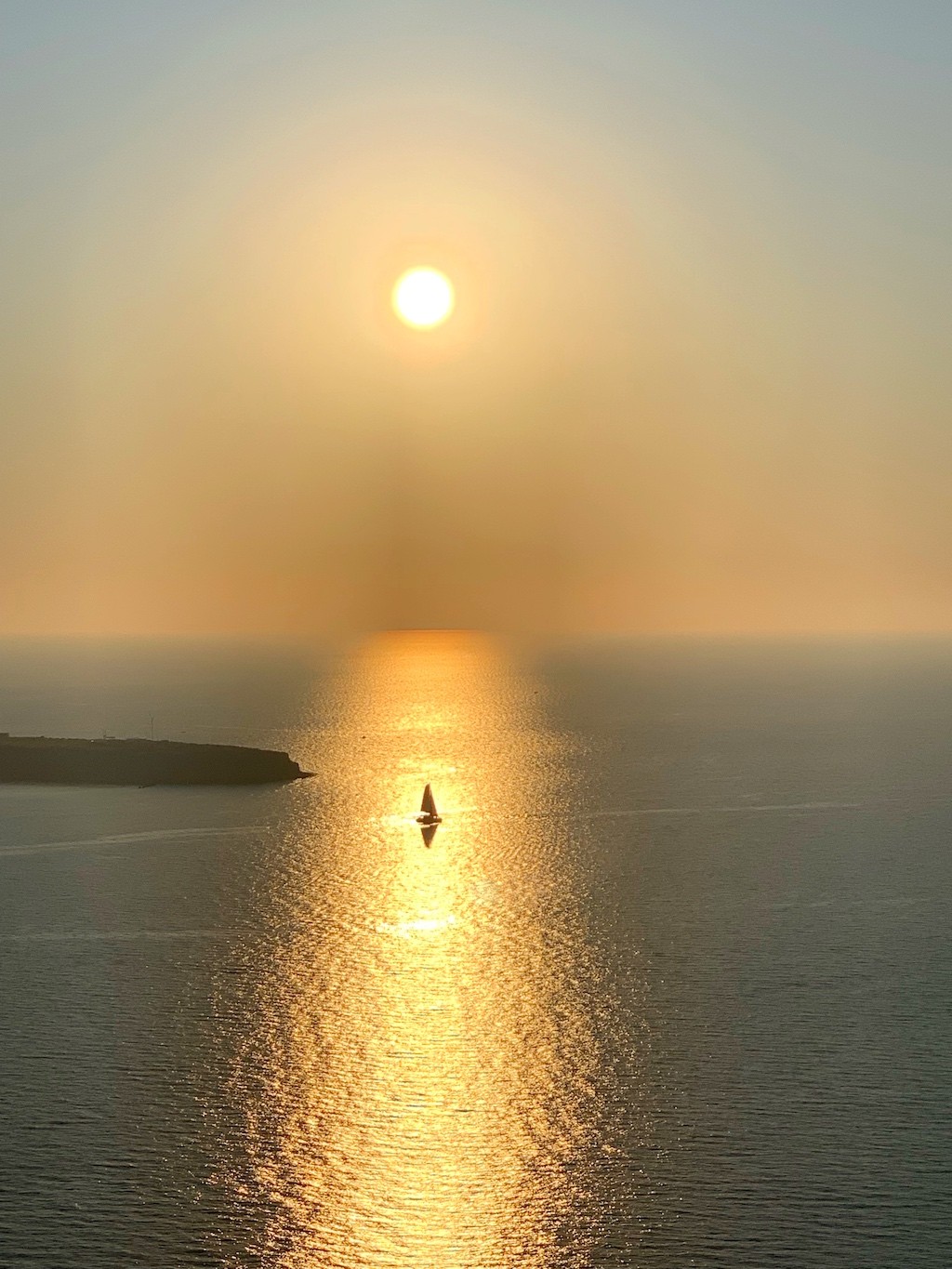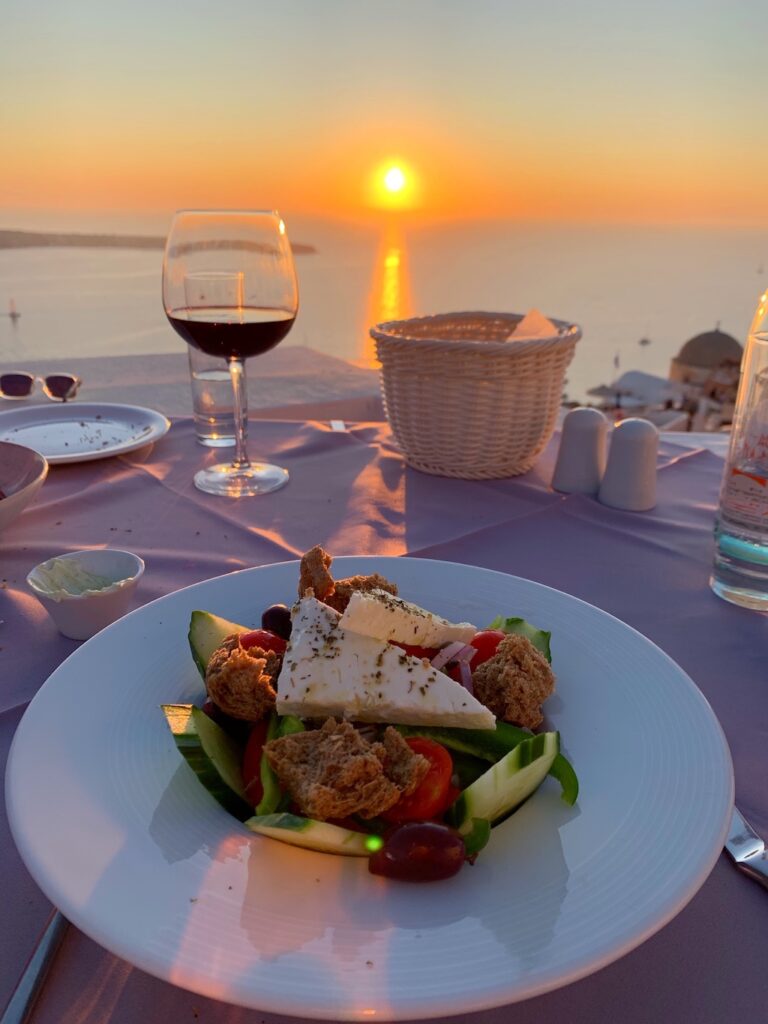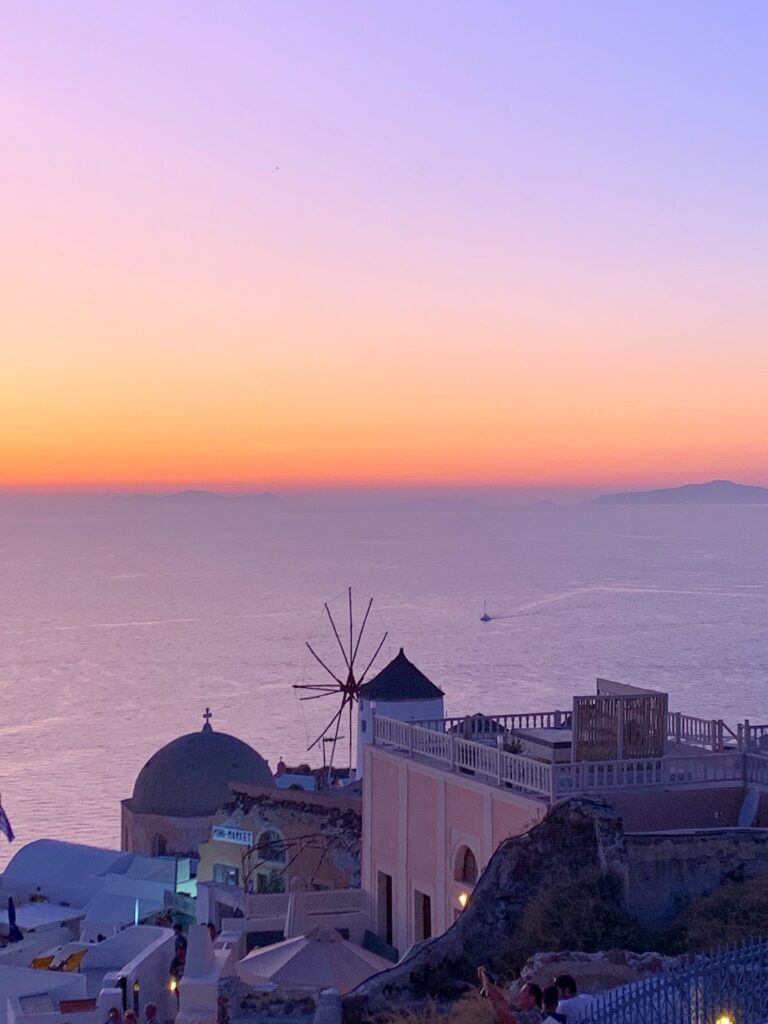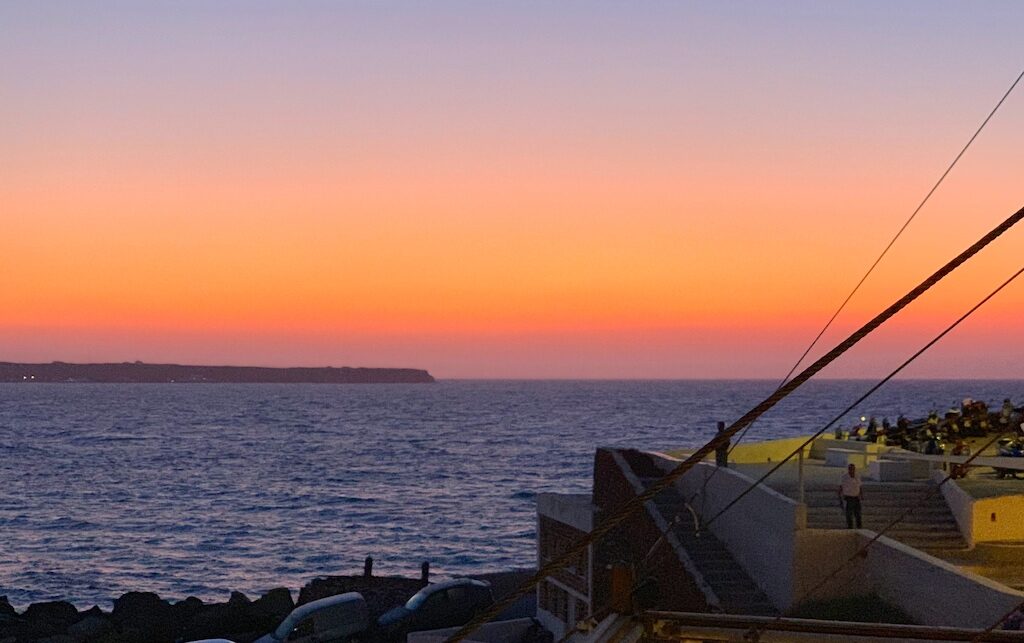 The architecture in Santorini, the blues and whites you've seen in photos, well, it's true and gorgeous. Another spectacular site in Santorini were the sunsets. We were fortunate to eat at some wonderful restaurants that offered beautiful sunset views. Ammoudi Fish Tavern and Sunset, both by Ammoudi Bay in Oia, were two restaurants that had delicious food, great service, and were both the perfect places to view the sun setting over the water. If you go to Santorini and are lucky enough to watch a sunset, keep watching as the sky will turn incredible colors for about an hour after the sun has gone down!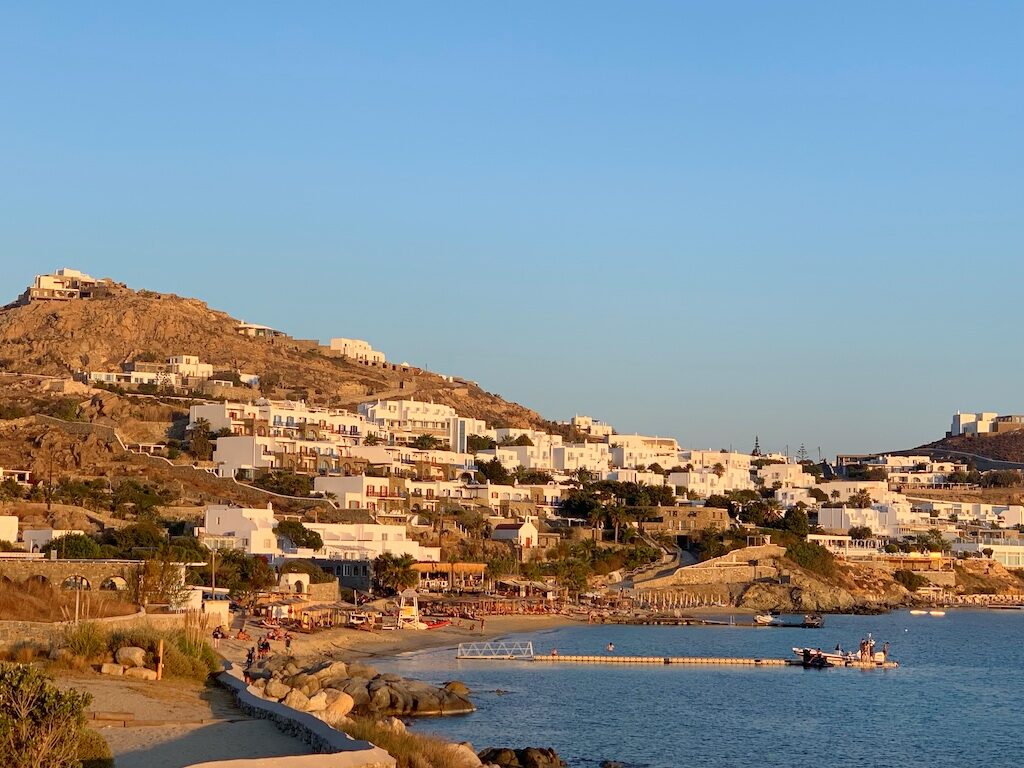 After a romantic stay in Santorini we headed off to Mykonos. My husband doesn't love boats so we opted to fly. We had to fly back to Athens and then on to Mykonos. Honestly, this wasn't one of the best parts of the trip, especially when we arrived on Mykonos two hours before our luggage did, but it worked out ok. My husband did say that he would consider the high speed ferry next time-yay! we're going back!! 🥰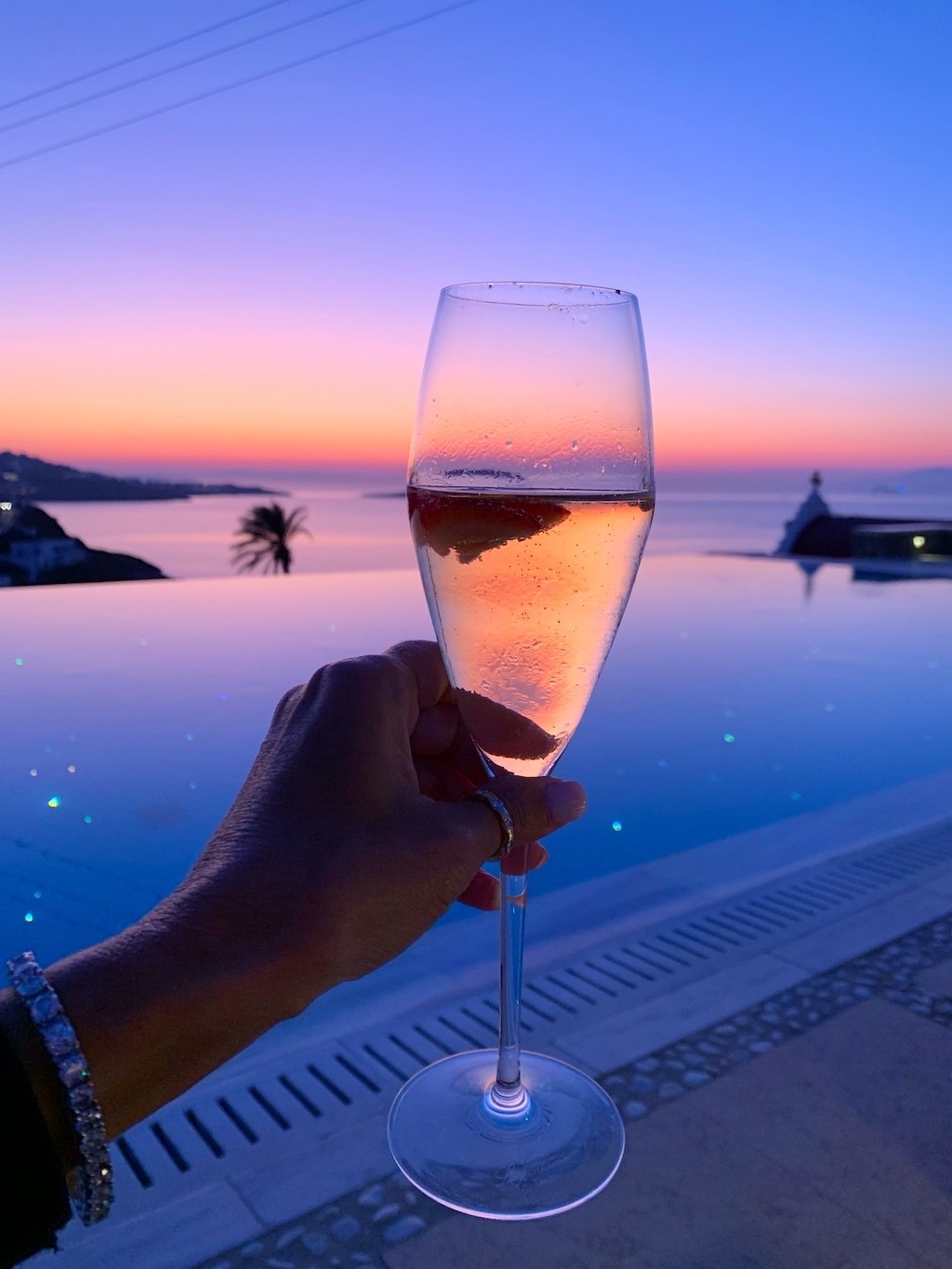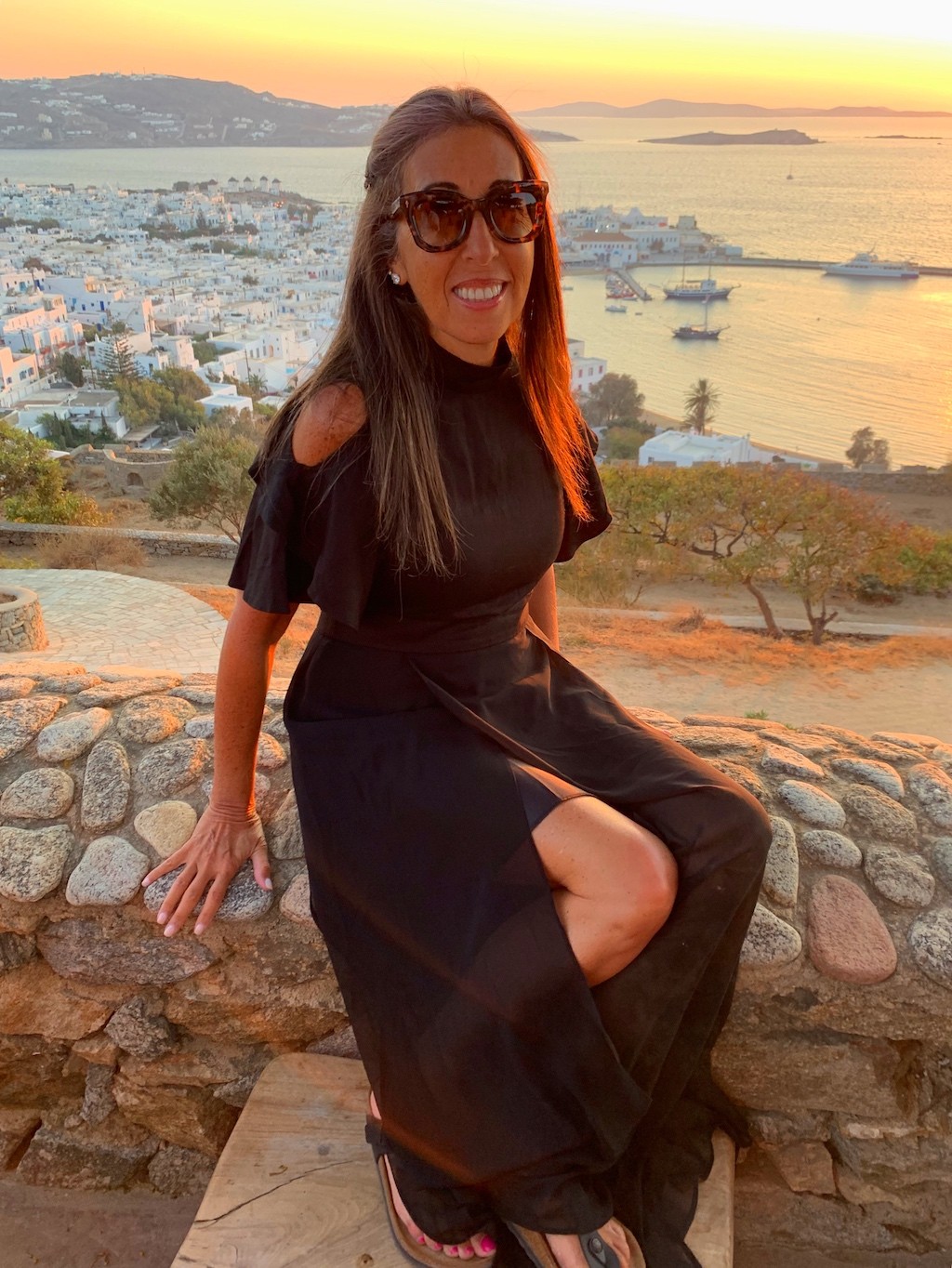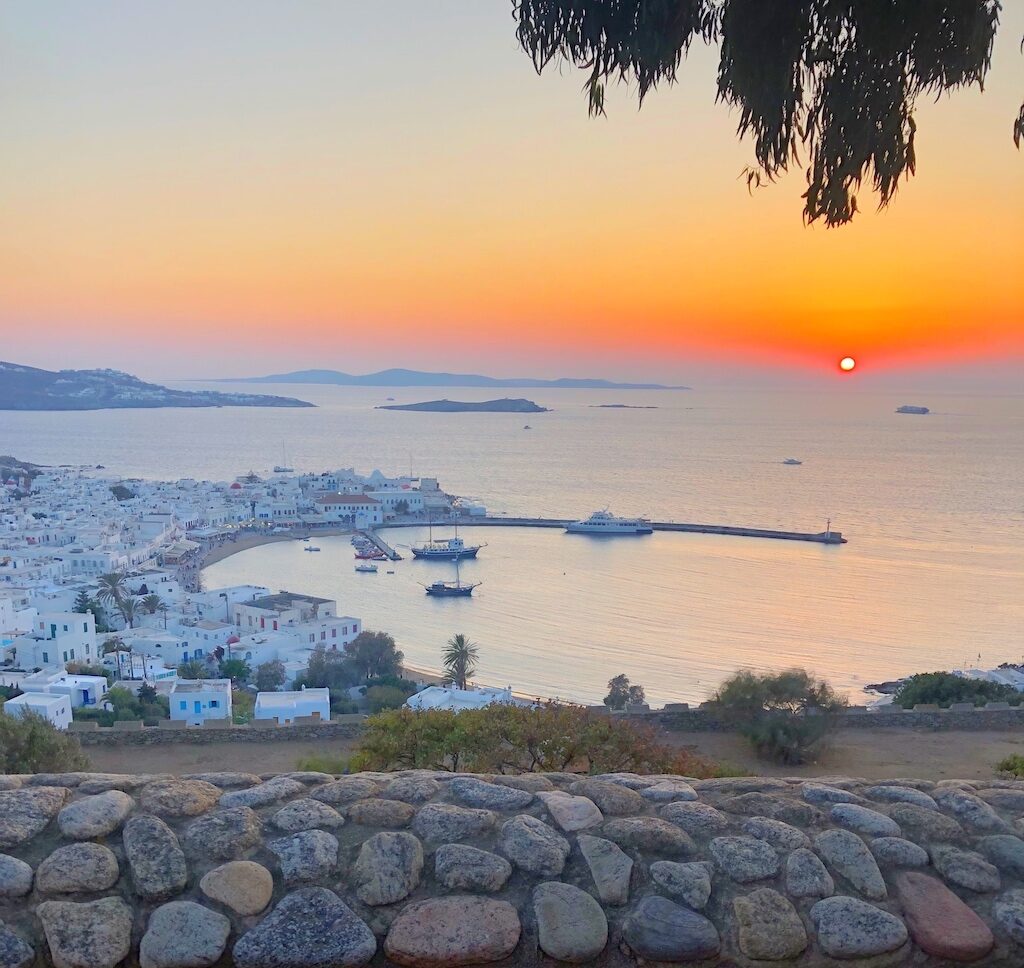 On Mykonos we stayed at Bill & Coo, which is beautiful and has the feel of a boutique hotel yet offers the amenities of a larger hotel. We had a beautiful room, again right on the water with a pool. Coming from the incredible stay we had in Santorini I knew this was going to be a tough act to follow, but Bill & Coo and Mykonos did not disappoint! Since we arrived late to Mykonos, yes, our flight was delayed, our first night was sunset and then dinner. The hotel suggested we go to their other location closer to town to see the sunset. This was the perfect way to start our stay on Mykonos. Their patio lounge was beautiful and offered a stunning view to watch the sunset. The next night we were sent to another perfect place to watch the sunset was 180 Sunset Bar. This was a very popular spot, but the concierge at the hotel called ahead and so we didn't have to wait on the line. I did feel bad skipping the line, but I was happy we were able to get a table. We ordered drinks and some food and watched yet another beautiful sunset and color show!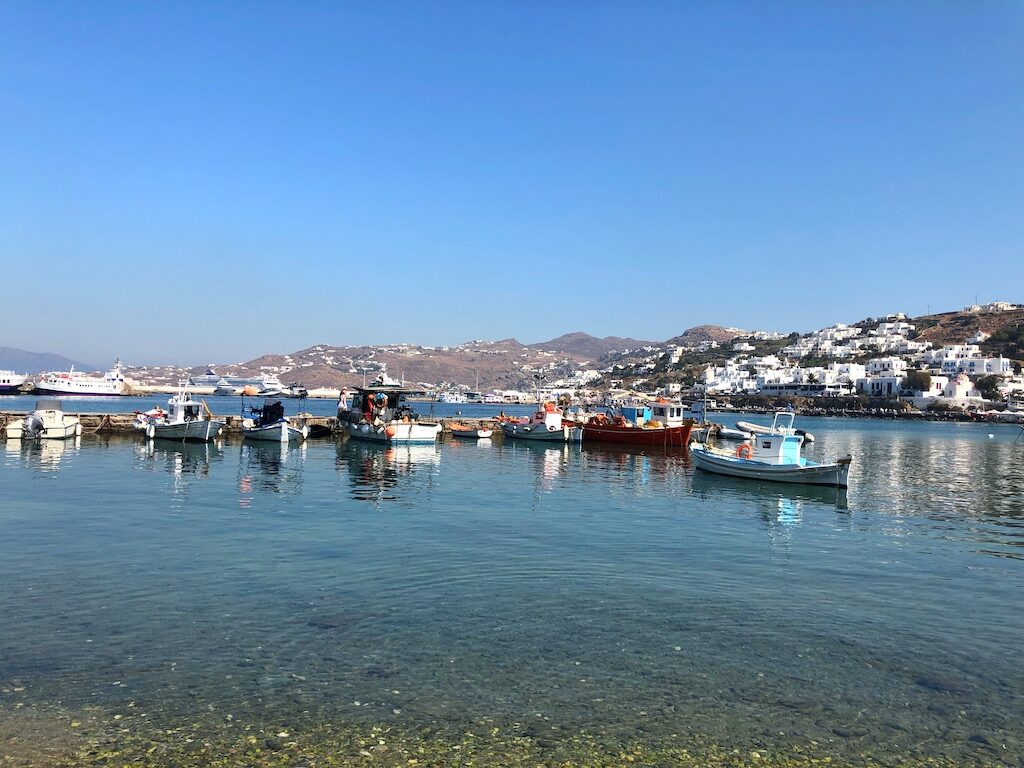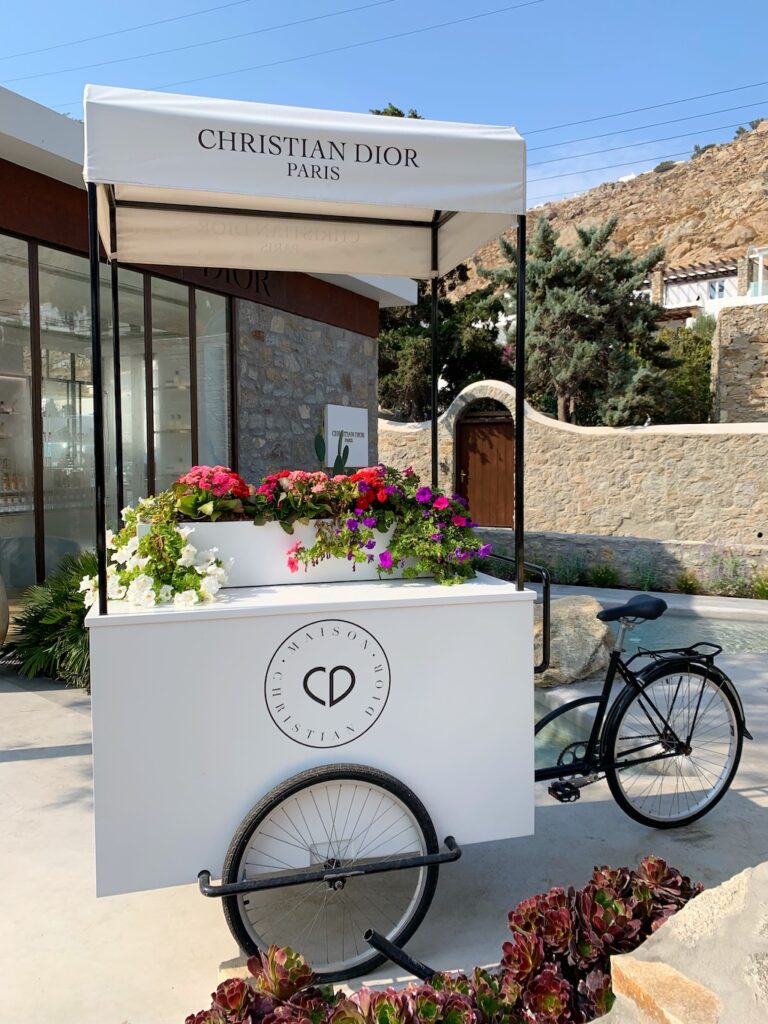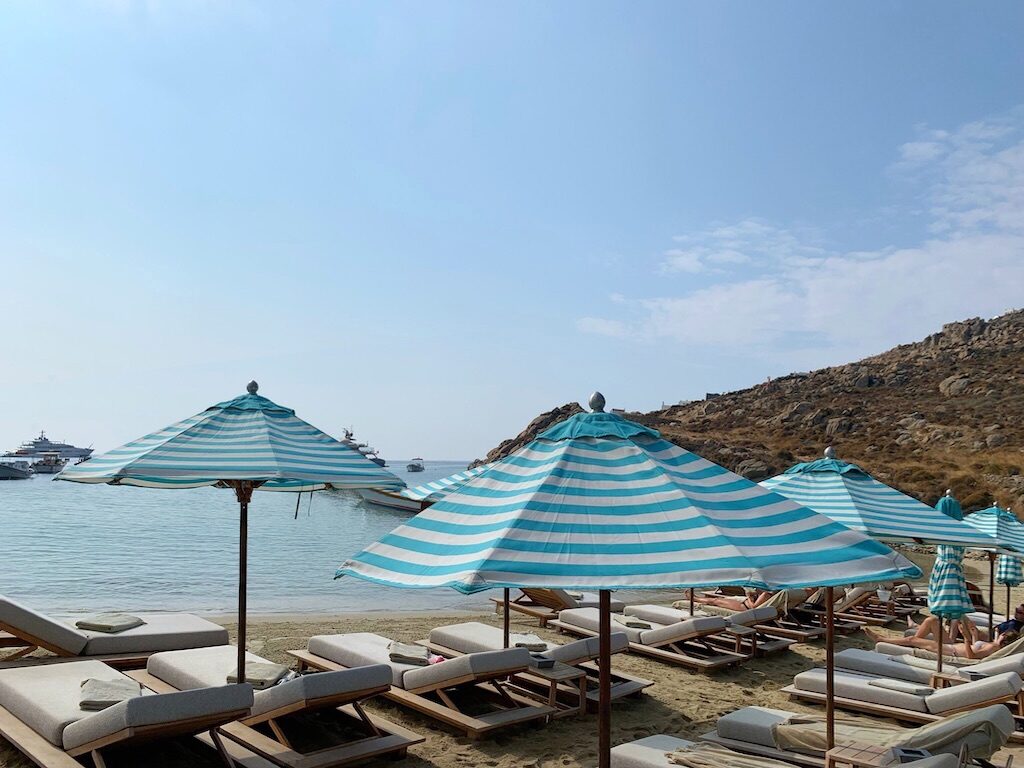 We visited the town of Mykonos, including the windmills and Little Venice, to get a feel for the island and of course do some shopping. While there were some cruise ships in and parts of the town were crowded, we were able to find some areas that were really beautiful, less crowded, and as a result, much more enjoyable. The bay was picture perfect. We were told that Mykonos was a cosmopolitan island and I saw this in the shopping that was available. While they had their share of touristy gift shops, there were also many great boutiques in this picturesque town. Another incredible shopping area was Nammos. We were told Nammos had a beautiful beach and so we decided to check it out. We ended up spending the day on the beach, eating a delicious lunch at one of the restaurants there, and then walking through some very upscale shops and art galleries. We didn't buy anything here, but it was fun to look. It was so relaxing spending the day on the beach-I had the best nap after lunch!
One hint I will give you when you're packing-leave the heels home. I ended up wearing sneaker or flat sandals every day, especially in Santorini. The streets are cobblestones and hilly. Our hotel in Santorini was down (and then back up!) an incredible amount of uneven, cobblestone steps. That being said…
I don't know if I can put in to words what a special trip this was. I'm fortunate that I get to do a lot of traveling, and I've enjoyed all the places we have visited, but Greece was just very special.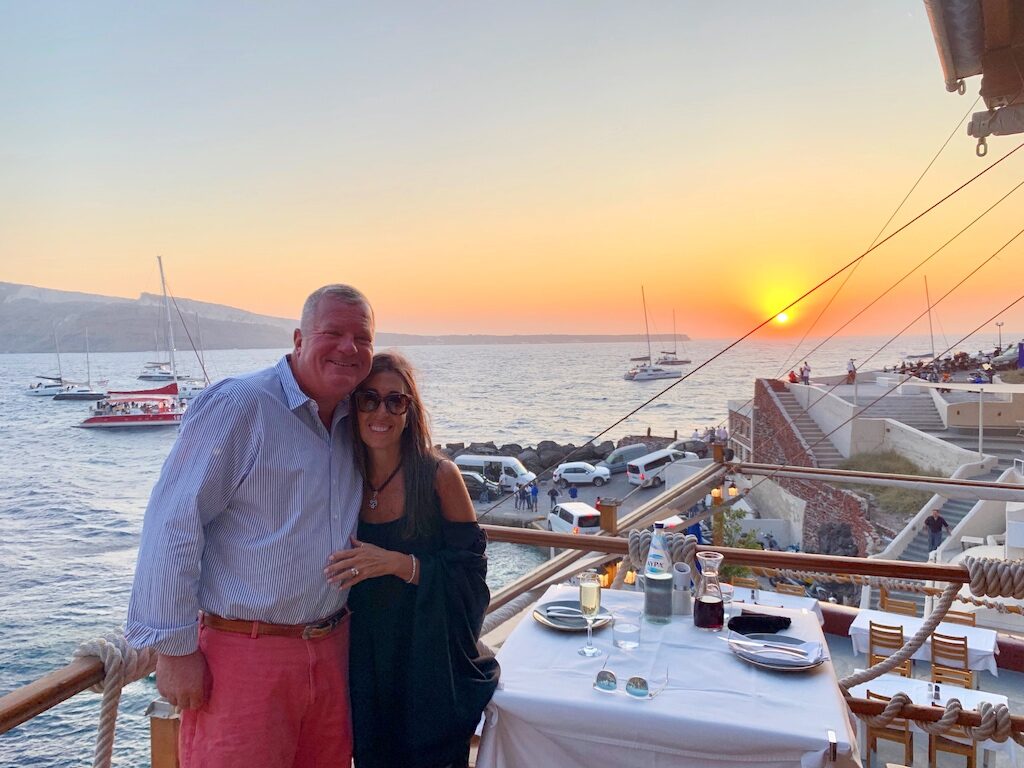 If you ask my husband how he enjoyed the trip, OK would not even cover it! He absolutely loves the places we visited in Greece: Athens, Santorini, and Mykonos. As for me, it surpassed all I could have dreamed of. I can see why it's such a honeymoon destination; it was so romantic.
Hmmm, where to next?!
SHOP TRAVEL ESSENTIALS: