I was so happy with everything in my previous mystery box from Sanity so I was really excited to receive my fall box. And what was sent this time was beyond amazing! I had a hard time choosing which pictures to share because I was able to make so many great outfits from these pieces. To me there's nothing better than having clothing you can style in different ways. Here are some of the outfits I love.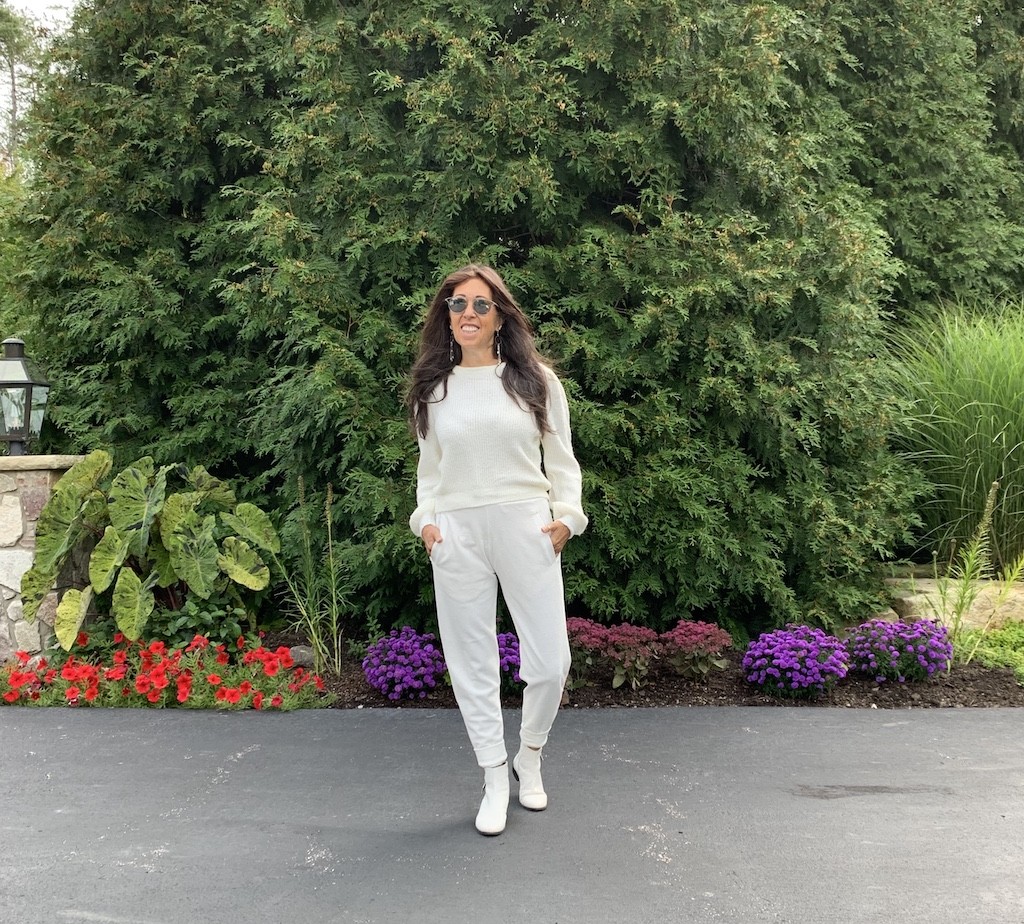 This outfit is so out of my usual box, but I am in love! I paired this beautiful ivory sweater with white joggers and white booties from my closet. I usually wear black, but when I saw Public Lives, Secret Recipes pairing off white with white I knew that's what I needed to do with this sweater. I might change this up and add a pair of colored booties (maybe burgundy for a pop) or white sneakers, but I know this is a sweater that will be worn on repeat, in so many ways.
I have a few jean jackets in my rotation, but this one is really special. It's a really pretty light wash, is a little shorter in the back and comes to a v in front, but the puffed sleeves are what sold me. This jean jacket gives an outfit such a feminine look yet still keeps it edgy. I also folded up the cuffs and was pleasantly surprised to see a contrasting color-just one more reason why I'm in love with this jacket. I wore this puffed sleeve jean jacket over an animal print summer dress and a pair of white sneakers and love the casual look. I'll change the sneakers to a pair of booties for a little dressier look. I have so many dresses I want to wear with this jean jacket over, and also skirts, pants, jumpsuits…you get the idea!
You know I'm a sucker for a fun sleeve and this leopard sleeve top is just perfect. The sweater body is super comfy and flattering, and then these sheer leopard print sleeves-stunning! I have to say I felt really special wearing this top, even with a casual pair of jeans. I'll dress it up with a pair of black pants, but either way I just love how this top looks and feels. Definitely a special piece.
And then if you add a cute moto jacket it's even better! I love the different ways this jacket can be worn. There's a belt at the bottom that can be buckled or worn open, the zippers on the sleeves can be worn closed for a more fitted look or zipped open for a loser look, either way looks great. The elephant gray color is such a great neutral it can be worn with anything. I paired it with the leopard sleeve top and jeans, but it also looks great over a dress or jumpsuit (great piece to help extend the wear of your summer dresses), with a skirt, dressy pants-I told you these clothes are so versatile!
I'm a sucker for a chunky sweater over a dress. I just love the look and this sweater, with it's turtleneck and bell sleeves, is exactly what I need for my wardrobe. Here I wore it over a black slip dress with a pair of booties and felt so good in this outfit. You know that feeling when you look in the mirror and just smile because you know your outfit is on point? Well, that's exactly how I felt when I put this sweater on over my slip dress. This is a sweater I can see myself wearing on those really cold days and even those that aren't cold enough for a winter coat, but need something to keep warm.
You can shop Sanity online or if you're in the Chagrin Falls area stop in and they'll help you put together some great outfits,! There's so much to choose from, you'll find everything you need to add to your fall and winter wardrobe.
SHOP THIS POST: